News
Make Your Reservations Now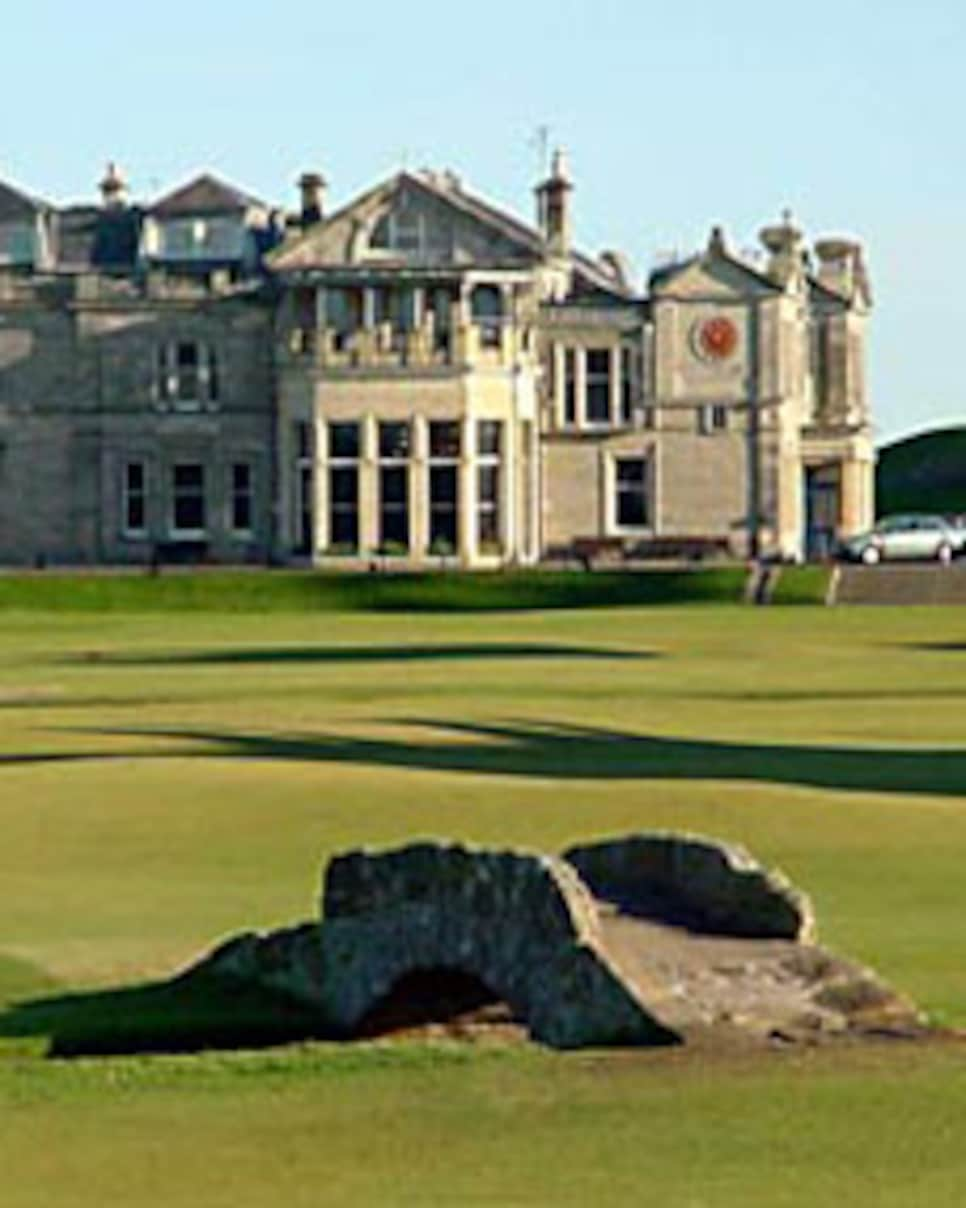 This is the place you will want to be on July 18, 2010.
Pencil in this date. No, correct that -- mark it in ink, indelible ink. July 18, 2010. That's the date Tiger Woods shatters Jack Nicklaus' "unbreakable" record of 18 professional major championships. The historic moment will take place, fittingly enough, when Woods hoists the silver claret jug at St. Andrews for the third time, winning yet another British Open.
Tiger's triumph Sunday at Southern Hills in the PGA Championship was his 13th major. That's leaves him five short of tying Jack and six away from passing him. And the way the major venues set up for the next three years you have to like Woods' chances of breaking the mark at the Old Course, even though it means winning six of the next 11 majors. After all, he did win seven of 11 from the 1999 PGA through the 2002 U.S. Open.
Let's take a look at where history will happen. The Masters, of course, is played at Augusta National, and all Woods has done there is win four of the 11 times he has played since turning professional. He hasn't won a Masters since 2005 and has captured only one of the last five green jackets, so he's due. Give him two of the next three Masters.
The next three U.S. Opens are played at Torrey Pines, Bethpage Black and Pebble Beach. All Tiger has done at Torrey Pines is win the Buick Invitational four times. The last time the U.S. Open was at Pebble Beach he won by 15 strokes. And the only other time Bethpage Black was the venue the winner was Woods. Seems like he can grab two of those three U.S. Open titles.
The 2008 British Open is at Royal Birkdale, where Woods finished third in 1998 and the 2009 PGA Championship is at Hazeltine, where Woods was second in 2002. The '08 PGA is at Oakland Hills and the '09 British Open is at Turnberry. Let's give Woods a victory in just one of those four tournaments. That brings him into the 2010 British Open with 18 majors. And it puts him head-to-head with his only real rival -- history.
There have been 44 major championships played since Woods turned professional, and he has won 13 of them. And during that run there have been only five other players who have won multiple majors -- and they have combined to win a total of 12, fewer than Tiger alone.
Vijay Singh and Phil Mickelson have won three majors during the Tiger Era, while Ernie Els, Mark O'Meara and Retief Goosen have won two each. (Els also won the 1994 U.S. Open before Woods was on the scene.) You would be hard pressed to make an argument that any of that quintet is still at the peak of their game. The challenger for Woods over the next three years will have to be as it has been the previous 11 -- a rivalry by committee, with no one player emerging as anywhere near his equal.
Let's say Woods does win two of the next three Masters. That would give him six green jackets, tying the all-time record held by Nicklaus. Let's say Tiger wins two of the next three U.S. Opens. That would give him four, tying the all-time record shared by Nicklaus, Bobby Jones, Ben Hogan and Willie Anderson. And let's say he wins one of the next two PGA Championships. That would give him five, tying the record held by Nicklaus and Walter Hagen.
That means that Woods would go into the 2010 British Open at St. Andrews not only tied with Nicklaus at 18 majors, but also with the exact same breakdown: Six Masters, five PGA Championships, four U.S. Opens and three British Opens. And since Tiger already has Nicklaus beaten in U.S. Amateur titles -- three to two -- it would indisputably make Woods the most dominant golfer in the history of the game.
Note that the operative words here are "most dominant golfer." When Tiger passes Jack there will be those who will still argue that Nicklaus was the greatest of all time. Others will argue for Hogan and still others will side with Jones. And that is as it should be. Something like "greatest ever" is really not a provable thing. That's part of what makes being a sports fan so much fun. You can argue forever about stuff like that and never reach agreement.
But when it comes to domination numbers trump opinions. It took Nicklaus 53 majors as a professional before he got his 13th title. It took Tiger 44. And it took Nicklaus 76 tries to get to 17 majors. That means Woods has eight more full seasons -- 32 more majors -- to get four more victories to be on the same pace as Jack.
What at one time seemed impossible now appears to be inevitable. The question has turned from, "Will Tiger break Jack's record" to "When will Tiger break Jack's record." Like a rapidly escalating flirtation, this affair of the heart is on a path of no return. Unless Tiger Woods wakes up one morning and finds out he has become Ian Baker-Finch, this record is all but his.
Just take a look at Tiger's career. It has always been about history. His first professional major was the Masters. Think of the statement he made there: A 21-year-old black man slipped on the green jackets at a course symbolic of the whiteness of the game -- and did it after a 12-stroke victory in which he played his first nine holes in 40 strokes.
He won his first U.S. Open by 15 strokes and he won the first U.S. Open ever played on a true public course -- Bethpage Black. He became the first man to own all four major championships at the same time, and the only two times the British Open has been played at St. Andrews since he turned pro he has won.
The scenario is perfect. The stage is set. The record will fall shockingly soon -- at St. Andrews on July 18, 2010. It just makes too much sense not to happen. History will be made at the home of golf -- and history, truly, is Tiger's only rival.