News
Tour Insider: Actions triumph words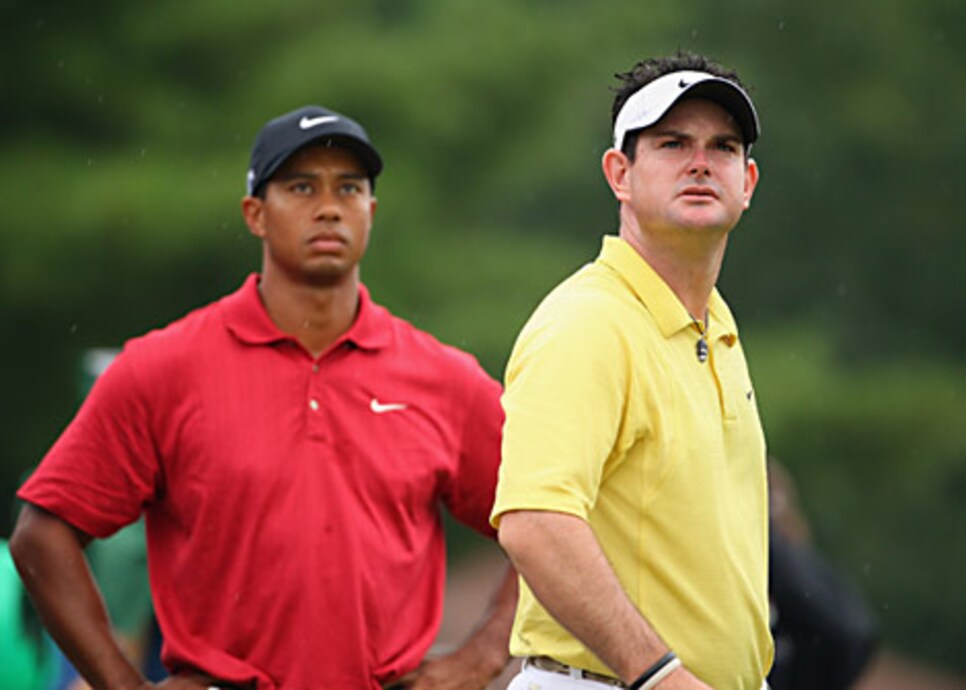 Hey Rory, talk all you want, but you better deliver
Trash talking has never been an accepted part of golf. We never heard Jack run his mouth about Arnie -- at least not for the record. As much as Lee Trevino and Johnny Miller liked to wag their tongues, they never did it in a challenging tone. Nick Faldo never said, "Get you some of this," when he owned Greg Norman. And even though Seve Ballesteros had a nervous cough and was the king of gamesmanship, he never called out Paul Azinger before a Ryder Cup.
If saying Tiger Woods was "never more beatable" constitutes trash talk, then Rory Sabbatini has either broken some sort of code, or become an evolutionist. Either way, the fiery Sabbatini is certainly the most talked about subject going into the PGA Championship. Sergio Garcia was just moved to a sidebar, off the media hot seat after Carnoustie, and down a notch on the list of Tiger's primary antagonists. The Spaniard should be thanking the South African when he sees him at Southern Hills in Tulsa.
The problem with talking is backing it up, and Rory doesn't have the game to do that. Legend has it, there was no greater trash talker than Tiger's closest role model, Michael Jordan. Michael would absolutely humiliate the poor sucker trying to guard him, then either stroke a 3-pointer and laugh in the guy's face, or give him a head fake and roll to the paint.
Of course that was the NBA, and that was Jordan. This is the PGA Tour, this week it's the PGA Championship, and Tiger is saying, "I let my clubs do the talking."
We have seen this movie before. Whether it's Michael Campbell or Stephen Ames or even the overzealous Garcia in that ill-fated Battle of Bighorn, Tiger feeds off the motivation and absolutely trashes his opponent. Ames took it the worst in the Accenture Match Play two years ago, losing 9 and 8 after making some comment extremely similar to Sabbatini's. Even Phil Mickelson felt some of the wrath after his inferior equipment comment. And let's not forget Paul Tesori, Vijay Singh's caddy, who tongue-in-cheek wrote "Tiger Who" on the back of his cap during a Presidents Cup.
In truth, what Sabbatini said was not all that wrong. Woods had two early-season wins, at Torrey Pines and Doral, but none were airtight works of art. He shot 43 on the back at Bay Hill and couldn't run down Zach Johnson at The Masters. It was nothing but a little bad patch for Woods, but in the mind of Sabbatini, he was vulnerable. Other players felt it, too. You have to catch Tiger when he's off. It's what Ames felt when he said, "Anything can happen, especially where he's hitting the ball." At the time, early 2005, Tiger was still wrestling with his driver.
But to Tiger and caddy Steve Williams, any little crumb, any morsel of motivation, can be chewed on and spit out. "Nine and eight," was all Woods kept repeating a few years ago at LaCosta after the Ames match. In this latest in your face on Sabbatini, Woods could have kept saying "65-74." Or he could have gone back to "nine and eight," Because he beat Sabbo by nine strokes and the field by eight in recording his sixth victory at Firestone.
Lost in all this is that Sabbatini is having a breakout year. He beat Jim Furyk and Bernhard Langer in a playoff for the Crowne Plaza Invitational title at storied Colonial CC in Fort Worth, and has runner-up finishes at The Masters and the WGC-Bridgestone. He's also jumped up to 11th in the world and will get plenty of face time at The Presidents Cup, where he could meet up again with Woods. Those who know him say Sabbatini is just "misunderstood," but when Sports Illustrated polled tour players earlier this year, 25 percent voted Sabbatini as their least-favorite playing partner. The way he mishandled the Ben Crane slow-play situation at Congressional three years ago still has repercussions to his reputation among his peers on tour. It doesn't help that he wears a little man's complex or a belt with a python buckle.
Or that he had a fan ejected on Sunday for saying, "Hey Rory, Still think Tiger's beatable?" Before he was escorted off property by security, retired firefighter and paramedic Steven Banky told reporters, "I wasn't trying to dog him. I just called him on it."
And really, that's all Tiger was doing. He was calling Sabbatini on it. Simple playground rule of sport: You talk it; you better back it up.
"Everyone knows how Rory is," said Woods.
Jim Nantz made an interesting point to Nick Faldo, signing off Sunday's broadcast on CBS, saying that golfers get criticized for not saying anything or ripped for saying what they feel. He's right. But in Sabbatini's case, it's all in how you say it. It's OK to believe you can beat Tiger Woods. It's another thing to make a negative comment about his game while attempting to do it.
It's all about respect, For Tiger, it was deep seated in the way he was raised (by a Green Beret dad and a Buddhist mom) and reflected in the way he talks about opponents. Notice how Woods will always go high road publicly. If he rips a guy, it's when the tape recorder is off, the note pad is in the back pocket, and he trusts that it's not going beyond that text message or conversation.
Behind the scenes, Tiger's got a circle of friends who can trash talk him -- just as he trash talks them. (You think Woods backs down to Charles Barkley?) But it would be out at Isleworth or Blue Canyon with his boys -- not in the middle of the Wachovia Championship or The Players. The tradition in tournament golf is to shut up and play.
Rory, you're away. Again.