News
Woods is ready for Southern Hills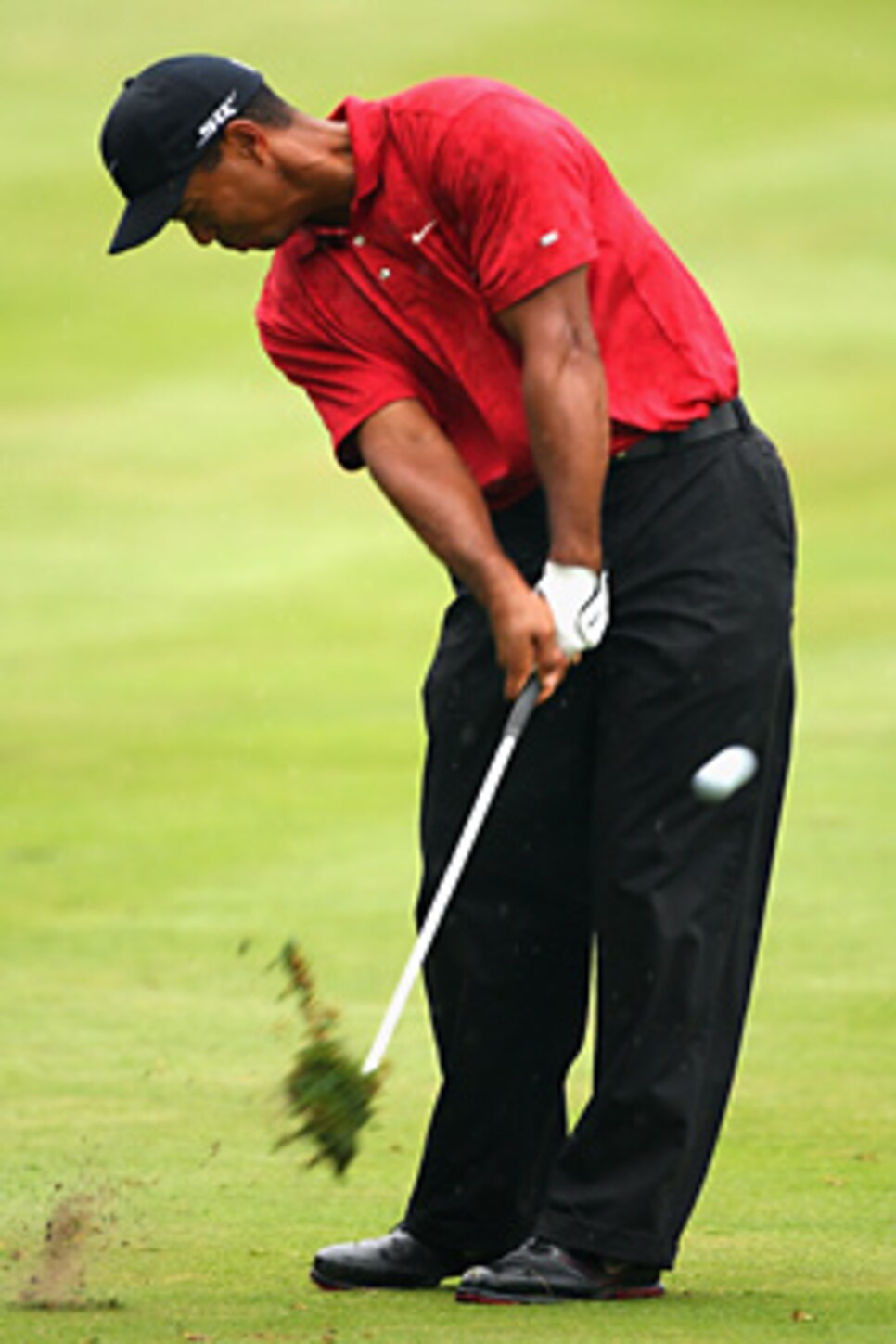 Tiger's final round 65 made it look easy on Sunday.
AKRON, Ohio (AP) - Tiger Woods looked as unbeatable as ever Sunday at Firestone.
Woods erased a one-shot deficit in two holes, then buried Rory Sabbatini and the rest of the field to win the Bridgestone Invitational for the third straight year and send him to the PGA Championship with his game in good shape.
Woods made a 12-foot par putt on the final hole that kept him bogey-free on a rainy afternoon at Firestone. He closed with a 5-under 65 for an eight-shot victory over Sabbatini and Justin Rose, tying a PGA Tour record for most victories at one golf course.
It was the second time Woods has strung together three straight victories at this World Golf Championship, and he continued his dominance in these WGC events by winning for the 14th time in 25 tries.
Sabbatini shot 74 and was left in his wake again.
The fiery South African also lost a one-shot lead to Woods in the Wachovia Championship, then caused a brief stir by claiming later than Woods looked "beatable as ever."
Not on this course. Woods picked up five shots in a five-hole stretch along the front nine, and it was no contest after that. He joined Jack Nicklaus (Augusta National) and Alex Ross (Pinehurst No. 2) as the only players to win six times on the same course.
"He played significantly better than he did in the final round at Wachovia," Sabbatini conceded. "He made all the shots he needed to. He was definitely playing a lot better golf today."
Next up is Southern Hills and the PGA Championship for the final major, something Woods has failed to win this year.
"This might just give a little more confidence," Woods said.
Rain softened Firestone, but it didn't make it any easier. Woods finished at 8-under 272, the only player to finish under par. It was the third time he has won a tournament as the only player in red numbers; the other two were his U.S. Open victories.
Woods turned in the only bogey-free round on Sunday and played for the middle of the greens on the back nine when he had control of the tournament. He now has won seven times on the PGA Tour by at least eight shots.
"It's a major-style golf course, and look at his record in the majors," Rose said after saving par on the 18th for a 68. "He always seems to be up there. The harder the course, the better he does."
Woods started the final round one shot behind Sabbatini, and when they made the turn as the rain began to fall, white flags would have more appropriate than umbrellas.
Sabbatini was shaken to the point that he ordered a spectator removed.
Woods essentially won the tournament by picking up five shots in a five-hole stretch on the front nine, but the ninth hole was absurd. Everyone in the final group was all over the map and headed for big numbers, with Woods the most wild.
He hooked his tee shot so far to the left that it was in the rough on the 10th fairway. Then he tried to slice his approach around the trees, only to drop from a branch and hit a 58-year-old woman in the arm, coming to rest in the crook of her arm. After taking a drop, Woods pitched over the green, then chipped in for par.
Sabbatini took five to reach the green and made double bogey, and as he walked toward the 10th tee, a spectator called out to him, "Hey Rory, still think Tiger is beatable?"
Sabbatini turned and glared, then barked at a police officer, "Take his (expletive) out of here."
Soothing the sting was seeing his children standing by the 10th tee, and Sabbatini stooped and hugged them. Then he pulled his next tee shot into the rough and made another bogey, as Woods continued to pour it on. Even with everything falling his way, Woods kept a straight face when he holed a chip from the front of the 12th green for his fifth birdie.
Still, this was over much sooner.
Sabbatini was having to work way too hard for pars early in the round. He hit his tee shot so far left on the par-5 second that his best option was to play up the third fairway. He ran into Stuart Appleby, who had just teed off on No. 3, and Sabbatini said to him, "Sorry, I screwed up." It was only later that he paid for it.
He saved par on the second, and after having to lay up short of the water on the par-4 third, saved par again. But his luck ended on the fourth when Sabbatini went into deep rough on the right, couldn't get back to the fairway, couldn't clear a bunker and had to chip to 4 feet to escape with bogey. Woods made an 18-foot birdie at No. 4 for a two-shot swing and his first outright lead of the tournament.
Sabbatini came up short on the fifth and made bogey, then Woods poured in an 18-foot putt for birdie on the sixth.
"I spent too much of the day trying to hack the ball back out to the fairway," Sabbatini said. "And it made a long day."
Asked if he would temper his comments in the future, Sabbatini looked indignant.
"Why?" he said. "I hope I inspire him and play well enough that I can give him a good challenge."
The only competition was for second place.
Chris DiMarco picked up his first top-10 finish on the PGA Tour since he was runner-up to Woods at the British Open last summer at Hoylake, closing with a 70 to tie for fourth with Peter Lonard (68).
Andres Romero, the 26-year-old Argentine coming off his first European Tour victory in Germany, shot a 71 to tie for sixth and give him enough money to take PGA Tour membership next year if he wants it.
Woods earned $1.35 million for his 58th career victory. Since the start of the 2005 season, Woods has not got more than five starts on the PGA Tour without winning.