News
Don't Cry For Andres, Argentina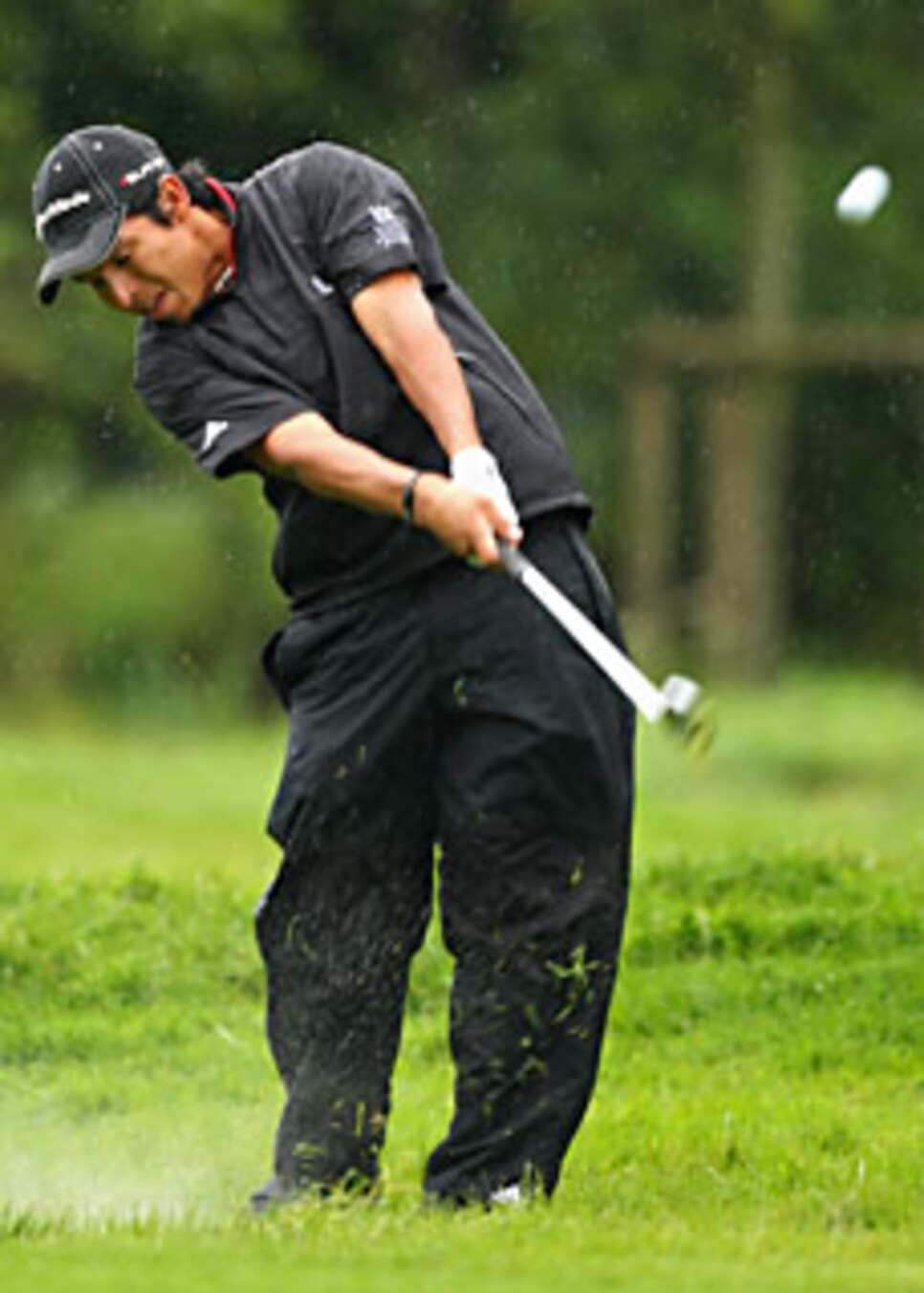 After Carnoustie is a major success in Romero's future?
Andres Romero will go down as a footnote in history, the man who lost the British Open. It could have been a tragic story, the end of a career. Instead, it was the continuation of a summer phenomenon. Argentina was two holes from sweeping both Opens, but don't cry for Romero.
He may not have finished like Angel Cabrera at Oakmont, but the 26-year-old took his Carnoustie calamity like a resolute veteran, came back and won last week in Germany, and is now in Akron, Ohio, for his seventh-straight week of tournament golf.
Oh yeah, his playing partner the first two days at the World Golf Championships Bridgestone Invitational is Tiger Woods.
"I really haven't heard much of him except for... I thought he might have been some kind of relative of Eduardo's," said Woods, laughing.
Eduardo is "El Gato," the cat. No relation. Romero is "Pigu,' which he says has no meaning. Woods admits he was packing while Romero went through the final stages of his back nine and didn't catch much of the meltdown, but here's a quick replay:
Attempting to hit 2-iron from the deep fescue, Romero blew his two-shot lead and made double bogey when his shot went dead left, hit the steps of the Barry Burn, and ricocheted out of bounds. At the home hole, his par putt did a 360-degree lap around the hole before lipping out. It was a Van de Veldian type finish, but instead of shedding tears, Romero left Scotland in remarkably good spirits. Had that putt gone in, he would have been in a playoff with Padraig Harrington and Sergio Garcia. Instead, he moved on to the Deutsche Bank Players' Championship.
History shows most players that blow majors disappear -- some indefinitely -- while the minority bounce right back. It took Stewart Cink a year before recovering from his miss of a putt inside leather at the end of the 2001 U.S. Open, while Bernhard Langer came back a week after missing a 3-footer to decide the 1991 Ryder Cup to win the Mercedes German Masters. Romero did a Langer, winning right away to purge Carnoustie and set up the rest of his season, perhaps his career.
"That was one shot," Romero said Tuesday from Firestone CC. "That's the great think about golf. It was just one shot, but I got my revenge against golf with that one shot. I got it back the next week."
And now he's got a tee time with Woods in his first WGC event, and a spot in next week's PGA at Southern Hills, all because he didn't leave the British Open with his head down, feeling sorry for himself. Two weeks ago, Romero was not eligible for either tournament, but after the Open Championship he jumped from 114th in the world to 51st, and then to 29th this week. Two more strong performances and it will be hard for Gary Player not to select Romero for the Presidents Cup team and pair him with Angel Cabrera, the barrel-chested Argentine who won the U.S. Open. They finished fifth in last year's World Cup.
It wasn't long ago that Andres came to America for the first time, to play the Golden Bear Tour in South Florida -- virtually right out of the caddy yard at The Jockey Club in Yerba Buena. He turned pro at 16 -- the same age as Tadd Fujikawa -- and learned the game while bumming balls, gloves and tees from Cabrera. "I had a third at the British, a win, now (I'm) playing with Tiger,' he said. "It's great. I didn't even have this tournament on my schedule and now to be paired with the No. 1 player in the world, it's complicado."
Argentina is a country roughly one-third the size of the United States, with a population of 40 million. Its sports icons had been Guillermo Vilas in tennis, Maradona in soccer and most recently, Manu Ginobli of the NBA champion San Antonio Spurs. It is a nation that reveres its athletes but four decades passed between Robert de Vicenzo's victory in the 1967 British Open and Cabrera's U.S. Open win. While Vicente Fernandez, Eduardo Romero and Jose Coceres won tournaments and waved the Argentine flag worldwide, none had the impact of Argentina's new A-Team, Angel and Andres.
Like Coceres, who learned hitting rocks with the branch of a guava tree, it is clear watching Cabrera and Romero that neither man relies much on swing mechanics. While both share a connection to the same instructor, Mariano Bartolome of the Jim McLean golf school in Miami, they are clearly unencumbered by clubhead position or how they look on video. McLean calls it, "a softer type of teaching." Most of it revolves around set-up and posture. "It's just the mindset of where you want the ball to go," said Bartolome. "And then you hit it there."
Bartolome started working with Cabrera when he came to Doral in 2001 and Romero when he was giving lessons in Argentina several years ago. Bartolome's father, Norberto, was one of the country's most famous golf teachers, honing Fernandez' game and passing down his knowledge to Mariano. "Talent is not the problem," Bartolome said. "I'm sure the more (Argentine players) we get to compete outside the country, the better it will be. The problem before, is that not everybody had the chance to compete outside."
As Bartolome predicts, this could be the leading edge of a South American movement onto the world stage. Romero was at an airport in Germany, heading to a tournament in Munich, when he caught Cabrera's Open victory on TV. "I think it opened my eyes and to me that I could do this also," Romero said. Imagine how many young boys back in Argentina thought the same thing when Romero made 10 birdies 16 holes at Carnoustie, or another 22 (plus two eagles) in 72 holes at Gat Kaden.
And the beauty is, it's not that complicado.