News
Watson Wins the Senior British Open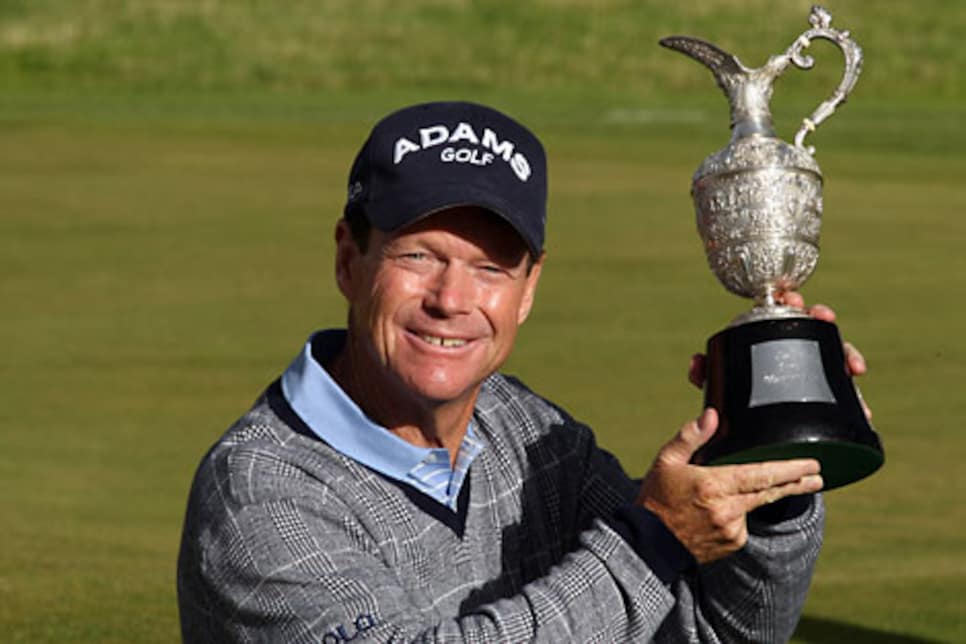 Tom Watson won his third Senior British Open title Sunday at Muirfield.
GULLANE, Scotland (AP) - Tom Watson's three-shot lead in the Senior British Open was in peril and memories of his back-nine collapse at the U.S. Senior Open three weeks ago came flooding back.
But that was in 90-degree heat at Whistling Straits. Sunday he was at cold and blustry Muirfield, where the five-time British Open winner and master of Scottish links courses is at home.
Watson fired his tee shot into a fairway bunker at the last hole and took two to get out of the sand, but he survived a double bogey to win his third Senior British Open in five years.
"This has been a very serene week for me," he said. "The weather was right up my alley, good blowy conditions, a little rain here and there. The beauty of the place, I feel very comfortable."
Standing in the sand after his wayward tee shot, Watson took a moment to compose himself.
"I thought 'What am I doing in here? Let's get the job done,'" he said.
Watson eventually made it out of the sand, but then missed the green with his fourth shot. With playing partners Mark O'Meara and Stewart Ginn back in contention, Watson got his fifth, a putt from off the green, to within three feet of the flag and made that putt for a 73, a one stroke victory and yet another title on Scottish links courses.
"It's important to get it done when you have to," Watson said. "It didn't look like it at 18, but I did put it in the wrong place (off the tee). It was a stupid shot.
"I didn't have too much opportunity with the first (bunker) shot. I didn't get it up far enough and it rolled back in the bunker. But it rolled back in far enough where I had a shot out sideways. I got it up around the green somewhere, two-putted and that was it."
Watson, who also won two Masters titles and one U.S. Open, captured his fifth senior major with an even par total of 284 to earn $324,531 for the victory. He finished one ahead of O'Meara (72) and Ginn (75).
Watson, who won this tournament at Turnberry in 2003 and Royal Aberdeen two years ago, made it five American victories in a row after triumphs by Peter Oakley in 2004 and Loren Roberts last year. Seven of Watson's eight triumphs in Britain have been on Scottish links courses and next year's Senior British Open is at another, Troon, where he won the Open in 1982.
Ginn, who won the Senior Players Championship on the Champions Tour five years ago for his only major, went into the final round leading by one at 3 under, but Watson wiped that out with a short birdie putt at the third. Both players birdied the fifth to move at least four ahead of the rest of the field and the final round appeared to be a race between the two as O'Meara failed to make up ground at 1 over.
While Watson's game stayed firm, Ginn's fell apart with five bogeys in a row from the turn as he slumped from 3 under to 1 over. Ginn was wayward off the tee and, while he failed to make any birdie chances during that stretch, Watson made a 20-foot putt at 11 and two more pars to put daylight between himself and the Australian.
The victory made up for Watson's collapse at the U.S. Senior Open, where he blew a three-shot lead after 10 holes of the final round, shooting a 43 on the closing nine to finish fourth behind Brad Bryant.
"It was really disappointing, the Senior Open," Watson said. "But, as is the custom in my career, when I've had some bad tournaments, I've come back very quickly.
"I guess that's part of my personality. I hate failure. And I just want to get back to even. Winning this tournament was getting back to even."
Defending champion Roberts finished in a tie for fourth after an even par 71 gave him a 4-over 288.
Playing his debut tournament as a senior, Nick Faldo finished with a share of 14th at Muirfield having tied for the lead after the opening round. A final-round 75 gave him an 8-over total of 292 although he almost finished birdie-birdie.
"I've struggled with my putter all week so I've got to go away and work on that before I venture out competitively again," said Faldo, a six-time major winner who now spends most of his time as a golf analyst for CBS. "Muirfield's a great walk and I can leave with a smile on my face."