News
Gulbis Grabs First LPGA Victory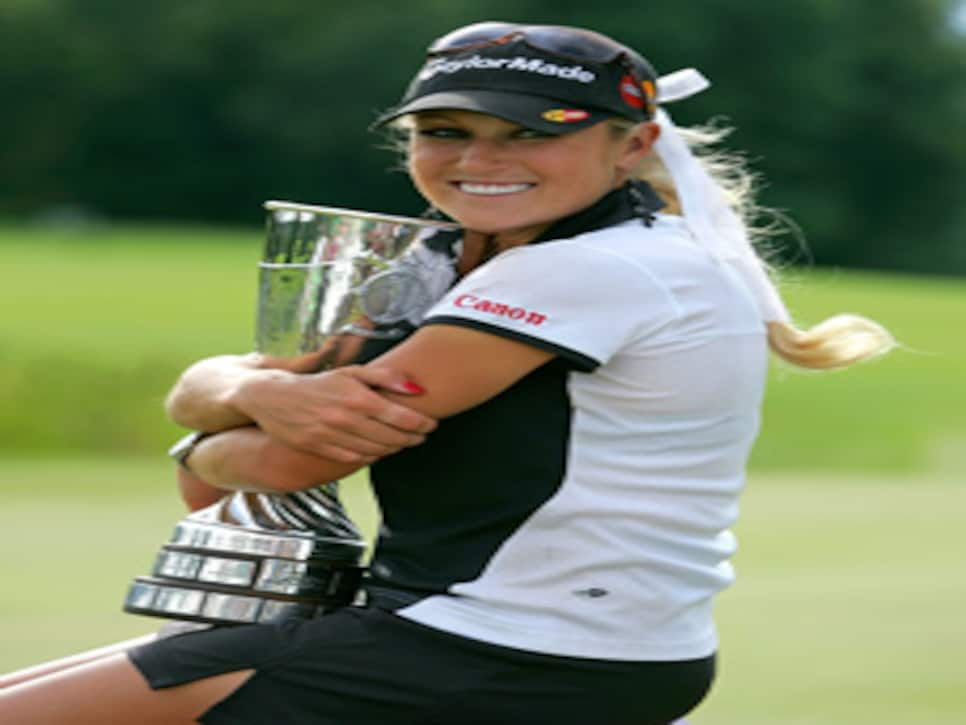 It took six years, but Natalie Gubis has her first tour win.
EVIAN-LES-BAINS, France (AP) - Natalie Gulbis broke through at the Evian Masters, winning her first LPGA Tour title with a birdie on the first hole of a playoff with Jang Jeong of South Korea on Sunday.
Jang and the 24-year-old American finished the fourth round tied at 4-under 284. Gulbis had a final round 70, and Jang birdied the last hole to finish with a 72.
"Obviously it was meant to be for me," said Gulbis, in her sixth season on the LPGA Tour. "Before the playoff, I was very upset at myself because I felt like I had given away this tournament. I thought I needed to get to 7 under to win and I end up at, what, four? Going in today, I never thought that four under would have won this tournament."
Jang, the 2005 Women's British Open champion, birdied three of the last four holes to tie Gulbis.
"What does it mean? How long do you have?" Gulbis said. "I was really close last year when I lost a playoff and coincidentally it was right after the Match Play. It was like deja vu" coming off the HSBC Women's World Match Play Championship last week.
At the first extra hole, the 18th, Jang missed the green with her second shot, but Gulbis did not.
"I usually can't reach that green in two," Gulbis said. "I hit a really good drive and hit my rescue club in. It was about 25 feet and I thought the eagle putt was in. Fortunately, it ended about a foot away and I tapped it in. I wouldn't have wanted it to be much farther than that."
Top-ranked Lorena Ochoa was one shot behind and tied for third place with Juli Inkster of the United States and Shin Ji-yai of South Korea. Ochoa had six birdies in her closing 68, but dropped a shot at the last hole. Shin finished with a 72.
Inkster, the leader by two shots after the first three rounds, finished with a 75. She had three bogeys in the last five holes and three-putted the par-5 18th after reaching the green in two. Had she won, Inkster would have become the oldest player to win an LPGA Tour event.
Michelle Wie finished tied for 69th place with a 16-over 304, after a final round 76.
Sophie Gustafson was in contention at 4 under until she dropped shots at the 17th and 18th. At the last hole, the Swede hit her second shot into the water hazard guarding the green and finished with 2-under 286.
Gulbis started the day four behind Inkster and had birdies at the first, sixth and ninth. Out in 33, she was 5 under and shared the lead with Shin.
Also in the hunt at the halfway point were former top-ranked Annika Sorenstam, Gustafson and Inkster, who all made the turn at 4 under.
Gulbis, who won $450,000, gave part of the credit for her win to a back injury two months ago that forced her to take a month off and make some adjustments.
"I had to change my golf swing because of my injury," she said. "I was kind of thinking this might be a blessing in disguise."
Wie pulled her opening shot out of bounds and started with a double-bogey 6. She had bogeys at the third, sixth and seventh -- and a birdie at the fifth where she holed a huge putt of about 70 feet -- to go out in 40. The teenager then battled back with a level par second nine of 36.
"I kept my head together," Wie said. "It all came down to today and there were a couple of stupid errors out there. I just have to keep the ball in play and use my head more and be patient with myself."
Recovering from a wrist injury, Wie was pleased with the round.
"I kept my head on today. I was very proud of myself," she said.