News
Groundhog Day All Over Again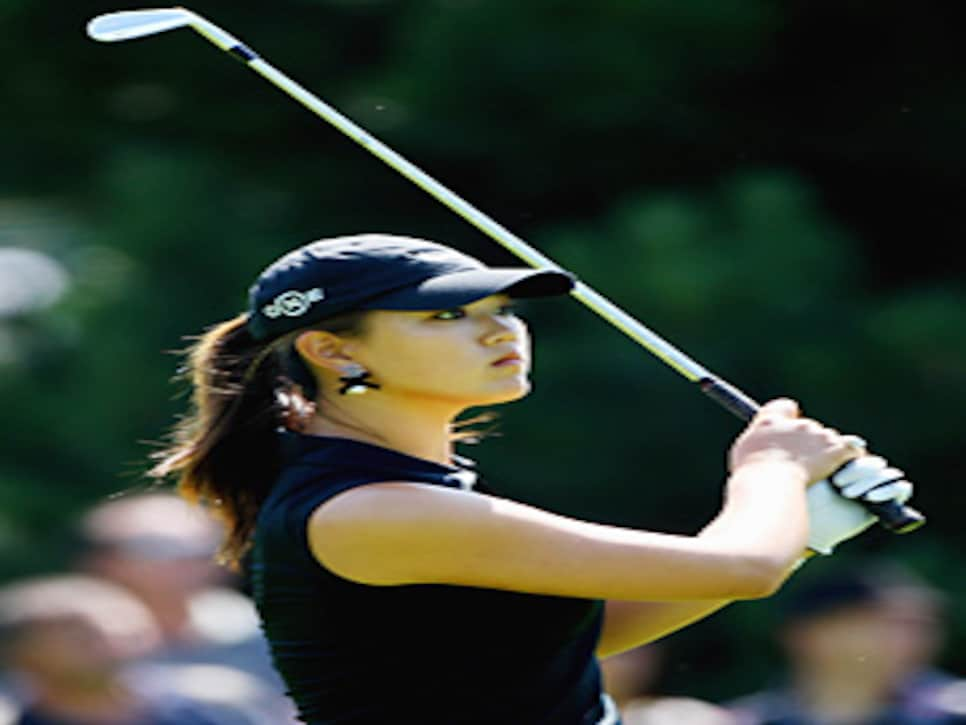 Michelle Wie hung in on Saturday despite a spiraling score.
EVIAN-LES-BAINS, France - Doubt is a devilish demon, always lurking in a dimly lit corner of our minds, that cold thought against which we try to build the bonfire of confidence, hoping against hope to hold indecision at bay. For a golfer, all is lost when trust in the swing disappears and with it plans of a well-executed shot or well-played round are surrendered to hope rather than ruled by rock-solid intent. Michelle Wie found out how fragile confidence - and the golf swing - is Saturday at the Evian Masters when a little wind and some loose swings sent her spiraling to a 12-over-par 84.
True, the conditions were more difficult than they were in Friday's second round at Evian Masters Golf Club when Wie shot a 71, her first round under par since the final 18 of this tournament last year. Still, the number posted by Wie was the highest score by any of the 72 players who made the cut. The optimism of playing the first 36 holes even par was difficult to maintain after a round in which she missed 11 of 14 fairways and 13 of 18 greens. Several excellent par saves late on the back nine kept the score from being even worse.
It was Wie's third round in the 80s in four LPGA events this year, and she would have had two others if she had not withdrawn at the Ginn Tribute after 16 holes of the first round and at the U.S. Women's Open after nine holes of the second round. Like many 17-year-olds, Wie is a huge fan of the movies and this is starting to feel a lot like her own hellish version of the Bill Murray flick "Groundhog Day."
At the McDonald's LPGA Championship, the only event at which she has finished four rounds this year, Wie opened with rounds of 73-74, making the cut right on the number by employing the same strategy she has used here - leave the driver in the bag and bunt the ball around, keeping it in play. But the pressure of the weekend round exposed the underlying flaws in her technique and she posted rounds of 83-79 on the weekend to finish last. She was ahead of only three players going to Sunday's final round here.
"It was frustrating today," Wie said. "My body would not do what my mind was telling it to do." Anyone who has played golf knows that feeling. And there are few things more frustrating than standing over a golf shot and having no idea how your swing is going to perform. Or worse, standing over a shot and having the overwhelming feeling your swing is going to let you down.
Still, Wie appeared in much better rhythm than she was at any of the other three LPGA events she has played this year. The problem is that things like a little wind or a lot of pressure from playing the weekend in a highly competitive event like this one under a lot of scrutiny creates the kind of tension - and doubt - that will expose any swing flaws that exist.
While Wie continues to say the right things -- "I can still take some positives from today" - you have to wonder how much fun this can be for a teenager who should be shopping for things to take away to her freshman year at Stanford University in September. There is, however, a lot more competitive golf before school starts. After the Evian there is the Ricoh Women's British Open, the CN Canadian Women's Open and the Safeway Classic.
"I'm very excited about next week," she said about the first women's professional event ever played on the Old Course at St. Andrews. "I'm working on my low shots."
This is the point in the conversation when things start to get a little uncomfortable. While it is admirable to prepare the specialty shots needed for links play, there also seems to be a little disconnect with the reality of where her game stands right now. When she says, "It was a fine line between yesterday and today [a line she has used before] and I missed a couple of shots and I just have to get those couple of shots on line tomorrow," is that admirable optimism or total denial of reality? The fact of the matter is that she shot 13 strokes higher on Saturday than on Friday.
It all fell apart early -- and dramatically -- for Wie. Beginning with the third hole she played the next five holes seven over par, making three double bogeys in a four-hole stretch as she spray the ball all over the French Alps. She made a birdie on the par-5 ninth hole yet still turned the front nine in 42 then played the first four holes of the back nine five over par.
To her credit, Wie used neither the wind nor her wrist as an excuse. "I grew up in Hawaii so the wind doesn't really affect me, but obviously it made the greens a lot tougher," she said. As for the left wrist she injured while jogging: "My wrist is doing better. I hit a couple of shots today and had a little sting after and I could shake it off. It wasn't that bad and it is just getting better and better. It's on the road to recovery so I'm going to have a couple of bad days and I'm going to have a couple of good days."
What she needs Sunday at the Evian Masters is one of those good days so she can take some happy thoughts into St. Andrews. The Old Course, if the wind is up and under the pressure of the first-ever Women's British Open contested there, will be a Stanford-like examination of where Wie's game stands right now. Saturday's pop quiz at the Evian Masters was not all that encouraging.