News
Wie Goes Red At Evian Masters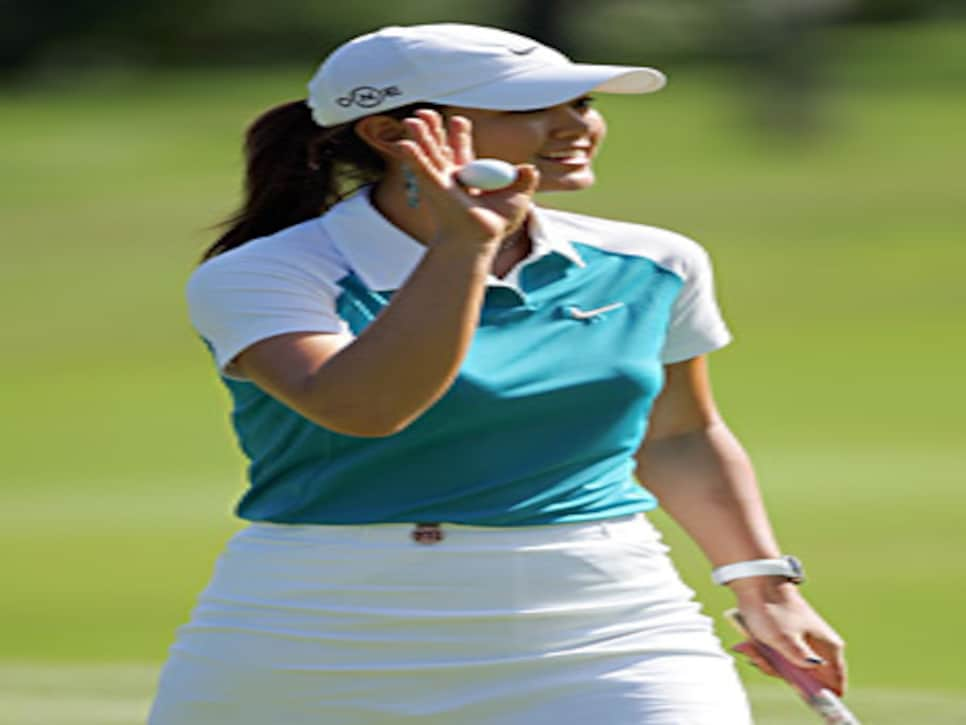 Friday: Michelle continued to build on her round 1 progress.
EVIAN-LES-BAINS, France - If there is a mental image Michelle Wie needs to file away for future reference it is of the drive she hit on No. 18 in Friday's second round of the Evian Masters. It was vintage Wie, one of those towering, majestic shots she was launching last year when she started the LPGA season with six consecutive top-five finishes, a run that ended after the 2006 Evian Masters and devolved into a dismal succession of poor finishes -- and non-finishes -- marked by hit-and-hope swings with the big stick.
Needing a birdie on the 467-yard par-5 18th hole at the Evian Masters Golf Club to shoot an under-par round for the first time since the final 18 here last year -- a streak that had grown to 24 rounds -- Wie attacked the hole with a driver, split the center of the fairway, played a midiron onto the green and two-putted for a ho-hum birdie and a one-under-par 71 that put her at 144 after 36 holes. While there were still some tentative swings, and a couple of outright bad ones, she was a far cry from the technical and emotional mess who quit in two of her last three tournaments and finished last in the other.
Perhaps most impressively -- and perhaps most importantly -- the kid had her fight back. She was clearly demoralized when she withdrew after 27 holes at the U.S. Women's Open at Pine Needles, her voice cracking with emotion as she tried to put a happy face on a sad situation. Her body language that day seemed to cry out that the last thing she wanted to be doing was playing competitive golf. But there was a strut back in her 17-year-old step in the second round.
Just as important as final drive she hit was the way she responded after her worst swing of the day. Driving it wildly left on the par-5 seventh hole with a 3-wood, she made a double bogey. Instead of responding by getting tentative, as she did in Thursday 's first round after hitting her drive on No. 12 into a cornfield with a 3-wood and playing the final seven holes three over par, Wie came back attacking, making birdies on Nos. 8, 9 and 10. While there wasn't another birdie until No. 18, it was a gutsy refusal to let the round get away from her.
What Wie has done for herself here is create what could be a very valuable learning situation that will give her an excellent measure of how close she is to being back to full form. She will be close enough to the lead going into the weekend so that a low number on Saturday could put her on the first page of the leader board and have her in contention in a tournament for the first time since she finished tied for second here last year, one stroke behind Karrie Webb.
Swing flaws are exposed by tension. And the fact that Wie still does not trust the driver enough to take it out of the bag more often is an indication she is not yet totally comfortable with how she is swinging. You can count on one hand the number of times she has hit the driver in the first two rounds, and even with almost constant use of fairways woods off the tee she has missed 10 of 28 fairways and averaged only 248.5 yards per drive. Still, she has missed only eight greens in two days and would be among the leaders if she had not needed 63 putts.
This is the first of a four-tournament run Wie has before heading off to Stanford University in September for her freshman year of college. Next week is the Ricoh Women's British Open on the Old Course at St. Andrews. After a week off she will play the CN Canadian Women's Open and then the Safeway Classic in Portland, Ore., Aug. 24-26. What she has done here in the first two rounds is raise a glimmer of hope that she will begin school feeling much better about her golf game.
While the pressure of the weekend may very well expose the flaws that remain in Wie's swing, she has already done enough positive things this week to feel good about her effort here. This was, in many ways, the perfect place for her to get back on the competitive horse after being tossed in her first three starts of the year. It is a course she can play pretty much without her driver and, in the remote resort town of Evian-les-Bains on Lake Geneva, she has much less media attention focused on her than she did at the U.S. Women's Open.
For 12 months Michelle Wie has been stockpiling bad memories, horrible images that must surely haunt her when push comes to shove on the golf course. She's played four times against the men and beaten virtually no one. She's competed five times against the women without being a factor -- except to annoy LPGA members by withdrawing from the Ginn Tribute because of injury and then showing up two days later to practice at the site of the next tournament.
If what is going on here at the Evian Masters is the beginning of the road to recovery for Michelle Wie then it needs to repair more than her swing and her confidence. It needs to repair her relationship with the women of the LPGA. When Annika Sorenstam said Wie's withdrawal from the Ginn event, of which Sorenstam was the host, and then resurfacing two days later to practice at Bulle Rock, showed a lack of respect and a lack of class she was speaking for the overwhelming majority of tour members.
And when Wie said she had done nothing for which she needs to apologize she slapped the face of not only Sorenstam but also all LPGA members. That drive on No. 18 in the second round here was glimmer of hope that Wie is getting her game back. Now she needs to regain the respect of the players by apologizing for what happened in South Carolina. The road back travels through many towns and saying you're sorry is always a good stoop to make.