News
Wie builds on positives at Evian Masters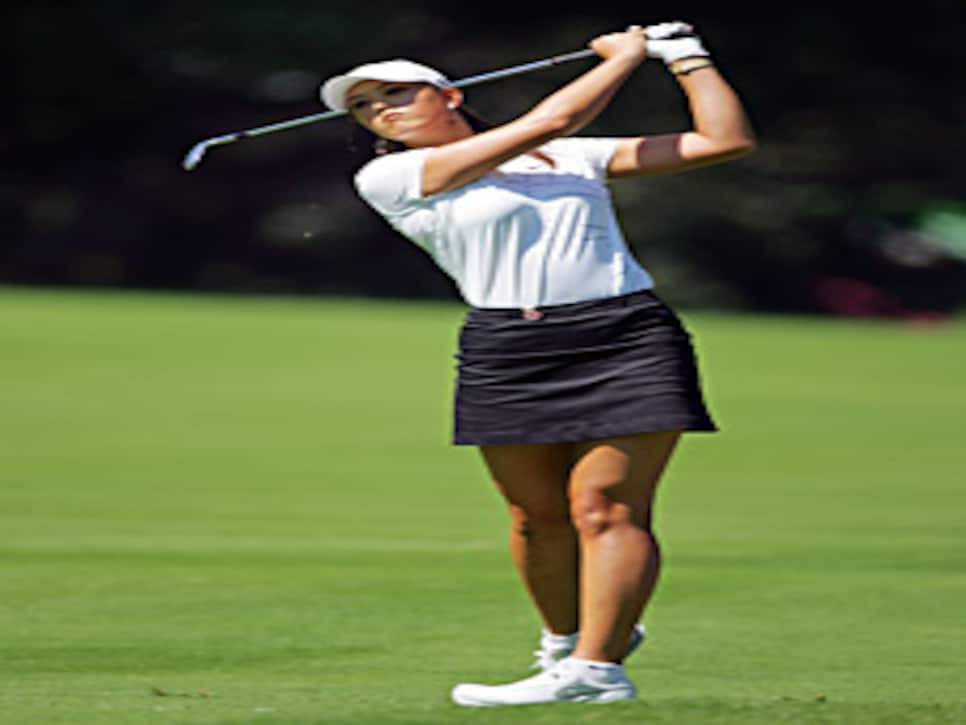 Hints of an earlier time marked Wie's play Thursday.
EVIAN-LES-BAINS, France - The last place something good happened for Michelle Wie on a golf course was right here last year when she tied for second place at the Evian Masters. And if there is any place perfect for shaking a slump it is a course you associate with positive memories. While Wie's one-over-par 73 fell far short of qualifying as a statement that she is on her way back to form, it was a round containing far more positives than negatives.
Let's start with the swing. While still not the gloriously fluid motion that appears in the mind's eye when you think back a couple of years, it was much more fluid in Thursday's first round on the Evian Masters Golf Club than it was at Pine Needles, where she withdrew after 27 holes of the U.S. Women's Open while standing at 17 over par, or at Bulle Rock, where she finished dead last in the McDonald's LPGA Championship. Her takeaway was smooth on Thursday and the overall swing seemed less rushed, with much less of an air of desperation to it.
But what's also clear is that Michelle does still not totally trust her swing, which is only to be expected when you consider the numbers she has posted this year. Going into the first round of the Evian Masters Wie has played 151 holes of competitive golf in 2007 a cumulative 62 strokes over par. She has not broken par in competition since the final round here last year, a streak that increased to 24 rounds with her 73 on Thursday.
While the 73 ties Wie's opening round at the McDonald's for her best score of the year it offered only caution reason for optimism given her track record on this course. Ten of Wie's 12 previous rounds at the Evian Masters were under par and she had a stroke average of 70.83 here coming into this year's event -- and a rather remarkable 69.25 in her last eight rounds at Evian. And remember, despite that 73 at the McDonald's Wie finished 21 over par and 10 strokes out of next-to-the-last place.
Besides her positive memories here Wie also had the advantage of being able to leave the driver in the bag. The big stick made only two appearances as she steered her way around the course with a 3-wood off the tee. That strategy was working brilliantly through 11 holes. Thanks to back-to-back birdies on Nos. 6 and 7 she was two under par stepping to the 12th tee. But as soon as the ball left the face of her 3-wood Michelle shouted "Down! Down! Down! Left!" But the ball ignored her pleas and sailed toward the chain-link fence separating the golf course from a cornfield, never to be seen again.
That double bogey negated the hard work from earlier in the round and was followed by a bogey at the par-3 14th hole as she closed with a 39 on the backside. Morgan Pressel, feisty as ever, birdied two of the last three holes to match her rival's 73. Home-country hero Gwladys Nocera was the innocent bystander wounded in this volatile threesome containing two kids who don't exactly exchange text messages. Nocera posted a fat 80 and was very much in danger of being one of the few to miss the cut when the filed is trimmed from 90 to low 70 and ties after 36 holes.
Wie's confidence grew visibly as she progressed around the front nine. She saved par on No. 1 with a solid 8-foot putt after missing the green long and didn't miss another green until No. 10, where she made another 8-footer for a par save after missing the fairway right and then plopping her approach into a bunker after a pretty punch-fade from out of the trees. But just as visibly as the confidence grew, it just as visibly grew shaky after the wayward drive on No. 12. There are birdie holes coming in at Evian -- par-5s at Nos. 15 and 18 and a short par-3 at No. 17 -- but she was not in full enough form to attack them aggressively.
The golf course was there for the taking on Thursday. It has been softened up by a deluge on Tuesday that washed out the morning half of the pro-am and though the greens were bumpy and difficult to putt they were extremely receptive and the pin positions were generous. Veteran Pat Hurst shared the lead with Eun-Hee Ji of Korea and Brittany Lincicome, a pair of 21-year-old, at six-under-par 66, while Christina Kim, Kyeong Bae and Jin Joo Hong were at 67. With numbers like that posted it is an indication of how mightily Wie has struggled that a 73 can be considered a success.
But a success it was. Even though T-37 after one round is not the kind of golf we had gotten used to from Wie early in her career, it must have brought her some satisfaction given the way she has played in her four tournaments this year. There was no indication any pain lingered in her injured left wrist. Instead of a bandage she wore a gold watch during the first round. There were no flinches, no rubbing of the wrist.
Michelle has been telling us she just needs to get her strength back and her form will follow. That could very well be the case. But it also appears she needs to get her confidence back as well. There were enough good things Thursday for Michelle to take happy thoughts with her to bed. What Wie displayed in the first round of the Evian Masters was a much better golf swing than she had the last time she competed.
It is rare for a player of Wie's ability to celebrate a 73, but given what's been going on with her game she has every right to pound down a couple of Shirley Temples. What she needs to do now is show on Friday which Michelle Wie she is, the one who shot 34 on the front nine or the one who shot 39 on the back. If good things are going to start happening to Michelle Wie again, it makes sense it would begin here, the last place good things happened to her on the golf course.