News
The Baggage Must Weigh A Ton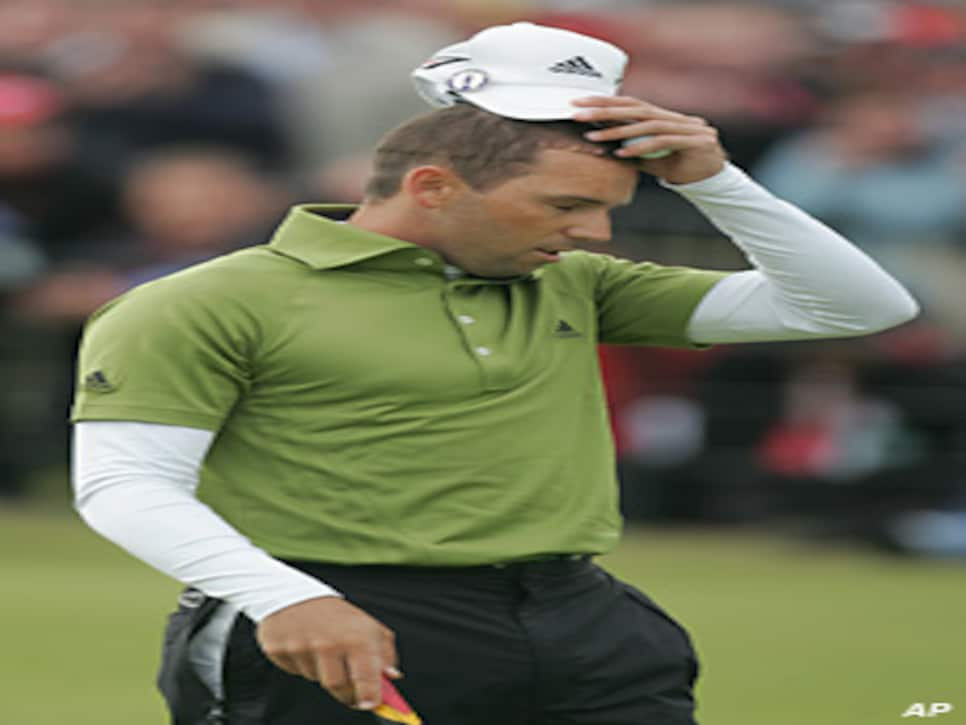 Garcia couldn't close the deal.
Now things really get rough for Sergio Garcia. Not winning majors is one thing, but losing them is an altogether different animal. Just ask Greg Norman. There are some wounds suffered in majors that never heal. Just ask Phil Mickelson. What happened Sunday at Carnoustie is going to leave a mark on Sergio. This British Open blunder could be of a career-haunting magnitude for the one-time wiz kid nicknamed El Nino. That coat he wears labeled "Best Player Without a Major" just got a whole lot heavier.
True, Padraig Harrington shot a 67, handled the four-hole playoff in even par and absolutely deserved to hoist the silver claret jug. But just as true is the fact Garcia took a three-stroke lead into the final round -- and a six-stroke advantage over Harrington -- and the Irishman doesn't win this tournament without a huge assist from Garcia in the form of a closing 73, including a bogey on the final hole after Harrington all but handed him the trophy with a double bogey on the 72nd so famously butchered by Jean Van de Velde in the 1999 British Open.
As Garcia walked up No. 18 with a one-stroke lead, TV caught of glimpse of the engraver etching the Spaniard's name onto the oldest trophy in golf. He might as well have carved in the name of Ralph Branca, or Ralph Terry, or Scott Norwood, or Fred Brown. Just as Van de Velde will be remembered more for losing the 1999 British Open than Paul Lawrie will be for winning it, history will most likely look back on Carnoustie 2007 as the one that got away from Garcia rather than the title Harrington won.
After Garcia's eight-foot British Open-winning putt kissed the left edge of the cup and slipped by, the duo headed off to play Nos. 1, 16, 17 and 18. More truth be told, the playoff was over almost before it started with a birdie-bogey exchange on the first hole to give Harrington a two-stroke lead he carried top the last hole which he was then able to play with irons, making a bogey 5 after Garcia scared him a bit with a 25-foot birdie try that just missed.
Harrington becomes the first European to win a major championship since Lawrie in 1999, and the first Irishman to win the claret jug since Fred Daly of Northern Ireland in 1947. Garcia becomes an also ran on that short list of goats forever linked to a hero.
It was Branca who served up the home run ball to Bobby Thomson to allow the New York Giants to snatch the 1951 National League pennant from the Brooklyn Dodgers.
It was Terry of the New York Yankees who made Bill Mazeroski a Hall of Famer by throwing the Pittsburgh Pirate a gopher ball in the bottom of the ninth inning of Gave 7 of the 1960 World Series.
It was Norwood who missed a field goal from 47 yards on the last play of the 1991 Super Bowl to make the New York Giants champions and keep the Buffalo Bills the greatest also-rans in NFL history.
It was Brown who threw a pass right into the hands of James Worthy to seal the 1982 NCAA basketball championship for North Carolina over Georgetown and make a freshman named Michael Jordan a hero.
And then there is Norman and his 78 in the final round of the 1996 Masters, and Mickelson with his double bogey on the 72nd hole of last year's U.S. Open at Winged Foot. Norman never recovered from his meltdown, and in the five majors since he Wing Footed himself in the butt Mickelson has not had a top-15 finish, including missing the cut in his last two -- this years U.S. Open and British Open.
Garcia had every chance to put the tournament away early. He made a birdie on No. 3 but then let a slew of players back into the tournament with a hard-to-look-at run of three bogeys in four holes, beginning on No. 5. Two birdies early on the back nine put him back in the drivers seat, only to squander his chance to end his majorless streak with bogeys on Nos. 15 and 18 coming in. That's not the way champions close out tournaments.
Of course, Harrington didn't exactly end regulation in championship fashion either. He should be sending a case of fine Spanish wine Garcia's way for bailing him out as this year's Van de Velde. Garcia wouldn't even have had a chance to win -- or been able to force a playoff -- if Harrington hadn't made a double bogey 6 on No. 18, twice hitting into the Barry Burn. But, to his huge credit, the Irishman did play the four playoff holes even par, starting it off right with a birdie.
The big question now is how Garcia handles this disappointment. Now, every time he goes into the final round of a major with a chance to win he will be identified not just as The Best Without a Major, but also as The Guy Who Let One Get Away at Carnoustie. Your past is a heavy burden to drag around with you.
Sergio's excess emotional baggage got a lot heavier Sunday at Carnoustie. The true weight of it will not fully hit Garcia until the next major -- the PGA Championship at Southern Hills in August -- when he starts to get those questions, those questions about why he hasn't yet won a major championship. And those questions will now have a different element to them. What happened at Carnoustie, he will be asked. Can you put that behind you, he will be asked. And it is then that he will realize that even if he tries with all his might to put Carnoustie in the rear view mirror there will be those who won't let him. Just ask Greg Norman, or Phil Mickelson.