News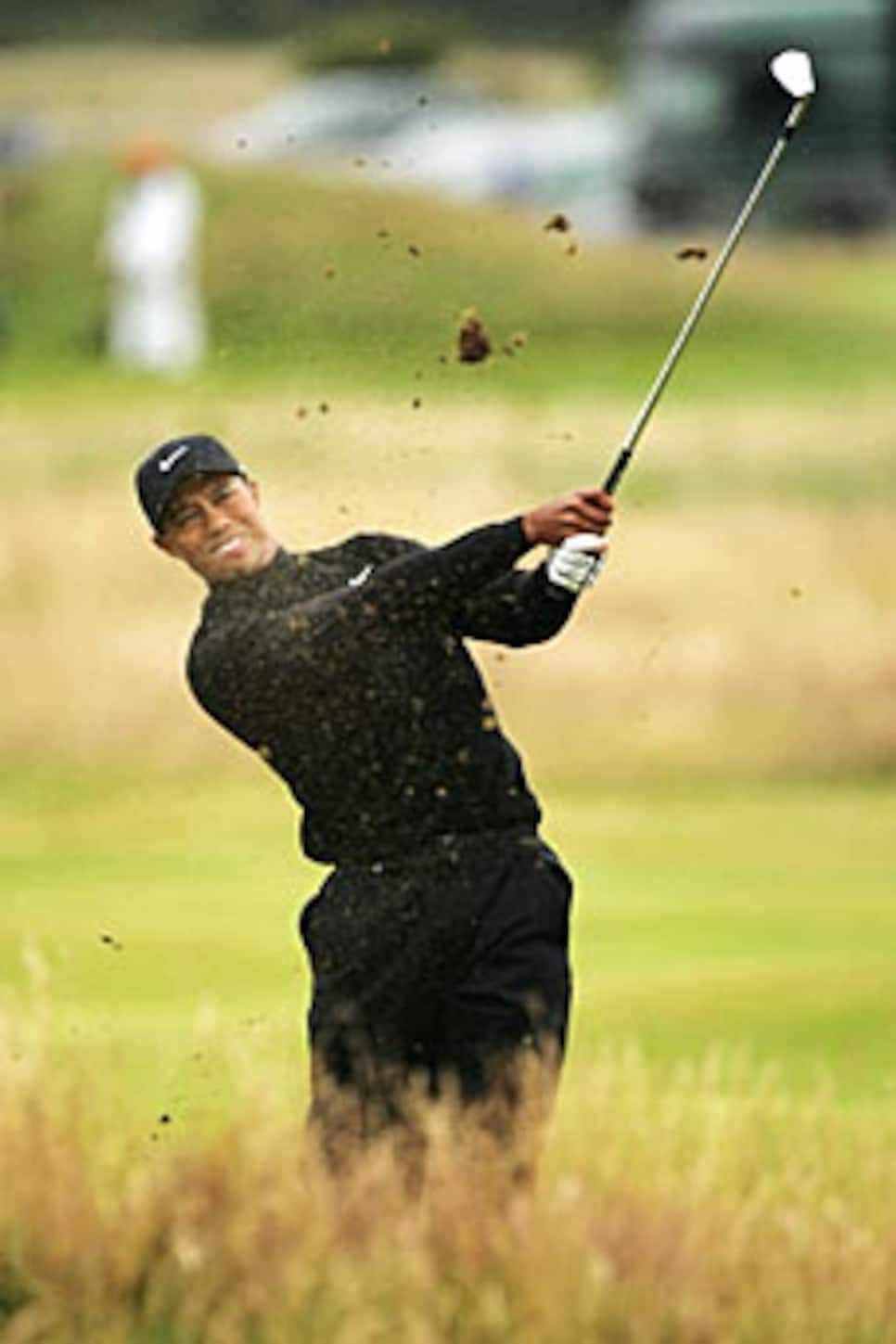 Tiger was solid, but he needs spectacular to catch Garcia.
CARNOUSTIE, Scotland -- Tiger Woods is running out of holes at the British Open. A three-peat is within reach, but he'll need a brilliant final round and help from Sergio Garcia to capture his first come-from-behind major title.
On another cool, rainy day, the 31-year-old Woods churned out a 2-under-par 69 Saturday, leaving him eight shots behind Garcia. Woods was sharper than Friday, hitting nine of 15 fairways and 13 of 18 greens in regulation. His lone bogeys were a pair of three-putts from long distance.
"I've done this before," he said afterward. "It's a major championship; you just hang in there and grind it. It's a long way to go."
That said, Garcia looks strong. For Woods to challenge him, he'll need an early front nine charge Sunday to apply pressure.
"It can be had," said Woods. "There are a lot of birdies that can be made, probably up to the first seven, eight holes. You can probably make four or five birdies through there if you're playing well.
"The back nine is a different story. There's a lot of long clubs coming in. The only really good birdie chance you have is 14."
The last time the tournament was contested at Carnoustie, Paul Lawrie staged a big final-round comeback to win. Of course, he got a little of help from Jean Van de Velde.
"I've got to be playing a little better than I have been, that's for sure," Woods said. "But at least I gave myself a chance going into tomorrow. Paul came from 10 back in '99. Certainly you can do it around this golf course."
Woods' three-putts came at the par-4 second and 10th holes. He offset those with birdies at four, five, seven and 14.
He had momentum on his side heading to the par-5 sixth. Gunning for his third straight birdie, Woods pounded a long drive but pushed his second shot right of the green, where the ball struck a woman in the head.
"It was terrible," Woods said. "I certainly wasn't trying to hit it over there, that's for sure. I saw the ball bounce out and figured it had to have hit somebody. And unfortunately I went over there and the lady was bleeding all over the place. I felt really bad."
The woman was identified as Jennifer Armagh of Northern Ireland. She sustained a cut to the head and was treated at the first aid center.
"I've done that before," Woods said. "You don't ever feel good about it. You have a pit in your stomach and hopefully you didn't hurt somebody too bad. She was smiling. I don't know how she was smiling. But I just apologized the best I could."
Woods also gave her his glove. As for the errant shot ...
"I stuck my 2-iron straight in the ground and that helped shoot it to the right," he said. "I didn't get up-and-down."
Woods knows he has his work cut out Sunday and hasn't played a complete round at Carnoustie. Even if he does, it might not be enough.
"Well, I'm in the position I've dealt myself," said Woods. "I need to play well tomorrow and hopefully get the title."