News
Bad Beginning But Hanging On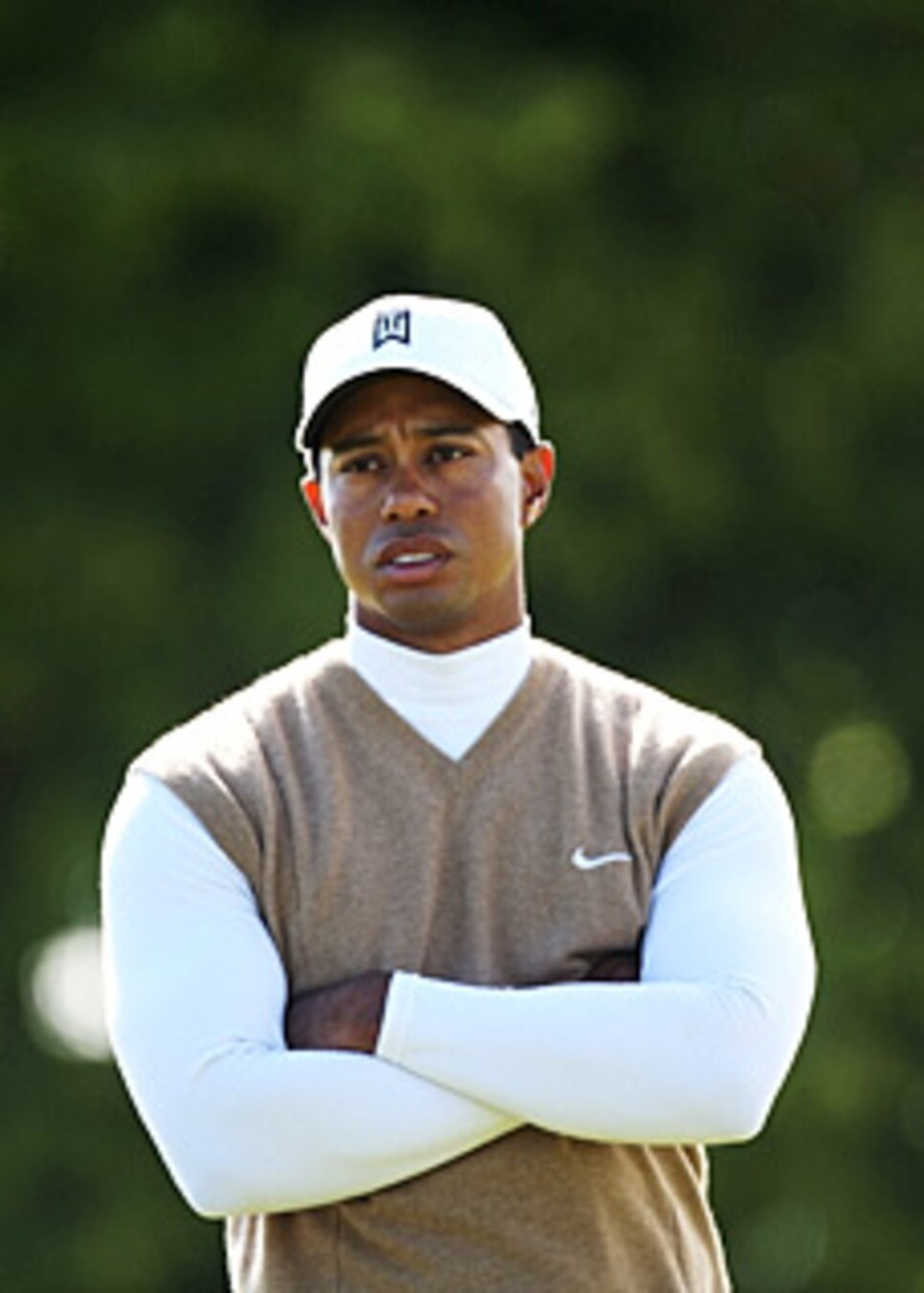 His opening drive didn't exactly put Tiger in good spirits.
CARNOUSTIE, Scotland -- Tiger Woods knew it was going to be a struggle when he pulled his first tee shot out of bounds -- with an iron. He smiled, astonished at what he had done.
So it went for the world's top-ranked golfer Friday in the second round of the 136th British Open at cloudy and breezy Carnoustie. The two-time defending champion didn't implode, salvaging a 3-over-par 74. But he trails leader Sergio Garcia by seven strokes and needs a big weekend to claim his fourth claret jug.
"I hit a lot of poor shots, but I hung in there," a cold and weary Woods said afterward. "I could have played myself out of the tournament but I didn't."
Woods missed left and right, hitting only five of 15 fairways and eight of 18 greens in regulation. He almost drove out of bounds again at the par-5 sixth, and pushed his tee shot so far right at the par-4 15th he wound up in the adjacent fourth fairway.
Of course, he parred both holes.
"We're gonna go on the range and work on it," said Woods, referring to swing coach Hank Haney. "I know what I"m feeling. Hopefully, what Hank was seeing, they coincide."
What the galleries, much larger than Thursday, saw was composure and confusion. As frustrated as he was, Woods never lost his cool.
He bounced right back from the double bogey with a birdie at No. 2. A poor tee shot led to another bogey at the par-4 fifth, and for the second-straight day, he bogeyed the par-3 eighth, again finding a greenside bunker.
Still searching for his swing, Woods battled gamely on the back nine, making a scrambling par on No. 10 from the trees. He made a nice up-and-down birdie at the par-5 14th, a fine par-save at the par-4 16th, then nearly birdied the testy par-4 17th.
Woods despises poor finishes. He got unlucky at the par-4 18th, when his drive hung up in the first cut of the left rough. Hitting from an awkward stance, he knocked his second shot in the front right bunker and failed to get up-and-down.
"That was such a poor shot," he said. "The commitment wasn't there."
It will be Saturday. Whether Woods works out the kinks with Haney remain to be seen. Never in his 12 major wins has Woods come from behind to win. But two things are certain: With his talent and mental toughness, it's only a matter of time.
"The weather forecast is not good," said Woods. "I just have to take care of my own business. I"m not out of this tournament."