News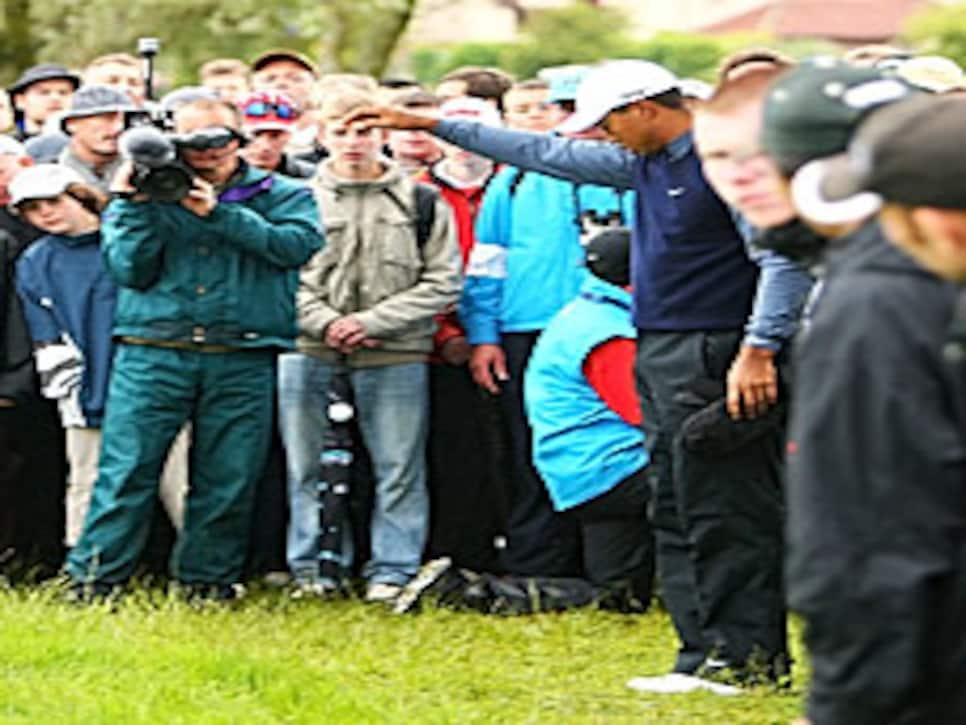 Woods was surprised with the ruling at the 10th hole.
CARNOUSTIE, Scotland - Tiger Woods got the worst of the weather, but one of the more interesting drops of his career. All things considered, he was more than pleased after an opening-round 2-under-par 69 Thursday in the 136th British Open at cold and rainy Carnoustie.
The two-time defending champion was an early starter with Justin Rose and Paul Lawrie, the latter winning here in 1999, when fairways were skinny and the rough ferocious. There was also a lot of sunshine and a memorable finish than Jean Van de Velde would like to forget.
The course and conditions were different Thursday. Fairways are forgiving, the rough little more than a nuisance, and it has rained for nearly a month. Even the hearty locals are tired of it.
Woods wore a full rainsuit for most of his round, although the weather improved on the back nine. Players didn't get as much roll on this usually demanding links course hard by the North Sea, but the greens were more receptive.
"The rain stopped but the wind stayed up," said Woods, who finished his day trailing early pacesetter Paul McGinley by two strokes. "It also warmed up a little more."
Attendance was down -- either because fans were sick of the weather or visitors had no place to stay. The longest concession lines were at the Coffee Station.
The 31-year-old Woods, gunning for his fourth claret jug and 13th major title, was hoping for a fast start and he got it. After two pars, he birdied the par-4 third with a well-executed short iron approach that spun back eight feet from the hole. This, after watching Rose and Lawrie spin their shots into fronting Jockie's Burn.
Woods smashed a big drive at the par-5 sixth, then hit a wind-aided low draw with a 7-iron from 207 yards 18 feet behind the hole. Swish, for eagle-3.
He dropped a shot at the par-3 eighth when he failed to get up-and-down from a greenside bunker, but rebounded quickly with a 17-foot birdie at the par-4 ninth to make the turn in 3-under 33.
"Probably the ideal start," Woods said.
At the par-4 10th, Woods hooked his drive into the left rough but wound up near television cables. When he arrived at his ball, a rules official told him he was entitled to free relief. Who was Woods to argue?
"It was a weird drop," he said. "I was as surprised as anybody. Usually, TV cables are movable, but they deemed it immovable. I've never seen that ruling before."
After the drop, Woods said his lie was worse than the original but still managed a scrambling par. He stumbled with bogeys at the par-4 12th and par-3 13th, hitting a sub-par pitch and bunker shot, respectively. But he finished strong.
The last four holes at Carnoustie are arguably the meanest stretch in golf. Woods played them in 1-under, the highlight coming at the 248-yard par-3 16th, where he holed a putt from here to Dundee.
"I just roasted a 2-iron to the front edge," said Woods. "I had about a 100-footer there. Just made a nice shoulder turn and released it and it went in the hole."
Woods raised his arms and dropped his putter, half in joy and half in relief. Then he made two solid 4s at 17 and 18 to polish off his round.
"I feel good about what I did today," he said. "I made those two mistakes at 12 and 13. But shooting under par today, you always have to feel good about that."
Especially when you wear black mittens between shots. Woods hit 12 of 15 fairways, using driver a half-dozen times, and found 13 of 18 greens in regulation. He also used 30 putts.
Woods applauded the course set-up by the Royal & Ancient, which got a mulligan from 1999 when the set-up was simply silly.
"The golf course is hard, but it's fair," Woods said. "I think it's a fantastic test."