News
Searching for David Duval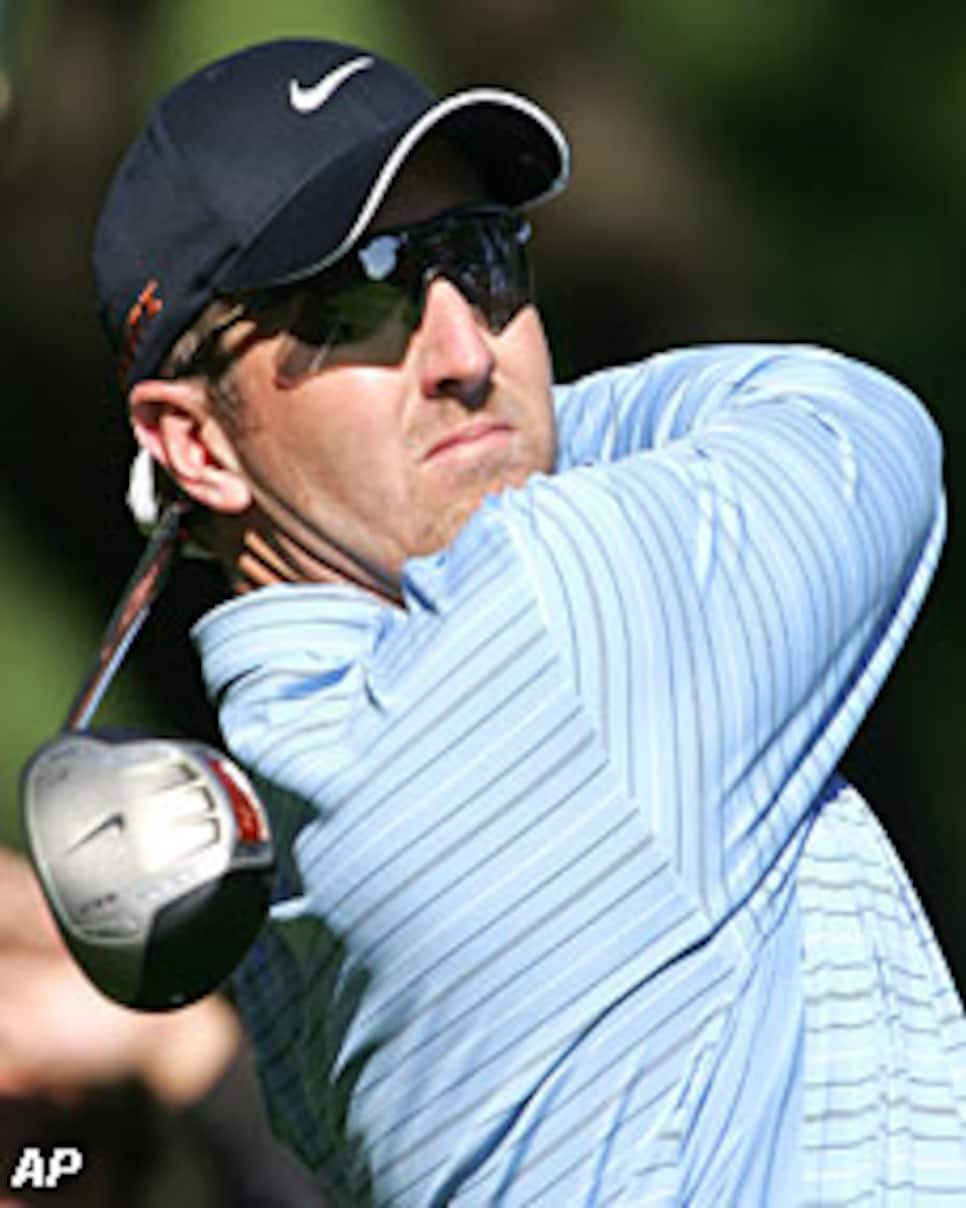 The rise and fall of David Duval: People still want to know.
Not a month goes by without somebody asking me about the rise and fall of David Duval. People still want to know if he'll ever regain the form that made him one of the world's best players over a four-year stretch that basically ended with his victory at the 2001 British Open. As much as I'd love to see it, those inquiries turn me into a killjoy who douses their hopes with a splash of reality and an irony chaser.
"For however many years, no one liked him; now everyone's pulling for him," says Puggy Blackmon, Duval's college coach at Georgia Tech and one of his closest friends. Blackmon's exaggeration is but a slight one. The longer Duval has struggled, the more popular he has become, which qualifies him as a tragic hero at this stage of his career. It is hard to imagine any sunken superstar continuing his search on such a public platform, with less ego or more tight-lipped dignity, a perseverance for which the man has been justly rewarded.
All that said, Duval hasn't played in a tournament since the Nissan Open in February. He'll miss this week's British Open for just the second time since he joined the PGA Tour in 1995--his only tour status comes from ranking in the top 25 on the all-time money list. On paper the long fight appears to be over, although Duval is just 35. Even before his golf ball started going sideways, Duval had been suffering from a deteriorating competitive soul. His desire to play the game at its highest level, even for millions of dollars and on his own terms, had dwindled to the point where the negatives outweighed the positives.
It may sound crazy to you and me, but the guy wanted more out of life, and more is what he has now. When I called Duval this spring to ask if I could see him at his home in Denver, he picked up on the second ring and seemed bullish on the idea of a story about his family. He also said that his wife, Susie, was expecting their second child in August--she has three kids from a previous marriage--and was already on bed rest. Still, Duval was planning on playing in Charlotte and would see me soon after he returned to Colorado.
When I called about 10 days later to confirm a date and get directions to his house, Duval didn't pick up, so I left a message. He didn't go to Charlotte, and he still hasn't called back. "Don't take it personally," says Blackmon, who hasn't spoken to his friend since a practice binge in Denver almost three months ago. "David gets in that [incommunicative] mode--he is completely devoted to his family, and he is just so good with those kids. It's like he's had the three [stepchildren] forever."
Those April sessions, which also included Duval's father, Bob, were designed to shake off the latest rust and continue the progress seen in a busy month of action on the 2007 West Coast swing. In five consecutive starts Duval made three cuts, and though his best finish was a T-36 at Pebble Beach, he shot 70 or better in six of his 17 rounds. After four years of bouncing between big-name instructors--David Leadbetter tried to change the weight distribution in his feet at address, Hank Haney weakened his grip--Duval went back to impersonating the guy who once won 11 tournaments in 18 months.
However unorthodox his swing may have been in his prime, it worked. Nobody on earth drove the ball more consistently than Duval, who faded it on command and could hit it as far as he wanted. As Tiger Woods began to widen the gap between himself and everybody else, though, the man closest to him in the World Ranking seemed to become obsessed with the right-to-left shot. Throw in some back problems and that eroding sense of purpose, and you've got perhaps the greatest career meltdown in golf history.
After he won the '01 British, Duval let me accompany him back to the house he had rented for the week in northwest England. What struck me about that hour was the utter lack of joy exhibited by anyone in the traveling party, particularly the latest owner of the claret jug. They had a plane to catch and bags to pack, but if you had walked into that house 20 minutes into the process, you would have sworn Duval finished tied for 35th.
He would later admit his first major title wasn't the over-the- moon experience he thought it would be. A year later Duval was in the early stages of the megaslump that continues to this day. His second child, a girl, will arrive next month, and there's a chance Duval will play in some Challenge Season events this fall. Maybe we'll see some results, maybe we won't. For now, Blackmon, forever the great friend, can't say enough good things about the father or the golfer. "I think we're going to be seeing a lot more of the old David," Puggy predicts. "When I saw him [in Denver], he was hitting it better than he's hit it in a long, long time. I've got a feeling he's getting ready--the one thing I noticed is that he seems to have gotten back his competitive fire. He's got his priorities in order, but he's really itching to play."