News
Carnoustie: "The game strikes back"?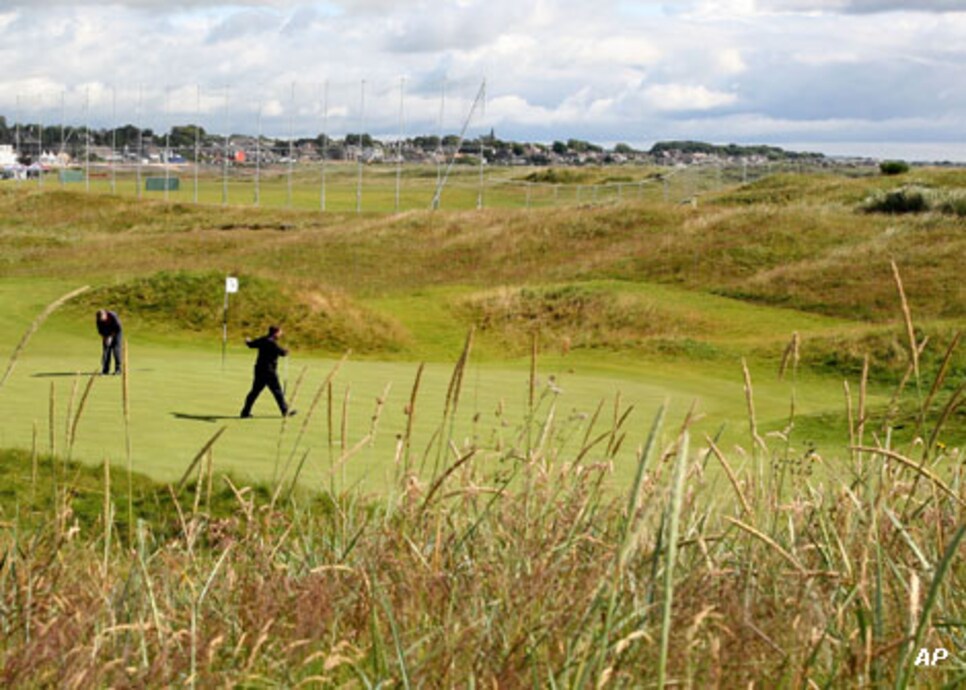 Will we see the third major in a row with an over-par winner?
John Philp, the militant greenkeeper who became known as the Madman of Carnoustie when he turned that links into a torture test for the 1999 British Open, will be operating on a short leash when the 136th edition of golf's oldest championship is played this week. And, ironically, after 72 holes are in the books at Carnoustie, Philp may emerge as a poodle rather than a pitbull when it comes to major championship course set-ups in what is turning into the most difficult major season ever. If there is a theme to this year's majors, it is this: The game strikes back.
For the first time since 1956, over-par scores won both the Masters and the U.S. Open with Zach Johnson triumphing at +1 on the muscled-up Augusta National layout and Angel Cabrera taking the Open with a +5 score at Oakmont Country Club, the most difficult and perhaps the best test of golf in the United States. Never in the modern era of the majors, which began in 1934 with the creation of the Masters, have three majors been won with over-par score in the same year.
In part that is because the PGA Championship was a match-play event until 1958. Since switching to stroke play, the PGA has been won by the score of +1 four times -- Jay Hebert (1960, Firestone); Julius Boros (1968, Pecan Valley); Gary Player (1972, Oakland Hills) and Dave Stockton (1976, Congressional). In only one of those years -- 1972 when Jack Nicklaus won the U.S. Open with a +2 score at Pebble Beach -- was an over-par score good enough to win another of the four majors.
Among the many fascinating defenses Philp put forth to justify the course setup at Carnoustie in 1999 was this: "They have titanium and psychologists. All I have is nature." And imagine, Philp was thinking that way even before the solid-core ball and drivers with heads the size of a Volkswagen Beetle came along. Clearly, what we are seeing in the majors this year is an amplification of a recent trend in which those who set up golf courses are trying to figure out how to protect par in the face of vastly improved technology in clubs and balls as well as better-conditioned athletes and much better use of computer technology to match the player with the proper equipment.
The Masters had gone a half-century without an over-par winner until Johnson grabbed the green jacket with a 289 score in April. The last two U.S. Opens have been won with +5 scores (Geoff Ogilvy at Winged Foot last year joining Cabrera at Oakmont), but before that the last Open title captured with a score north of par was in 1978 by Andy North when he persevered with a +1 number at Cherry Hills. And an over-par score hasn't won the British Open since Lawrie did it in 1999. The previous one was at Royal St. Georges in 1985 when Sandy Lyle won at +2. Before that, you have to go back to 1968 (Gary Player, +1 at Carnoustie).
The juggling act in course set-ups involves getting the ratios right. Philp was concerned that the skill/technology ratio was getting out of whack in favor of technology. And that is an even greater issue now. But at the same time, care must be taken not to let the skill/luck ratio get distorted. Philp rightly believes that luck is a part of the test of golf. Specifically, he believes part of identifying a champion involves an examination of how well a player handles bad luck. If a good shot ends up in a bad place, can he handle it?
A course set-up gets out of control when the skill/luck ratio skews too heavily toward luck. Similarly, the test of a championship golf course is diluted when the skill/technology ratio falls too heavily on the side of technology. Finding the right balance is a delicate dance, especially when golf also has that great uncontrollable thrown into the mix -- nature. Many times the best-laid plans of tournament officials have been wasted by the weather.
British Open venues are usually set up with the assumption the wind is going to blow. Get four calm days with no rain and the course is likely to get ravaged with under-par scores. Or you can have one of those days like the Saturday at Muirfield in 2002 when it rained sideways in the afternoon and Tiger Woods shot an 81. In both of those ratios -- skill/technology and skill/luck -- the uncontrollable X-factor is the weather. Getting the course just right -- like the game of golf itself -- is part art and part science. It is also a significant part chance.
A major championship does what any other golf tournament does -- it does not necessarily identify the best golfer, but it identifies the best golfer that particular week. But what a major does much more so than regular tour events is determines who makes the mental and physical adjustments to the demands of that particular week. In 1999, it was clear at his pre-tournament interview that David Duval had no chance of winning at Carnoustie. All he did was complain about the course set-up. While his complaints were accurate they were useless. At a certain point you just have to play the course everyone has to play.
Listen going into Carnoustie and you'll hear who has a chance. Complainers rarely win. Woods didn't like the set-up at Carnoustie in 1999 but he really only shared those feelings after the fact. Tiger was way too smart than to build up a negative mindset going into the tournament. What Woods knew was that, when you get right down to it, everyone has to play the same course. As Philp said in 1999 when asked about the complaints from players: "All I know is that Hogan would have figured it out."
Perhaps even more than shot making and luck a significant component in determining this week's winner will be the players best able to adjust to the demands of this particular week. Victory in team sports is often determined by the ability to make adjustments with the game. Victory in golf is often the result of making mental adjustments within the tournament.
John Philp made some mistakes in 1999, but he was not off by much in trying to find equilibrium in those tricky ratios of skill/technology and skill/luck. His notion that par is an arbitrary number is a wise one. The score it takes to win is not what matters as much as it is the shots -- the skills -- needed to post that score.
We could very well see a third major won with an over-par score in the same year for the first time ever. Some will scream about that, but who cares as long as it is good golf? And through the Masters and the U.S. Open it has been good golf. We likely will see a tamer Carnoustie this year, and John Philp will wince a bit every time a short iron is hit into a long hole. But the winner will be the guy who does the best job of sizing up the situation and adjusting to it. That's all Philp was trying to prove in 1999.