News
Tour Insider: MIA At Kapalua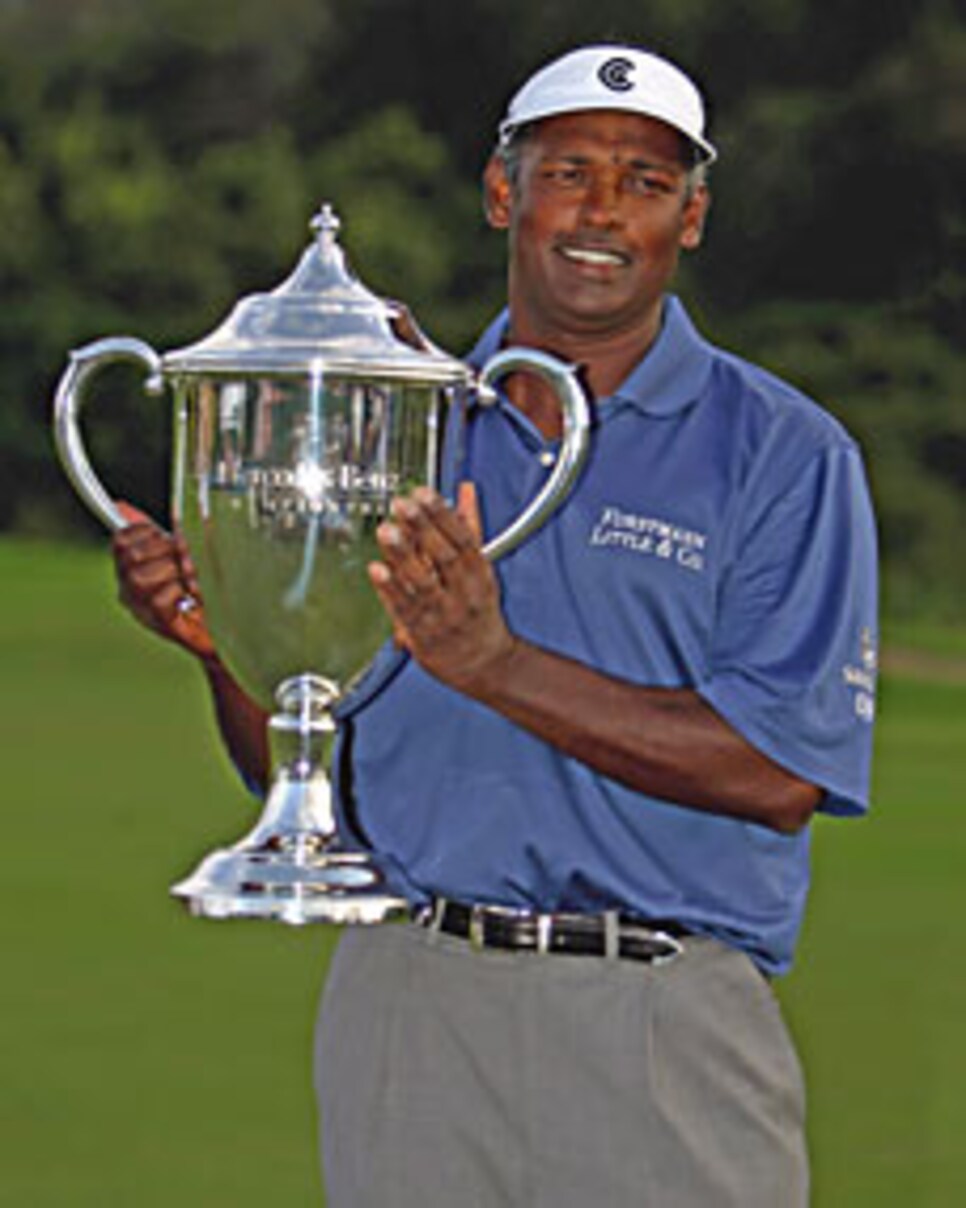 Vijay is in Kapalua and ready to play just like he was in 2007 when he won.
KAPALUA, Hawaii--With respect to defending champion Vijay Singh and No. 3 in the world Jim Furyk, the 2008 PGA Tour season begins today without several of the game's biggest stars. Notably absent yet again from the Mercedes-Benz Championship are Tiger Woods and Phil Mickelson, and this year they're joined by No. 7 Adam Scott and British Open champion Padraig Harrington. Four of the biggest names in the game are taking a hall pass when the rooms are free, the gas tanks full and the pay opportunities pretty good. What's wrong with this picture?
Well, for a start, this wasn't the way Tim Finchem designed the FedEx Cup. And this was not what The Golf Channel, Mercedes-Benz or FedEx had in mind when they spent the money, or what the golf fan with a snowdrift outside his window deserves when he turns on the TV for prime-time golf from paradise.
We wrote this last year, and we may end up writing it again next year unless something gets fixed, or tweaked, to make this work. Even the guys who aren't Tiger and Phil have a hard time with the quick turnaround.
"Personally, I think we start too early," says Steve Stricker. "I talked to [tournament director] Gary Planos this week, and he kind of feels the same way. It's holiday time."
Don't make Stricker out to be a whiner: He hasn't been to Kapalua for the winners-only event since 2002. He's grateful for the free room at the Ritz-Carlton, the ride in the Benz around Maui, and all the other perks that make "Camp Planos" a tough act to follow. He's just saying, "You've got to take off on the 27th or 28th, right after Christmas, to get over here. Personally, I'd like to see it start a week or two later, just to be home enough through Christmas and the first of the year and be able to spend time with family and friends."
So would Woods, who hasn't been to Maui since 2005. That's the year the tour moved his Target World Challenge to two weeks before Christmas. Mickelson, who hasn't played here since 2001, can be thrown out of this discussion since his problem is not only family, but also 30 mph winds, grainy greens and uphill walks that are part of dealing with the Plantation Course. But Harrington, who is at home in Ireland, and Scott, who is resting up after the Australian circuit, just show that there's so much money in golf today, worldwide, that a ride in a private jet to a limited-field event just isn't worth the inconvenience.
"It was a fast off-season," says Mark Calcavecchia. For players like Woody Austin, who played in his first career Silly Season event by teaming with Calcavecchia to win the Merrill-Lynch Shootout, this is a week to knock off the rust. It has been an abnormally snowy winter in Kansas, where Austin the Aquaman makes his home. For Sony Open winner Paul Goydos, Kapalua is his first start since taking four months off after the Deutsche Bank Championship on Sept. 3 to "be a parent."
Calcavecchia, 47, just saw Stricker two weeks ago at Tiger's event in Southern California, a fact they shared while shaking hands and wishing each other a Happy New Year in the media center on Tuesday. While Stricker was at home in Wisconsin in two feet of snow, Calc was at his home in Phoenix, in training for his 27th season on tour. He did this not by snuggling with the customary 12-pack, but by climbing South Mountain near the Phoenix Airport.
Three times he scaled to the summit, hoping to get his legs in better shape for the five straight events that are on his 2008 schedule. He'll be playing in his fourth event by the time Tiger and Phil tee it up for their first at the Buick Invitational on Jan. 24. "You can see everywhere from up there," Calcavecchia said. "I took three minutes and had two bottles of water on me, and I stretched my back and my hammy and I thought, All right, now I've got to get down."
Calc even took a moment during between deep breaths to send a text message to his buddy Tiger. I said, "Hiking a mountain. May die." He texted me back and said, "You must be on the Plantation Course."
Next year's Mercedes-Benz Championship will start on Jan. 8 vs. Jan. 3. Planos thinks the five days will make a difference. Will it make enough of a difference to get Woods back to a place where he has won (2000), or Harrington to cross 10 time zones, or Scott--who finished second last year--to fly in for one event?
Probably not. But none of that matters to Singh. The soon-to-be 45-year-old Fijian has spent the past three weeks practicing at the TPC-Sawgrass, trying to hone a new backswing after 31 career victories, No. 30 coming last year on the Plantation Course.
There's no asterisk next to his 2007 Mercedes-Benz victory. The check was for $1.1 million and they gave him a Mercedes 450GL on top of everything else. Ranked 10th in the world, Singh doesn't care if Woods, Mickelson, Scott or Harrington aren't here. That just means four less guys he's got to beat.
"I know that half of the guys will show up here because they've won and they want to get prepared this week," Singh said Wednesday. "I'm prepared when I come over here. If you look at it that way, I think I've only got half the guys to beat because so many guys are coming from how cold their home is right now. Half of America is under snow, I think. I've seen a few guys coming up to the TPC to warm up before coming over here, guys practicing and getting ready for this event. I'm ready to play and ready to win."
That's just how Vijay rolls.