News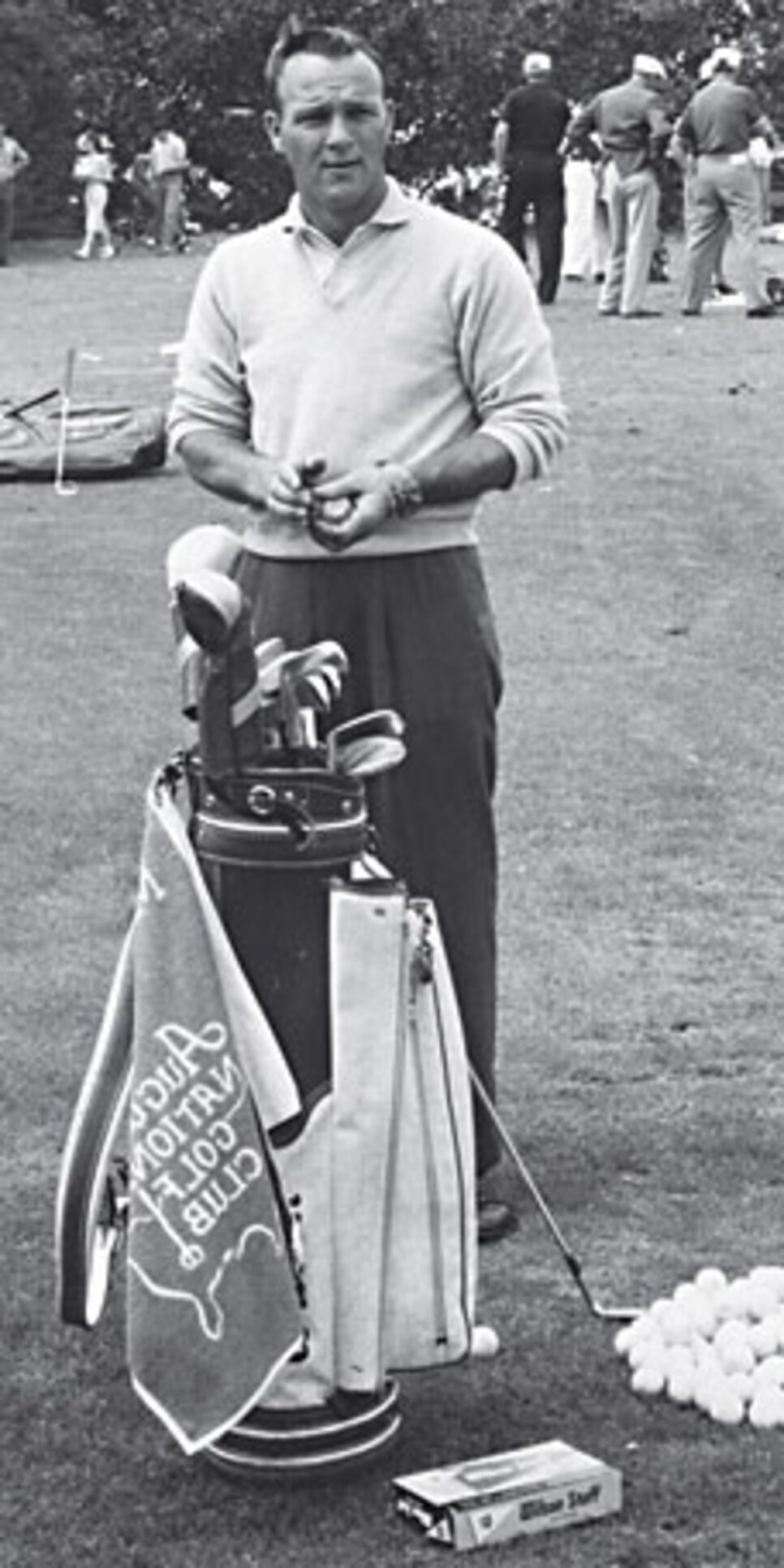 For a seven-year period from 1958-'64, Palmer ruled Augusta.
Arnold Palmer and the Masters: For 50 years the two have been inseparable. As Andy Bean says, "You wish he could play for another 50." But he can't, and this year, at age 74, Arnie says he'll walk up the 18th fairway for the final time as a Masters contestant.
Images that began in black and white in 1955 have faded to gray. Baby boomers have become grandparents. Ten American presidents have served. But through the evolution of time there has been one constant: the charismatic man from Western PA.
To celebrate Palmer's 50th Masters, Golf Digest interviewed more than 50 people who have been part of the ride. Here are some of their favorite memories:
Dow Finsterwald, longtime friend, on Palmer's first Masters victory, in 1958: "He and I were playing Hogan and Jackie Burke. Arnold had just been in a playoff in Wilmington. Howie Johnson beat him. After being in a playoff, driving over Monday night and showing up Tuesday, he didn't play his best. Hogan asked Burke afterward how this guy got in the tournament. I think Arnold remembered that, frankly."
Jackie Burke: "I had Finsterwald tell me one day, 'Palmer will win four Masters before he's through.' I said, 'Finsty, are you kidding?' I didn't think anybody could win it four times. Demaret had won it three times in 10 years, and nobody touched that. When Palmer won the fourth, Finsterwald was the first to remind me what he said."
Dan Jenkins: "In 1957, for a midweek column, I was interviewing pros upstairs in the clubhouse on what was making Ken Venturi the next great player. Venturi surely looked like it then. When I got around to Jay Hebert, he stunned me when he said, 'Venturi's not the next great player. Arnold Palmer is.' Mind you, this was a full year before Arnold won his first Masters. I asked Jay why he thought that. He said, 'Palmer makes eight birdies a round. He also makes eight bogeys a round. One of these days he's gonna learn how to eliminate some bogeys, then it's look out, folks.' "
Frank Chirkinian, former CBS producer: "My first experience with Arnold was in 1959, my first Masters. The camera is strange—it's all-revealing. It either loves you or hates you, and it loved Arnold. And it has ever since. There was a quality about him that exists today that makes you say, 'Hey, I want to know this guy.' "
Frank Christian, official Masters photographer at the time: "The first time I got with Palmer was the early '60s. I've got terrible astigmatism, and I tripped—fell right on my face, with my cameras scattered everywhere. I'm terribly embarrassed, and I look up, and there's Palmer looking at me. He comes over, and he's picking up cameras, helping me out. He just disarms you so."
Andy Bean: "I must have played 15 practice rounds with him at Augusta over the years, and Arnie, you know how he talks about how he doesn't hear? If you're playing with him, there are two comments he hears every single time. The first is, 'Look at that girl over there.' And the other one is, 'I press.' He turns around and grins at both of those. Of course, before he acknowledges you, he'll go to both legs, reach down and hitch his pants up, and then he'll turn around and smile at you."
Jack Nicklaus: "We played a ton of practice rounds together. Through all the years my standard bet has always been $10 with somebody. With Arnold it's always $20. The two of us like to pick each other's pocket." Lee Janzen: "Those who know Arnold Palmer will get a kick out of this. One time Payne Stewart and I were playing Arnold and Paul Azinger. We win the match, but Payne has played with Palmer before and knows he's not going to get paid. So while Arnold wasn't looking, Payne went over to Palmer's bag, unzipped the pouch and took the money himself. The funny thing is, Arnold might not even know he did it."
Fuzzy Zoeller: "My special memory is the time I played with Arnold in the Par-3 with Spider [John] Miller for $1,000 hole-in-one whipouts [paying on the spot]. I swear I thought I'd lost $1,000 on the seventh hole. Arnold hit one up there that looks like it's going in, and he's chicken walking—he's hitching those pants up; he probably hitched them over his shoulders. My right hand was in my front pocket, but as it turned out he came up less than a foot short. Then at 9 I holed one on him. To this day I think Arnold thought Spider didn't pay me. He just waited until we got to the locker room. But Arnold whipped it out right there in front of everybody, that big wad with the rubber band around it."
Spider Miller: "My little boy, Frankie, was caddieing for me. He was in the third grade. Fuzzy's on the tee—you know how he's wiggling and waggling—and before he hits it, he turns around and says, 'Get your money ready boys; this one's goin' in the hole.' God's truth. We can't see from where we're sitting, but Fuzzy sucks it in, the crowd goes wild, my boy's jumping, and Arnold and I just hung our heads, because it cost us $1,000. I had the money on me, but I was thinking I shouldn't pay in front of everybody. But Fuzzy gets Arnold out in front of the crowd, and of course Arnie's got the money. He hands 10 hundreds to Fuzzy, who gives $200 of Arnold's money to my son. I waited and paid Fuzzy in the locker room. The next day Arnold looks me up. He's been thinking about it, and he didn't see me pay Fuzz. He says, 'You two Indiana guys didn't split me up, did you?' I tell him, 'No, we wouldn't do that.' "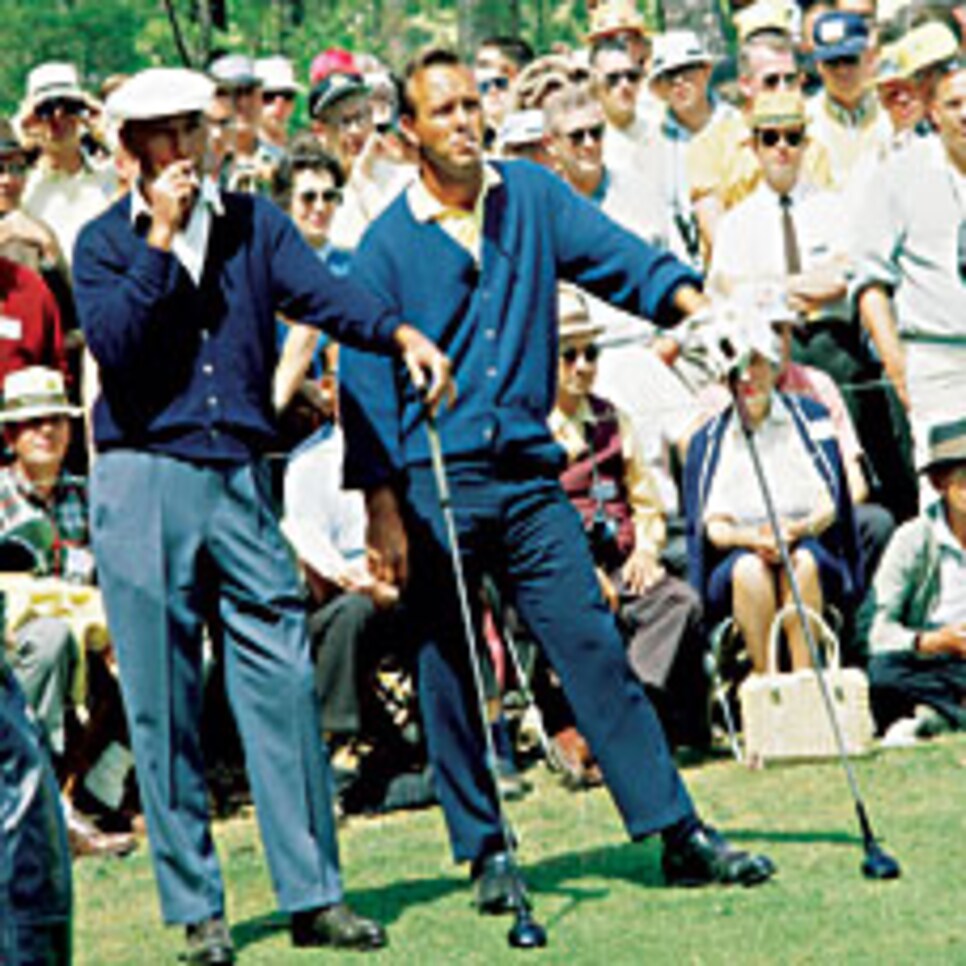 Photo By Historic Golf Photos
Larry Mize, Augusta native and 1987 Masters champion: "As a kid I remember following him. I'll never forget this time, he and Weiskopf were playing some younger guys. They were on the tee box at No. 2. I was standing around the tee. I don't know if he was reeling them in or what, but I remember Arnold hitting a big drive and Weiskopf telling them, 'Boys, get used to it. He's going to get better and longer as the day goes on.' "
Ken Green: "My thought [in 1997] was, Arnold's always had a friendly reputation, and I clearly have always liked to have a beer, and it's my only chance to have a beer with somebody who's a legend. Who wouldn't want to have a beer with Arnold Palmer? So at 15, after we hit our tee shots, I had a friend of mine go to a concession stand and get one. Walking to our tee shots I said, 'You know Arnie, I've always wanted to have a beer with you.' He said to me, 'In all honesty, you should have brought me one.' I'm sure he was kidding, but he handled it in a way only he could have handled it, with total class—not like myself."
Jerry Kelly: "During my first Masters, in 2002, I had some Masters flags that I wanted all the past champions to sign. I brought them up to the Champions Locker Room, and the guy there said, 'Sorry, you need to keep these in the regular locker room.' Well, who was the only past champion to sign my flags? I didn't even have to ask him. He saw the flags and signed them. No questions asked. I'll never forget that."
Doug Sanders: "What I remember most is Arnie and me smoking all those cigarettes at Augusta. L&M would send us two cartons a week. I remember we would always take a puff on the tee and then throw that cigarette down with a flick. There was just a way about him. He'd stand there with that cigarette in his hand. He was confident. Augusta was his home. That was his place. He could stand there with that look like this was his place and he was here to win."
Buddy Marucci, 1995 U.S. Amateur runner-up and 1996 Masters contestant: "I didn't want to walk to the first tee with Arnold; I didn't think it was appropriate. When I walked to the tee, the gallery was about six or eight deep. About two minutes before we hit, he waved me over to the center of the tee, put his arms around my shoulder, pulled me over to him so close he must have been four inches from my face. He said, 'Look, I don't know what's going to happen out here today, but I do know it's going to be one of the greatest days of your life. Anything I can do for you, let me know.' He hits his tee shot just about perfectly to the top of the hill. I told him, 'You didn't have to hit it so well.' He smiled. So I got up there and swung as hard as I could, and I hit this thing right on the nose, and it goes eight yards past his. I told him, 'I don't care what happens the rest of the day. I got you at the first tee, and that's all that matters.' "
Billy Mayfair: "I won the U.S. Amateur in 1987, so in 1988 I got to play in the Masters. I played with Arnold in the second round. I remember calling for my tee time, and the lady on the phone said, 'You're playing with the King.' She didn't say 'Mr. Palmer' or anything like that. Just, 'You're playing with the King.' We were both probably going to miss the cut, but that day he was grinding as hard as he could to get back into the tournament. I still think about it to this day."
Tiger Woods: "The last one—what we thought was his last Masters—Mark [O'Meara] and Arnold and I played in the Par-3 Contest. That was pretty cool. Arnold hit one of those typical shots of his, just got the follow-through going, staring at it. It hits in the water. He said, 'Where did that go?'—he was just posing on it—'Where did that go?'
" 'It's in the water, Arnie.'
Lanny Wadkins: "Arnold can look to the gallery left of the green and all 1,000 people think he's looking at them, like he's making eye contact with 1,000 people. I don't think it's anything he tried too hard at. It's just him--genuine and honest."
Billy Casper: "He was egged on a lot by the people in the gallery, and he listened to them. He could be very, very spectacular, or he could be very much like them and some of the shots they hit. That's why he was so appealing to them."
Buddy Marucci: "At No. 7 [in 1996] I hit my second shot over the green into the back fringe. The people in the crowd are sitting in chairs about a foot and a half from my ball. I'm trying not to hit people with my backswing. I was clearly struggling, pacing, trying to figure out a way to hit this shot. Arnold could tell I wasn't comfortable, so he saunters over, looks at the crowd, and says, 'This is his first Masters. Give him a break; give him room.' All of a sudden it was like the parting of the Red Sea."
Raymond Floyd: "I learned from Arnold early on how you play Augusta. He had his definite ideas about how to play holes. At the second hole during a practice round I asked him, 'Arnold, how do you play this hole? Is it better to play over the green?' He tells me, 'Well, you know, you should take whatever club is long enough and hit it.' The gallery is so thick the ball has got to get stopped by the people behind the green. The next time, in competition, I fire it back there but the gallery splits, and I'm 15 to 20 yards up that hill. I realized then, maybe there are better ways for Arnold to play it than the other guys.''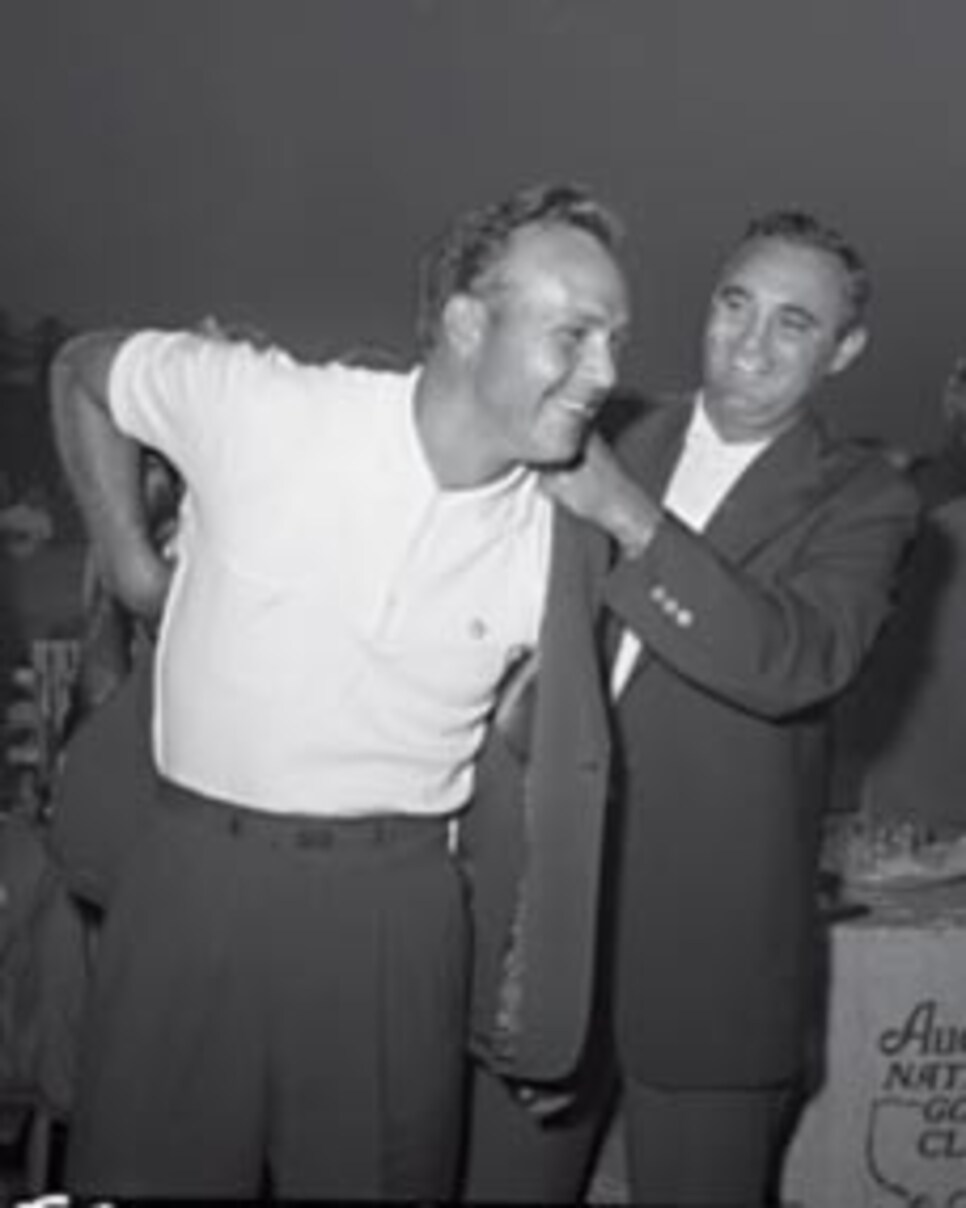 Andy Bean: "They'll use their bodies, they'll use their seats, they'll use anything they've got if they know Arnie is coming their way. The fans want to say, 'This bruise on my shoulder is where Arnie hit me, and now his ball is back on the green.' It's something they'll talk about forever."
Tony Jacklin: "I got paired with him in my first Masters in '67, when he was God and the King and everything else. I managed somehow to beat him [71 to 73]. Not too many people knew who I was, which was understandable. I got drawn with him the next two, three times at Augusta; it became the thing they did, and I didn't think it did me any favors. He was such an overpowering influence with the galleries. The galleries would just walk off when he was through. He commanded such an aura. I enjoyed playing with him because he was The Man. He was what everybody wanted to be. But it was a tall order to get drawn with him on sort of an annual basis."
Ed Seay, executive vice president, Palmer Course Design Company: "It was Saturday in 1976, and Arnold had missed the cut for only the second time in 22 Masters. I was standing at the top of the hill, to the right of 13, and I hear this roar coming from No. 10. It continues for several minutes, and eventually the roars come down 13 fairway. Here comes Arnold Palmer with Clifford Roberts [Augusta National co-founder]. They're riding in a golf cart, and people are just roaring. Roberts took him down the center of those fairways. It was amazing that Cliff thought of doing that, because nobody else could. He had the juice to do it."
Will Nicholson Jr., chairman of the Masters competition committees: "One year I saw him standing outside the grillroom door. I said to him, 'I've got a favor. I wonder if I could get you to sign this cap for me.' He gave me that stern look and said, 'You, of all people. You more than any other person know that I can't sign autographs on the other side of the clubhouse.' I told him I thought this was an exception. 'It's for the man on the other side of the oak tree outside the ropes. He asked me if I could get it for his grandson.' Arnold said to me, 'You mean the one down there in the handicap car?' I told him yes, and the conversation was never completed. He walked down and signed it for the guy, and he must have been there five minutes talking to the man. That says most everything there is about the man."
David Chapman, close friend and business partner: "Every year we have a ritual about fried chicken on Friday night. For years Arnold and Winnie had this great lady named Irene who cooked for them. Arnold's usually in a sweatshirt and sweat pants, and he's always the first one to get up and pour you a drink. It's probably one of the warmest environments I've ever been in. You hear the stories at the same place every year with the same thing to eat every year on that one specific night. Augusta is all about tradition, and you realize here's a guy who's come here for 50 years."
Peggy Wears, daughter: "The friendships that came from Augusta are some of the key friendships of my parents' lives. My dad is a quintessential American who just revered Eisenhower and was completely in awe of him and the whole scene at Augusta. Just the fact that the Eisenhowers liked him so much was incredibly flattering to him. I think he worshiped Dwight in a way. I think he saw him as a father figure. That was just huge for a kid who came from not a lot of affluence in Western PA."
Alastair Johnston, president, International Management Group, and friend for 30 years: "He phoned me one morning, and the first thing he said was, 'I want to tell you I'm breaking my first rule. I'm using my cell phone. I'm using my cell phone at the club.' I sort of had an idea what he was talking about, but I let him go. 'I have just been taken into Augusta National,' he told me. 'I'm sitting at the bench with Winnie outside the front door of the club, waiting for my car. Winnie and I have been reminiscing about all the years we've come to Augusta National, and I have to tell you I'm pleased. I just wanted you to know.' "
Barbara Nicklaus: "The '99 Masters was the last time I saw Winnie. That was also the Masters that Jack didn't play. Winnie had called to make sure Jack was coming up for the [Champions] Dinner. I told her he wasn't, and she said, 'Oh, come. We need to spend some time together.' I flew up for the day just to spend some time with Winnie. That night we ate at that little restaurant on Berckmans Road, and Jack and Arnold joined us after the dinner. That was my last time with us together, and it was kind of nice that it happened in Augusta. I talked to her once a week until she died that November."
THE FIRST FAREWELL (2002)
Charlie Mechem, business adviser and former LPGA commissioner: "He was very sad. That was in the aftermath of the infamous letter [sent by Augusta National to some older former champions who had not been competitive, outlining that their lifetime exemptions to the tournament would end in 2003]. You remember the press conference. They asked him, 'Why are you quitting now?' He said, 'I don't want to get a letter.' But there was no carping or complaining other than that line, which was very tongue-in-cheek. The Masters officials didn't think it was tongue-in-cheek at first, even though those who knew him did."
Alastair Johnston: "Things have been smoothed over now. I'm really happy that it ended up the way it did with Hootie [club chairman Hootie Johnson] being big enough to change his mind. He'd had some conversations with Arnold that week, and Arnold wasn't thrilled with them. Hootie didn't tell him to resign [as a competitor], but he was asking enough questions that Arnold felt he wouldn't be too welcome. He had the emotional breakdown at the press conference."
Jack Nicklaus: "Last year Arnold and I had a nice day. We went up to Augusta; I took [son] Michael, and Arnold took Sam, his grandson. That was in March. That's when we met with Hootie and changed back the rule. I think they respect Arnold and respect me. We get asked a lot of things, and that's a nice compliment to both of us. We've stayed together side by side on just about every issue that relates to the game of golf. When one of us has an issue, the other supports it, and vice versa. That's an important thing in life, to have a friend like Arnold who realizes the game of golf is far more important than any one of us."
Roy Saunders, son-in-law: "A lot of things were going on in my head, with my mother-in-law not there to see him. You can't talk. You walk. You're gritting your teeth. And you do your job. It was a moment in history, but I'm glad he gets a chance to do No. 50. It's a great number to finish it on. To know what he's meant to the game of golf, but more important, what he has meant to me and his grandchildren, is pretty special."
Ed Seay: "I've told Arnold, 'They care about you. They don't care what you shoot. They just want to see you.' It's hard for him to accept that. He's a competitive dude."
Dick Ferris, former chairman of United Airlines, chairman of the PGA Tour Policy Board, and a member of Palmer's inner circle: "He loves it with every fiber of his soul. He asked me, 'Should I play?' I told him, 'Of course you should play. Make it your last one.' "