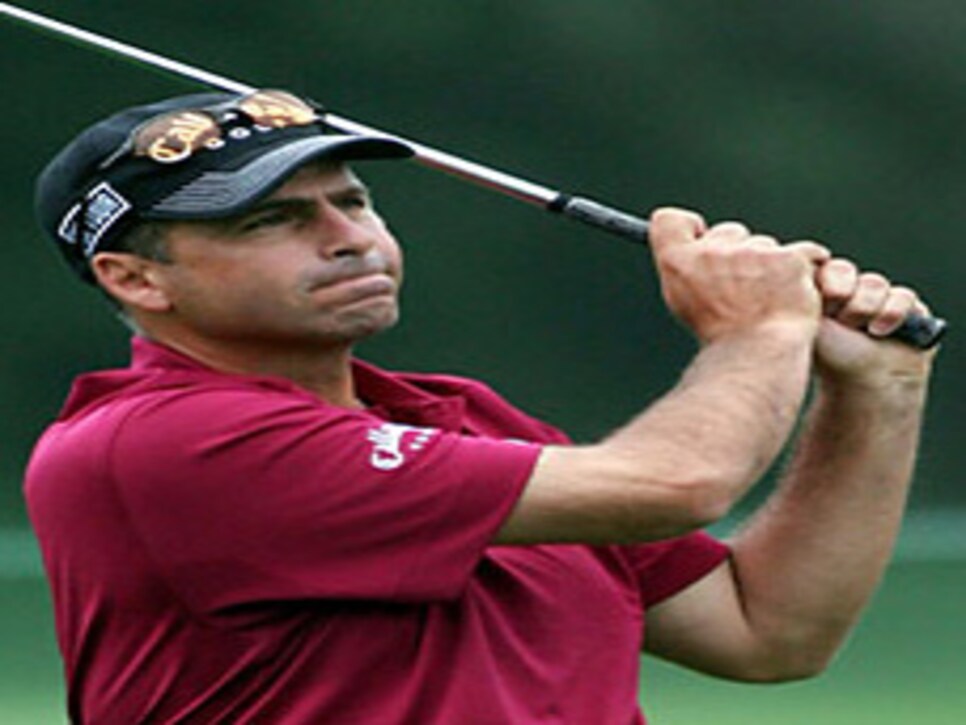 It's fitting that Rocco Mediate is the poster boy for the National Weather Service lightning campaign. He's never been hit himself, but he's often felt like a lightning rod for bolts out of the blue. Maybe it's Rocco's ear-tickling name, suggesting a Sopranos wiseguy. (He loves the show.) Maybe it's his physique: broad hips in roomy slacks distracting from a regimen that has helped him lose about 70 pounds since back surgery in 1994. Maybe it's the unorthodox putting style -- he was the first to win on tour with a long putter, adopted to favor the bad back. Maybe it's his fresh opinions, as when he reacted to news that Augusta National was lengthening the course by saying, "They're telling most of us we're just going to take up a spot in the field and walk around on the nice grass."
This is not your typical, mass-produced tour pro.
His magnetism owes at least partly to a few of us in the media being extra clever. Previewing the Masters, one magazine reported that "there's no cooking on the course, so random smells won't mess with Rocco Mediate's next triple bogey." Most of the time Mediate (ME-de-ate) grins and bears such high humor.
There are exceptions. A defective folding chair collapsed under him on the clubhouse porch at the 2000 PGA Championship, which some writers found humorous. "Roc fell off a chair," he says with his staccato chuckle but without the grin. "It nearly ended my career. My neck, shoulder and back were affected, and it took me four months to feel normal." A lawsuit against the manufacturers of the chair was settled for an undisclosed sum, as they say on the courthouse steps.
Mediate had won the Buick Open the week before, his fourth victory on tour, and believes the freakish accident probably cost him spots in the Presidents Cup, the Tour Championship and the Ryder Cup. He continued to test his body late in 2000, only to be singled out as the leading example of why the so-called Silly Season is dead. Another magazine called him "a bottom feeder" filling in for bigger names who no longer need to bother. "I got barbecued" is all he'll say.
But it takes a lot to rock the Roc, who finds a fun lining in most challenges. At the Phoenix Open, the tour's answer to "Animal House," Mediate has finished first, second and second over a three-year span. "It gets a little crazy, but I love it," he says. "Only the strong survive."
In 1999 he was paired with Tiger Woods the last day when an unruly fan in their gallery was caught carrying a gun. Another connoisseur loudly urged Tiger to hole a putt "and Rocco will fold like a cheap suit." Mediate held up like a thousand-dollar suit and beat Tiger by three. "I want to play where Tiger plays," he says.
He marvels at Tiger's composure, while Tiger says of Mediate, "Roc's become one of my buddies. He has a big heart, and he's honest and truthful. You have to appreciate that."
At the infamous par-3 16th hole in Phoenix, Rocco goes out of his way to enjoy himself with fans. "You don't want to make them mad," he says. "Duval got upset and said something, and they absolutely killed him. If you don't like it, don't play there. They boo me for a bad shot, I figure I deserve it. I was sorry they moved the bleachers farther from that green. They'd chant my name, one side going 'Roc' and the other side going 'co.' ... 'Roc-co! Roc-co!' You gotta love it."
Interviewers relish his freewheeling commentary. The Golf Channel has called Mediate "the best sound bite on tour." Marino Parascenzo, a Pittsburgh writer who has known Mediate since his amateur days, says, "I'd rather interview Rocco finishing fourth than most players winning."
I first spend time with Mediate the week of the 2001 Colonial in Fort Worth and quickly find there is much more to him than his lightning-rod image, but he is lightning fast. He talks fast, walks fast, drives fast. We go to the fitness trailer and chat while he rides a recumbent bike that puts less strain on his back. His trainer, Frank Novakoski, tells me later that an athlete's back is not exactly fine after surgery. "It's a disability requiring constant maintenance," he says. "Rocco doesn't know why his back went bad, but since the surgery he works with machines, free weights, medicine balls, stretching exercises. He understands that the need to work on his whole body never ends."
Rocco sets the heart rate on the bike at 150 beats and talks without breathing hard. He's asked about his long, special relationship with Arnold Palmer -- "Mr. Palmer" to Rocco. They first met back in Pennsylvania when Rocco was 19. A family friend in his hometown of Greensburg -- the county seat where his father, a former minor-league pitcher, still runs a unisex beauty salon -- arranged a game in nearby Latrobe, not mentioning that Palmer would fill out the foursome. When Rocco saw Palmer, he thought about bolting.
"But the second we met, I felt I'd known him 20 years," Rocco says. "I was just relieved that I didn't embarrass myself. We've played hundreds of rounds since. [It should be mentioned that Rocco is prone to excitable and harmless exaggeration.] He came to my wedding reception. He's the reason I'm the only 39-year-old Italian in Laurel Valley Golf Club."
The most memorable rounds Mediate has shared with Palmer were Palmer's last in the U.S. Open, in 1994 in Pennsylvania at Oakmont. It also was Mediate's final tournament before disk surgery on his back, and he was in extreme pain.
"I was gonna play if I had to crawl around," he says. "Walking to the first tee, a guy -- an alternate -- was standing there waiting for me to withdraw. He didn't even ask how I was. After 27 holes I was near the lead but could hardly get to my ball. Mr. Palmer asked me why I didn't hit a driver on 17 and I said, 'Because I can't.' I'm usually first onto a green, but on the last hole I stopped 75 yards short to watch him walk up. My ears are still ringing from the ovation. I two-putted through a haze, then I hugged him and whispered in his ear that he made the game's popularity possible. That's when he lost it."
Palmer has said fondly of Mediate, "He has a fresher attitude than a lot of fellows on tour. That will help him last a long time."
Waiting for Mediate to change out of the workout clothes, I talk to Pete Bender, his caddie of three years. A reserved, angular man, Bender has been on tour more than 30 years, and has won British Opens with Ian Baker-Finch and Greg Norman.
"Rocco's fun, and he listens," Bender says. "I'll read him off putts, but not as often since he had LASIK [eye] surgery two years ago. Before that, he had trouble telling uphill from downhill. He likes pressure -- he's unbeaten in playoffs, against Strange and Elkington, and he plays better with big names like Tiger."
The next day Rocco and his teacher, Randy Sonnier (Sawn-yay), go to another course where it will be easier to practice. We meet at the Ol' South Pancake House and Family Restaurant, where the parking lot is filled with a melange of motorcycles, battered pickups and new luxury cars and SUVs. Sonnier, a Continental Airlines pilot and former amateur champion, met Rocco when both were playing in the 1982 Dixie Amateur. "I asked Roc where he was staying, and he said in his car," Sonnier says. "He had this red Honda with more than a hundred thousand miles on it, and he was sleeping in it along with 200 cassettes of rock music. I shared my room with him, and after that we traveled together to amateur tournaments."
Mediate has enjoyed expert teaching since he took up golf in high school. His father, a low-handicapper, started him with Jim Ferree, who patronized the Mediate hair salon. Ferree later urged Rocco to try the long putter. Rick Smith, a protégé of Ferree's, became an early mentor and still works with Rocco. Yet another guru in Rocco's camp is CBS announcer Peter Kostis.
How can a player listen to so many different voices? "If I hear the same thing from two or three teachers, I figure I'm on to something," Rocco says. "I run it all by Randy. He's been around a lot of top golf minds -- he's always urging me to look up people like Eddie Merrins in Los Angeles or Walker Inman in Columbus as I travel. It's part of staying stimulated."
Our fourth is Frank Zoracki, a Florida neighbor from Greensburg who is a financial adviser to Rocco and other tour players. They met in the mid-'80s when Rocco drove into him at Greensburg Country Club as Zoracki was slow leaving a green. Angry shouts were exchanged, but a lasting friendship developed. Rocco affectionately calls him Bear.
We get in a plush sedan that Mercedes has provided Rocco for the week. At home he drives a one-of-a-kind Mercedes CL 55 AMG with a RennTech engine upgrade to 400 horsepower and special-order brakes, if you're hip to car talk. It's a white coupe and almost as fast as Rocco's speech.
We head for Southern Oaks Golf Club south of town, Frank at the wheel, but Rocco soon orders a stop at a Starbucks for his favorite drink: ice venti caramel soy macchiato quad with extra espresso, if you're hip to coffee talk. "I'm an ice-coffee freak -- but not after Wednesday," he says. I think of something I once heard Sam Snead say: "After Wednesday, it's no swimming, no pushups and no sex." Sam didn't mention ice coffee.
Rocco is wearing sunglasses and wears them in competition. "They relax the eyes and keep the wind out, and the vision is sharp if I change lenses for the light," he says. "Today it's bright, so I'm wearing slate." I don't know if he's referring to the sunglasses, the coffee order or life in general when he says, "I don't like doing things other people do. I'm not necessarily right, but that's me."
We arrive at the course, where the range is quiet. Rocco, in golf shirt and Bermuda shorts, puts a cap over thinning dark hair cut short enough to run at 12 on the Stimpmeter. He is barefoot, the way he often plays at home.
An under-rated ball-striker, he has never been tempted to change his right-to-left ball flight, which he has refined from 10 yards to 10 feet. As Tom Lehman says, "Once a right-to-left guy, always a right-to-left guy." Adds Jim Furyk: "When Rocco's healthy, he's very consistent and strong hitting that high draw."
Rocco may have the highest launch angle on tour, as high as 14 degrees with a 7-degree driver. It's not ideal in the wind, but it's ideal for bad lies, and he likes to practice off dirt. "People think I'm crazy," he says, "but it makes it easier when you have a good lie."
Between balls, Rocco says he's not the best on tour at anything but is still improving at everything (he ranked fifth in the all-around statistic in 2001, behind Phil Mickelson, Scott McCarron, Sergio Garcia and Vijay Singh). Sonnier has helped him play more intelligently by telling him memorable stories.
"I spent a lot of time around Jay Hebert, who maintained that the par 3s are the key to scoring," says Sonnier. "He claimed he made more 2s than any man in golf. He said the field plays the par 3s over par every time. Jay said the most important hole in golf is the par 3 before a par 5, because you figure you can birdie the par 5. And he said to always use a new ball on a par 3. I told Rocco about Jay's theories, and his par-3 birdie percentage doubled, and so did his earnings. A lot of it's mental. He calls me a seed planter, then he waters and feeds the seeds and they grow."
Later in the week Rocco would birdie all four of Colonial's testing par 3s in shooting a career low of 62 on his way to a top-10 finish.
At Southern Oaks, Rocco addresses his tee shots with his driver hovering at ball level. "Slows me down big time," he says. He doesn't wear a glove -- "Just never did." He's still not wearing shoes, either.
The burly Zoracki, who has two artificial hips, makes Daly-esque swings that produce powerful but erratic results. When one of his drives heads into a deep fairway bunker, Rocco provides "Caddyshack" commentary.
Back in the cart, Zoracki says, "If I had a brother, I'd want him to be Rocco. He's the most loyal person you could find."
On the practice green later, Sonnier tells Rocco the ball is too far out on the face of his putter, leading to a loop in his stroke. Rocco then sinks several eight-footers. The two talk about the need to move the shoulders, Randy quoting Jackie Burke that the big muscles move the same every day, and when you turn your shoulders the tension leaves your hands.
"I feel I know more about the long putter than anybody," Rocco says, anchoring the top of a 48-inch Scotty Cameron model against his chest. "This is normal to me after 10 years. Before, I was surprised if I made a 10-footer. Now I'm surprised if I miss one. If I'd putted this way my whole career, I'd have won twice as much."
He's asked about the perception that a long putter isn't as reliable on long putts. "If you practice enough, a 50-footer is no different than a five-footer," Rocco says. "I'd use the long putter if I was starting over."
We adjourn to a Mexican restaurant and sit at the bar, to be served quickly and watch a television set tuned to ESPN. Rocco's a big fan of the Pittsburgh teams, especially the hockey Penguins, and he plans to play golf with Mario Lemieux. Before his back surgery, Rocco would've ordered the "Montezuma's Revenge" platter with one of everything unhealthful. Today he has a chicken salad. The doctor who operated on his back warned him to lose weight if he didn't want to be back on the operating table again soon.
"Rocco goes all out or not at all, whatever he's doing," says Lee Janzen, his teammate at Florida Southern. "He's a terrific partner -- you can say anything to him."
After lunch Rocco goes to a discount store, where he will sign autographs, talk about the tour and impress the public with his unrehearsed enthusiasm. "People say they see me on TV, and they're surprised that I look happy," he says. "It's the weekend, which means I'm playing well and I'm probably going to make a good check -- what's to frown about? I'm more successful at this game than I ever dreamed I'd be. I love my job, and I'll kick your ass at it, but you'll kick my ass at your job."
I next see Rocco at the U.S. Open in Tulsa, Okla., and follow him the first day with Linda, his wife of 13 years. Petite with a bubbly personality, she picks up litter as she walks, as if it had been dropped in her front yard.
Walking with her is the couple's oldest son, Rocco Vincent, age 10 at the time and flashing new braces. His two younger brothers are at the tour's day-care center. He is keeping a watchful eye out for unusual insects, having slipped his junior bug-keeper kit onto the private jet they lease. "We gave him the middle name Vincent so if he grows up and doesn't want to go by Rocco, he can use Vincent," Linda says. "Vincent was Rocco's little brother who died from a blood clot when they were very young." Mediate is reluctant to discuss it, but Linda adds, "There will always be a hole in Rocco's heart."
The Mediates live on the TPC at Sawgrass Stadium Course -- in 1996 Rocco became the first to birdie the last six holes in the tournament there -- in a remodeled brick Georgian home that includes a theater and gym. "Traveling more than half the year, home is our vacation," Linda says. "We bike and swim with the boys, and Rocco takes them fishing on the Intracoastal."
The Mediates used to throw an annual party during the Players Championship, a party that grew each year. "When the caterer asked me how many were coming," Linda says, "I told him, 'Everybody Rocco makes eye contact with at the course.' "
Back in Tulsa, with the vast Oklahoma sky darkening, the lightning poster boy leaves the fairway and advises Linda to stay close if the siren sounds, so she and young Rocco can join him in the evacuation van. Mediate animatedly initiates conversation with playing partner Steve Stricker.
"He yaks and relaxes his partners, who play better," says Linda. A smile. "I tell him to talk to Pete [Bender] instead."
Rocco's hip bothers him throughout the week, but he makes his best showing yet in a major championship, finishing fourth, two shots out of the playoff.
"That showed me I can compete in that arena," he says later in the year. "The whole course was a brick, the ultimate test. I recovered and putted better than I ever had in the majors."
Says Rick Smith, one of his teachers: "He's going to wake up one day and find he's won a major."
Lightning has struck in stranger places.