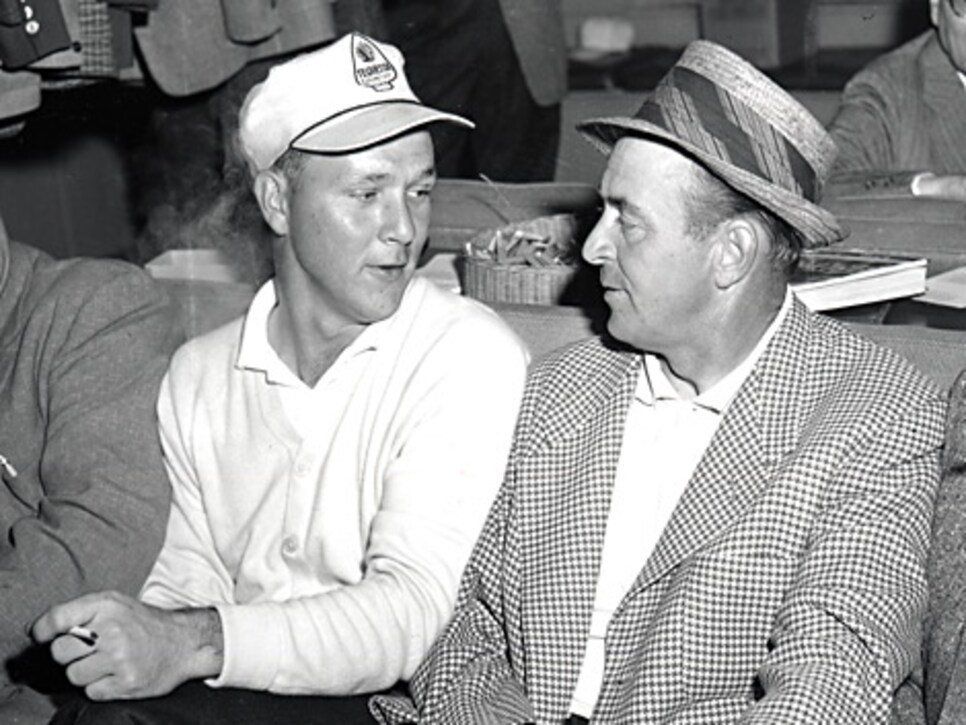 Arnie and Sam Snead review their play after the third round at the 1958 Masters.
All of professional golf's thunder, it seems, does not belong to Ken Venturi and Bill Casper.
Arnold Palmer's play during the tag end of the winter tour, ending with his Masters championship, projected him unto contention as the golfer of the year along with Venturi and Casper.
The blacksmith-built son of Latrobe, PA., started his move at Baton Rouge after winning only $2, 008 in five previous outings. Only the week before Baton Rouge he had failed to qualify for the final 36 holes of the Houston Open, which he had won in 1957.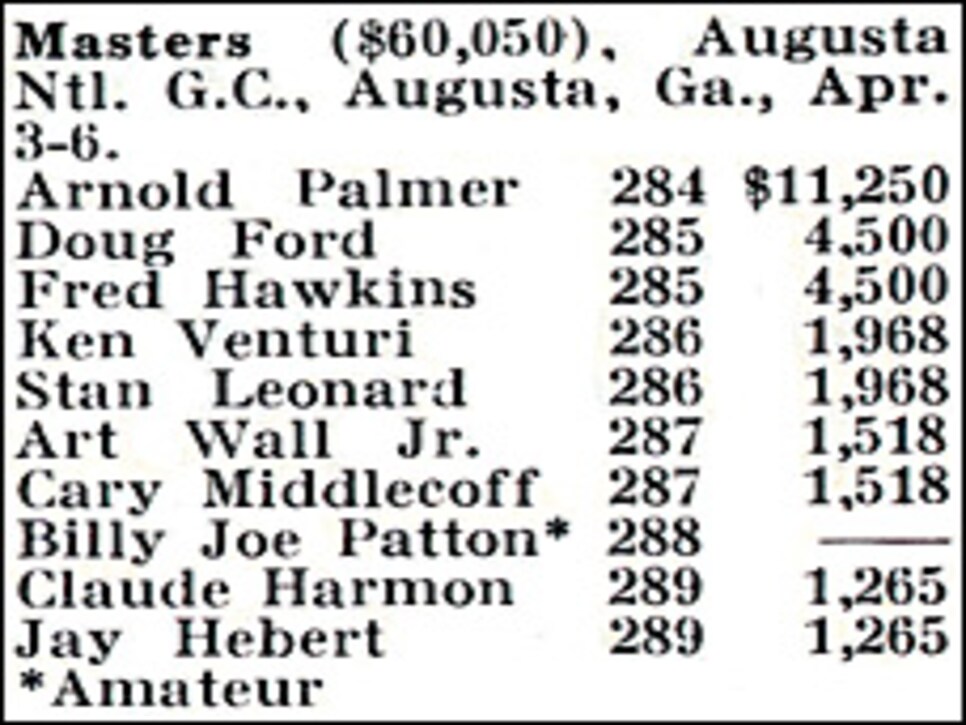 At Baton Rouge Palmer tried for second, following this up with ties for third at New Orleans and 12th at Pensacola. Then the touring crowd felt his re-awakening talent as he won at St. Petersburg and lost to young Howie Johnson in a playoff for the Azalea title at Wilmington, N.C.
Of course, the Masters crown is the most important title of his career. Its $11,250 first prize was the biggest Palmer had ever won, the previous high being $7,500 in the '57 Houston Open. The Masters was so well-attended that Cliff Roberts et al. came up with the fattest paycheck ever presented an Augusta winner. Every round caused the turnstiles to click merrily, with the fourth drawing an estimated 25,000 excited customers.
As in nearly every Masters, there was again a climactic shot. This time it came on the murderous 13th, a 475-yard par 5 hole that doglegs sharply to the left. Palmer, playing the final round with Ken Venturi got off a drive of about 245 yards to the left of the fairway, which slants left.
"I had a hookish lie," Palmer said later, "so I decided to go for it."
His 230-yard 3-wood landed in the center of the green about 18 feet from the pin, and when he made this eagle putt his win seemed assured.
It wasn't, however, for both 1958 winner Doug Ford and Fred Hawkins got to the 18th needing birdies to tie. Both placed approach shots above the pin and in each case the balls took backspin and rolled with agonizing slowness back toward the hole. Hawkins' was the longest, about 12 feet, but he missed and so did Ford with his ten-footer.
A strong west wind the last day confused the players (the prevailing wind is from the east) and as a result only six players broke par, and none shot below 70.