Normally I'm against New Year's resolutions. Why wait for an arbitrary date to better yourself, rather than begin said improvement immediately? Plus, "New Year's resolution" is really just a synonym for, "Your gym is going to be a zoo for the next six weeks."
However, in our realm, New Year's initiatives are pertinent, as it's a time of genesis in golf. The PGA Tour season, after a brief sabbatical, returns on Jan. 7, and, as a large chunk of the Midwest and East Coast are experiencing unseasonably warm weather, hackers don't have to wait until spring to satiate their golf appetite. Plus, according to a 1992 Encyclopaedia Britannica I found, the month of January is named for "Janus," the Roman god of beginnings, making this a perfect juncture for new resolves.
While lowering one's handicap or playing more rounds are nice ambitions, they're not pragmatically attainable, either. Instead, we offer 18 realistic endeavors for golfers seeking New Year's resolutions:
Minimizing on-course cussing
I adhere to Ron Swanson's view on swearing. Mainly, that there's only one profanity: Taxes. If any other word is good enough for sailors, it's good enough for you.
Yet, while cursing is fun, simple and -- sometimes -- just feels right, it goes against golf's "gentleman's game" ethos. It reveals a weak grasp of the English language, and creativity. Furthermore, a curse's impact losses luster if dropped in every sentence.
In short, try to keep the f-bombs to a minimum.
Avoid hyperbolizing the pros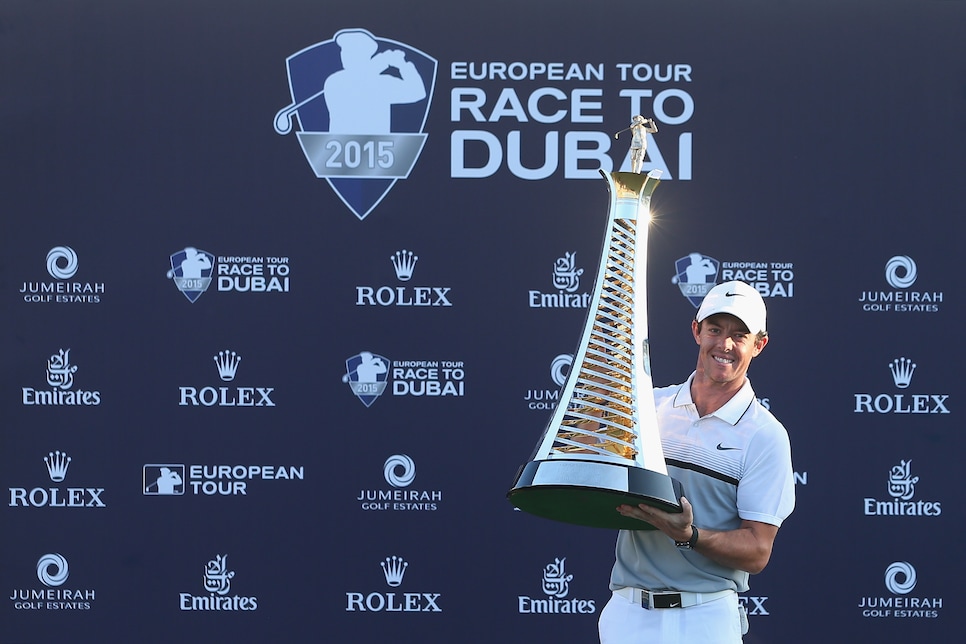 Both fans and media are guilty of this faux pas. There is no room for centrism; everyone is the best, or a bum.
A year ago, we crowned Rory McIlroy the new emperor of the golf kingdom; a new era was born. Twelve months later, in a season where McIlroy won four times -- an amount that would be a hell of a career, let alone campaign -- we chalked 2015 as a "lost year" for Rors.
I've certainly harbored these sentiments, particularly at Dustin Johnson's shortcomings. While he didn't rise to the occasion this past summer, he did manage to finish in the top 10 at three of the four majors. Impressive in itself, it's especially true once remembering he took a six-month leave from the game earlier in the year.
So, when someone misses a putt, don't Tweet "(Player X) is a choke." Conversely, we'll cut back on the "Is Jordan Spieth on pace for the greatest career ever?" rhetoric. Deal?
The golf dress code has become too casual at public joints. T-shirts, gym shorts, flip flops; somehow golf apparel mirrors the wardrobe of a college freshman who overslept. I'd throw in the lack of tucked-in shirts as well.
You don't need to wear slacks, or even golf shoes, to the course. But if there's any question regarding ensembles, always err on the side of dressing up.
Campaign to get Bill Murray on the Ryder Cup team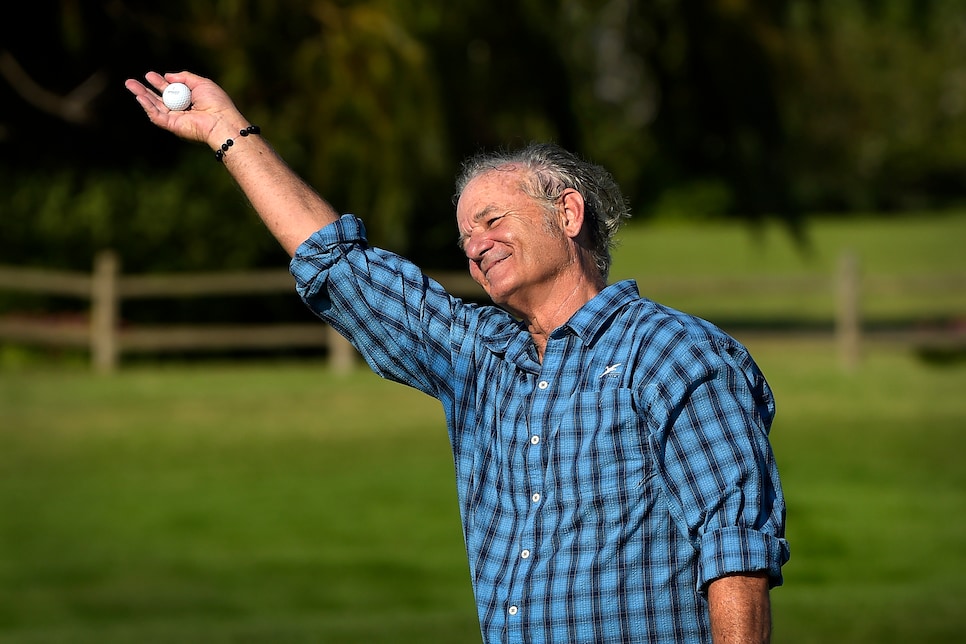 There's an open assistant spot on the U.S. squad, many which presume is saved for Phil Mickelson. But if Lefty makes the team virtue of his play, we need to fill that void. What better presence than Murray?
He's in the Caddie Hall of Fame, he's won at Pebble Beach, he's served his country, and he can keep the mood light, a valuable asset given the uptight nature of the event.
Besides, Michael Jordan has been an assistant at past Presidents Cups, and it's not like these positions really matter. Davis Love III is accessible via Twitter, so let's start a year-long social drive to get Murray to Hazeltine.
I get the appeal of carts: Cup holders, GPS, you don't have to carry your bag...all well and good. But we're the only country where able-bodied golfers need wheels to get around the links; we look like a nation of sloths. Remember, the game is "a good walk spoiled," not "enjoyable ride ruined."
Walking and carrying your bag can burn double the amount of calories as opposed to riding. For those looking to keep the bag weight off their shoulders, grab a caddie or a pull cart.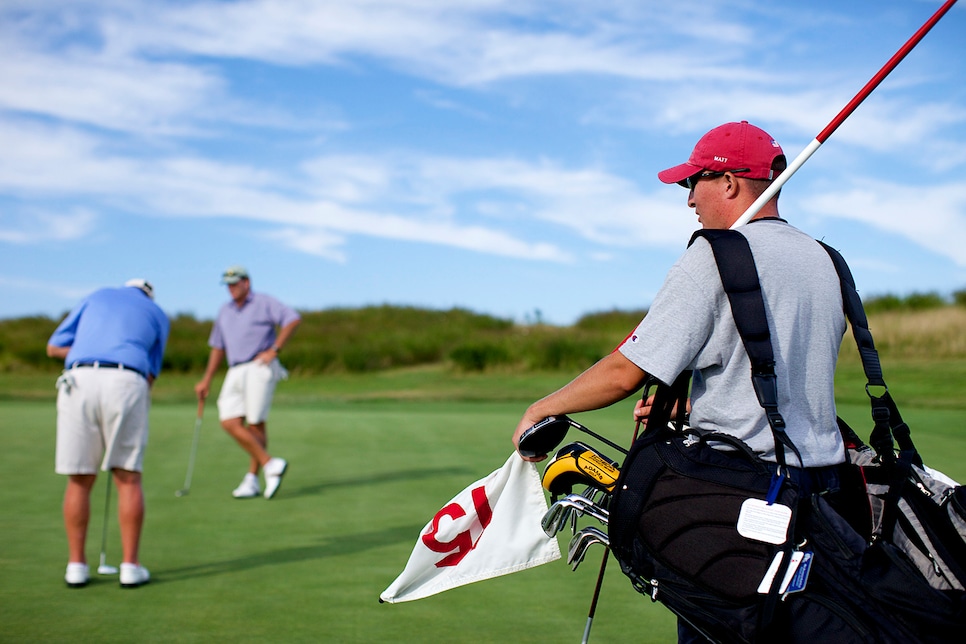 Jensen Larson Photography
Treat a caddie like a king
Everyone has their own monetary, fiscal constraints. But if you have the means, go generous on paying the looper. For four-plus hours, they're manning your WAY-too-heavy bag, giving advice, keeping spirits up, doing everything in their power to make sure you're having the best experience possible.
That they have to do that while watching you hack it up is borderline valorous.
Oh, you can break par? Whoop-de-doo: You have a driver the size of a hubcap and irons more forgiving than Nelson Mendela. To decipher your true merit as a golfer, tee it up with persimmon woods and blades, and see if you can break 80.
Take an aspiring golfer under your wing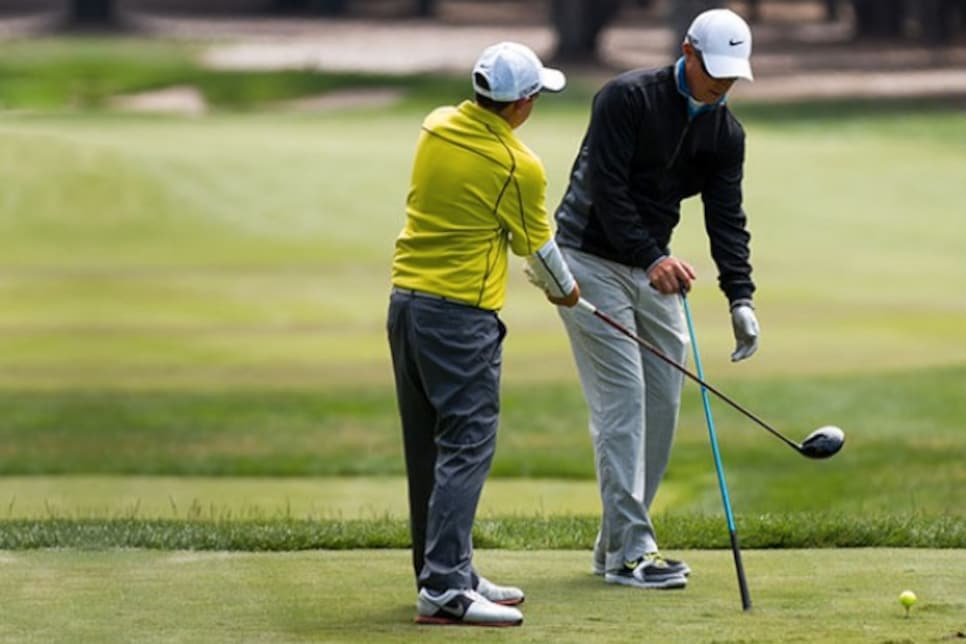 A lot of us will strive for spending extra time at the range or practice green as a New Year's goal. However, a better use of that time is assisting a fledging golfer. You don't have to impart swing tips or playing instruction; save that for the club professionals. But you can teach them etiquette, general procedures and norms, even just accompany them to the range. Not only will you be sharing your love with the sport, but chances are you'll learn something new in the process as well.
Shame "Baba Booey!" out of existence
Howard Stern? Hilarious. His fans' "Baba Booey!" catch phrase? Alright. Yelling said mantra at golf tournaments? Worse than getting the (rhymes with "blanks").
We need to raise awareness against this ill. I never condone violence, but if you find yourself in proximity to a jabroni that screams this nonsense, feel free to pour your drink on them. Pretty sure that rationale will hold up in court.
Pen Jim Nantz' victory call at the Masters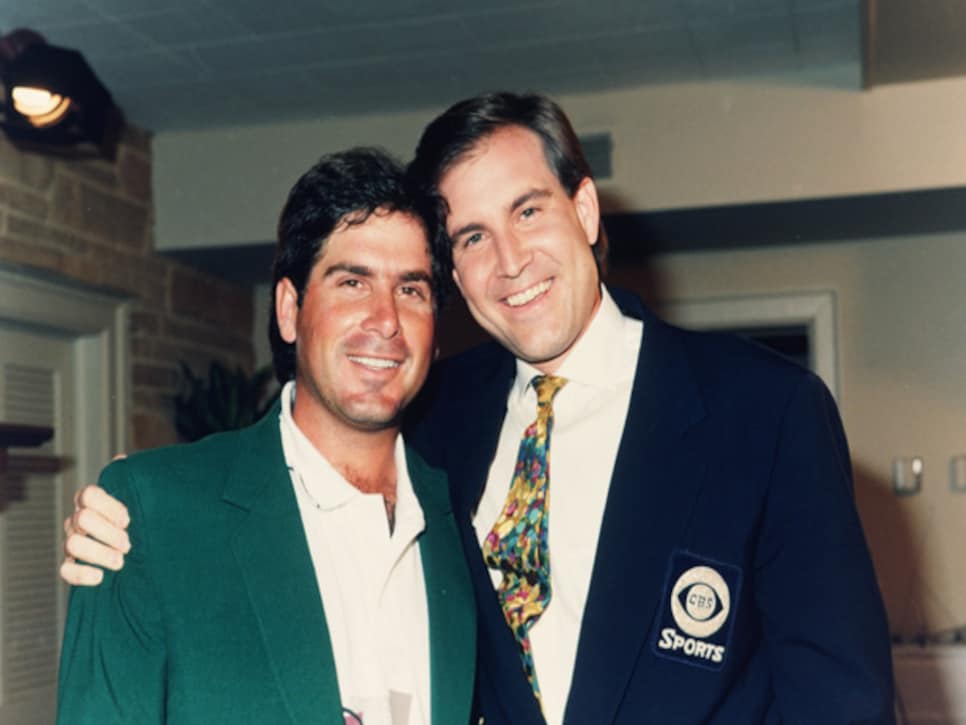 I love Jim, but he's toned his signature ending cries considerably. Flood Twitter during this year's Masters with potential final calls -- "Amidst the Augusta azaleas, a Rose blooms in Georgia!" -- in the hopes that it gets on the CBS truck's radar.
Devise a comically-bad alibi to skip work to watch, play golf
When you die -- SPOILER ALERT: You will die -- I don't think you're going to be on your deathbed counting all those hours you spent laboring in the office. Instead of spending another Monday morning arguing with the IT desk about email connection, make a concerted effort to grab friends and head towards the fairways.
Trust me, the work isn't going anywhere. But pleasurable experiences are fleeting, and should be cherished at every opportunity.
(By the way, the above paragraph is going to cost me dearly in the "Job Effort" portion of my work review.)
Orchestra a get-away golf outing
Doesn't have to be to Bandon Dunes or Myrtle Beach; it could simply be a course that's off the beaten path from your usual commute. An out-of-the-way destination will take you out of your element, which is needed from time to time. Better yet, the journey adds another level of excitement, speciality and aura to the round.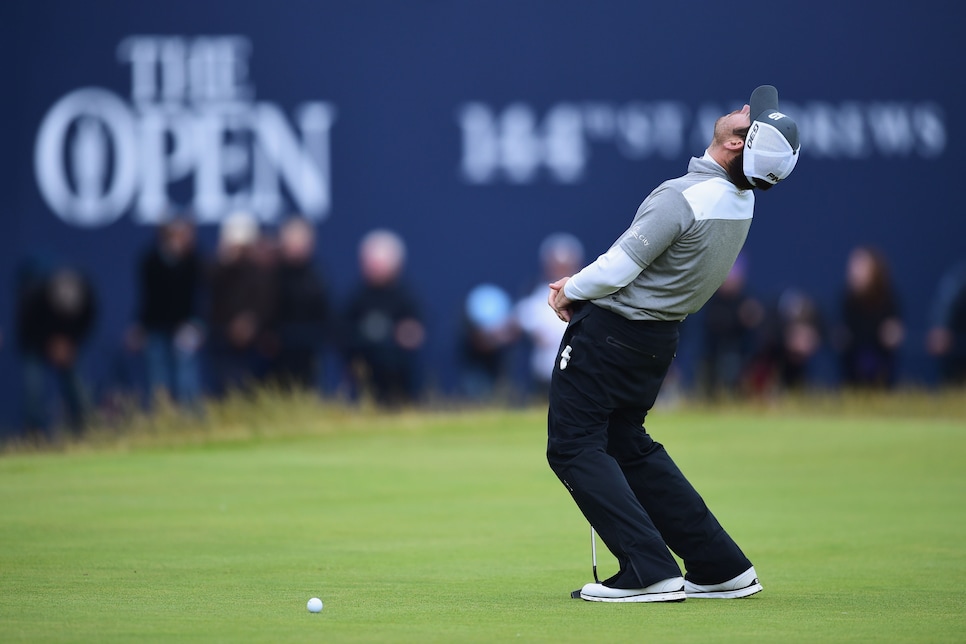 By all means, be as generous as possible towards others. To your own game, play the entire year without giving yourself a freebie. We've become too liberal towards gimme putts, and our collective putting has suffered because of it.
Not only will this improve your touch, it can serve as a barometer for the state of your game.
Play in a high-stakes match
You discover a lot about yourself, as well as your partner, in a competitive setting. It gives a sense of what tour pros go through on a daily basis, and a purpose that's sometimes missing in amateur golf.
Warning: Don't let your enjoyment be dictated by your result. The aim is to enjoy the combative backdrop.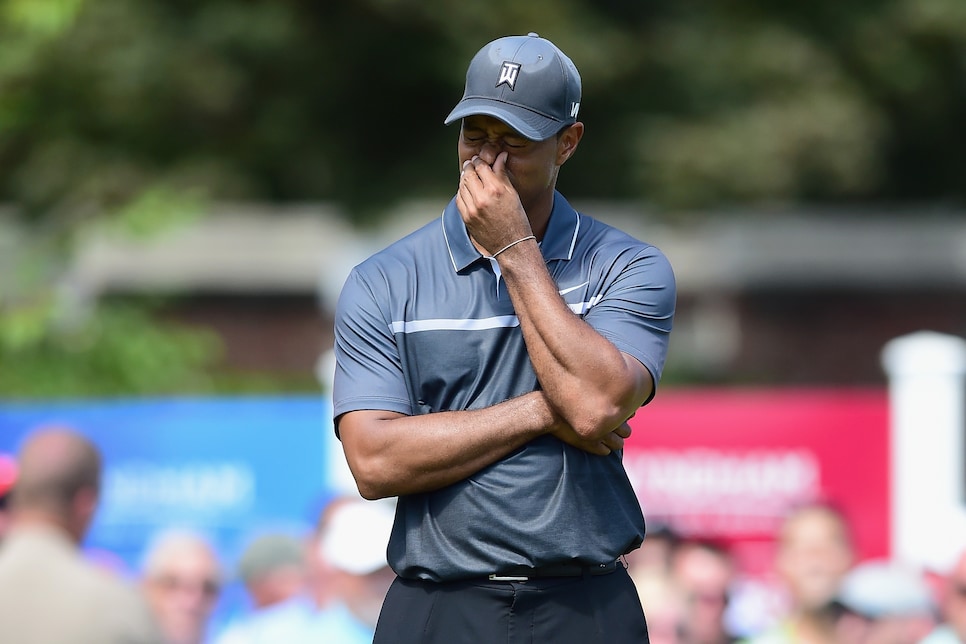 Refrain from any conversation regarding Tiger Woods' future
You may think he's done. You may think he's got eight major victories in the tank. Honestly, it doesn't matter what you think, because he's not going to be on the course anytime soon. And when he does, let's not race to make any sweeping pronouncements on his performance.
Keep an open mind regarding golf's return to the Olympics
I'm all for ripping the Olympic committee, a group so corrupt it makes Spiro Agnew look like Robin Hood. But while many are lukewarm on golf's return to the, ahem, "amateur" games, give it a chance. The format won't facilitate the strongest field, yet any event boasting the likes of Spieth, McIlroy, Jason Day, Rickie Fowler, Justin Rose and Dustin Johnson is worth watching.
Call out a friend for behaving like a butthead