News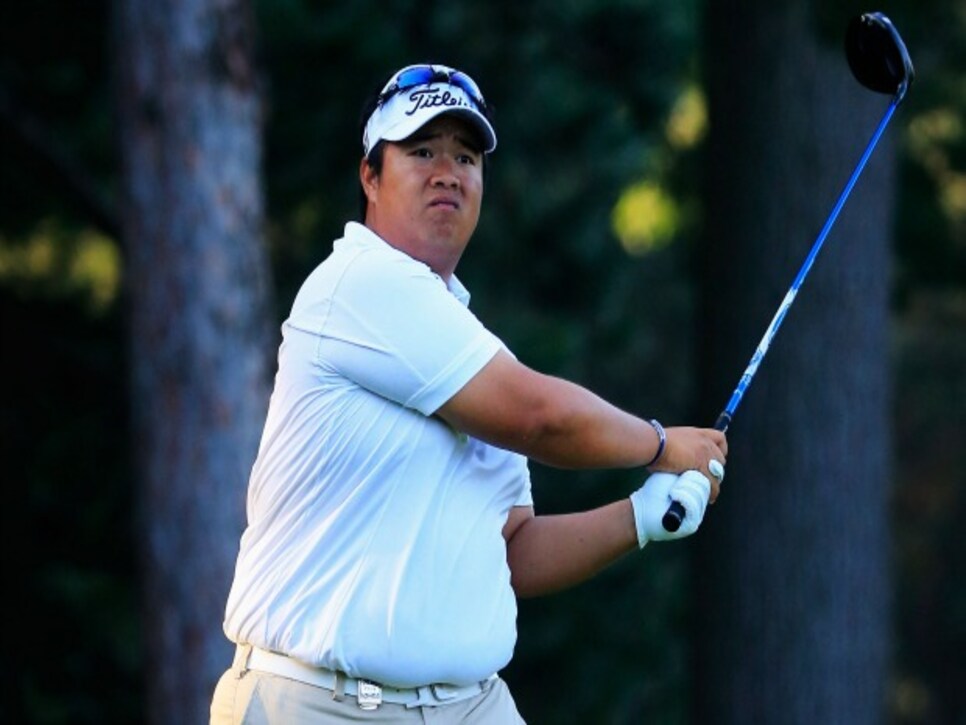 Kiradech Aphibarnrat, 24, is known in Thailand as "Asia's John Daly."
ROCHESTER, N.Y. -- Kiradech Aphibarnrat is among the leaders after the first day of the 95th PGA Championship. This takes some explaining, not to mention some spelling. The kid is two-under par, at 68, three shots ahead of that other guy with Thailand in his blood, Tiger Woods.
"Ah, Tiger," Aphibarnrat said.
Certain English words make him smile.
"Tiger, someday, no play with Tiger yet," he said.
The first round of a PGA Championship is a sportswriter's delight. The good players can put up their 65s (Jim Furyk), their 66s (David Hearn) and 67s (Matt Kuchar). No need to pay immediate attention. We'll get them in the next three days. More fun to study the early pairings, pick a name, walk with that guy. See the golf course, get a feel for how it's playing.
And there, off at 7:20a.m., was Kiradech Aphibarnrat.
So we do the research, the minor stuff; who is Kiradech Aphibarnrat?
He is 24 years old. He has been called "Asia's John Daly" in allusion to his laundry-bag physique and extravagant swing. This season he has won on both the European Tour and Asian Tour. He has earned over $1.5 million. When he didn't qualify here, the PGA of America used it Eligibility Code 12 -- "the right to invite additional players" -- to get him in the 156-man field. The PGA Media Guide noted that he'd once been an auto racer. Also, he was "previously known as Anukjit Hirunratanakorn."
Irresistible. You gotta write about the golfer Kiradech Aphibarnrat who used to be the auto racer Anukjit Hirunratanakorn who goes two-under-par on one of the world's great golf courses just a month after shooting an 85 -- yes, an 85 -- in the British Open.
So there he was, perfectly placed on the left side of the sidewalk-wide strip of closely-cut grass that passes for the ninth fairway. An 8-iron to 8 feet on the 452-yard hole. Nice putt. One-under now. At the 429-yard 10th, a wedge to three feet: birdie, two-under. A pull-hook with an iron off the tee at the short par-4 put him oak-tree jail: bogey. Came back immediately on the par-5 13th with two fairway woods and a wedge to eight feet under the hole: birdie.
To say he parred in from there is to understate what he did. The 14th and 15th will test nerves. The next three will break hearts this weekend: the 16th is a 425-yard run through a gauntlet of trees. . .the 17th is a dogleg right up a mountain, 509 yards. . .the 18th also rises and turns right, 497 yards to an elevated green that, from the landing area, must seem the size of a dinner plate.
Aphibarnrat hit the 16th with a 7-iron from 173 yards and the 17th with a 4-iron from 206 yards. As for the 18th -- let me say I have never seen a more daunting fairway than the 18th at Oak Hill: rolling into to a valley, then floating toward the distant green, the fairway is a slender, curling ribbon, maybe 20 yards wide, and it seems a man with a driver has no more chance of landing a shot in that fairway than he has of hitting it 300 yards and into the dinosaur's mouth. On the 18th, Aphibarnrat drove it perfectly, to the top of a ridge on the left third of the fairway, looking straight at the flagstick, 145 yards away.
"Sunday," I say to him, "someone would pay $1 million for that drive."
"I take it," he said. In addition to Thai and English, he speaks Money.
His 9-iron in left a 30-footer for birdie. Two putts. A 68.
"Great golf for me," he said afterwards. "My second major. At Open, I make triple and get nervous. . .lost confidence quickly." At the British, he put up a 72 before the 85. "Today I just try to keep in fairways, get lot of putts. . .just focus on the game plan."
Aphibarnrat's golf model is Thailand's greatest player, Boonchu Ruangkit, now 57 years old, five times a winner on the European Senior Tour. "They have played together often," Aphibarnrat's manager, Pimporn Rujsattarat, said. "He hopes now to play with Tiger. Of course, he heard of Tiger when he was young. His dream now is to play with the world No. 1."
He took up golf at age 8 and added auto racing at 17 (and soon quit, he said, "as birthday gift to my mother, because she thought it was too dangerous").
He became a professional golfer four years ago, and that's when he changed his name from Anujit Hirunratanakorn.
The manager Ruijsattarat said it is a Thai custom to change names, especially among Thais of Chinese heritage, as Aphibarnrat is, when making a change in life.
Asked why he had changed names, Aphibarnrat smiled.