The Loop
11 questions: Dr. J on playing golf with MJ, still being able to dunk, and hosting his own golf event
The sport he dominated for so long. The game he can't get enough of these days. They'll both intersect for basketball legend Julius Erving when he hosts his first charity/celebrity golf event Sept. 12-14. Historic Aronimink Golf Club outside Philadelphia will become part course, part museum for the event, with each hole featuring a special exhibit commemorating the man many credit for transforming basketball with his above-the-rim style of play: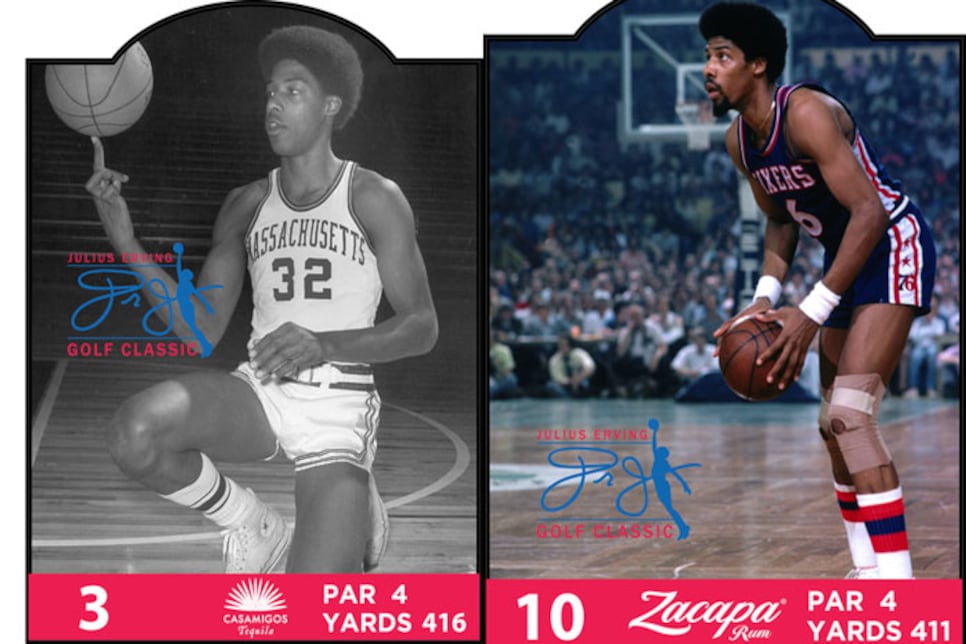 Co-hosted by Seema Sadekar and Jay Harris, and attended by celebrities like Charles Barkley, Cedric the Entertainer, and George Lopez, the Julius Erving Golf Classic will mainly benefit the Salvation Army, an organization that actually helped give Erving his start in basketball. Dr. J took the time to talk to us about his event, playing with a former President, gambling on the course with Michael Jordan, dunking into his 60s(!), and more.
1. How's your golf game right now? Strengths? Weaknesses?
"My big miss is usually with the tee ball, unfortunately. That's what keeps me at a double-digit handicap. My strength is putting the ball, especially on long putts. I can really see the line. If I could fix the tee game, my handicap could drop a lot. But that's how it goes with my golf game. I fix one thing and something else goes! But I love to play and I try to play or do something golf-related a couple times a week."
2. When did you pick up the game?
"After I retired when I was 37. I learned mainly by playing in charity events and being invited to play in pro-ams like the one at Pebble Beach. . . . Knowing what I know now, I would have opted to learn how to play from someone certified instead of learning on the go."
"I also get joy out of the camaraderie, and the fact it's literally the only 'me time.' I don't think you play golf for someone else. Twenty-four/seven, I'm paying bills, checking the thermostat, feeding a pet . . . I'm a provider. So much of my life is in the giving mode that when I play golf, I do that for me. It might be the only thing I do just for myself."
8. Speaking of giving, how exciting is it to host your own charity golf event?
"For me, the completion of the mission comes from connecting to something that happened a long time ago. It's cold outside, 'here, you want to come inside and play basketball?' (Erving joined a Salvation Army-sponsored basketball team in Long Island, N.Y., when he was 9 -- his first taste of organized basketball.) And here we are 55 years later. We're doing something to help them and others. Grab A Ball & Play, an organization my daughter Jazmin started, my wife, Dorys' Foundation, Salvation Army of Philadelphia, Salvation Army of Long Island are all beneficiaries of what we do. . . . We're working on bringing Philadelphia together. We're going a lot deeper than putting the ball in the air and putting the ball in the hole. We have messages we have various people we want to deliver. Charles Barkley, Cedric the Entertainer, Jay Harris. It's going to be a very exciting week."
9. What's your favorite place to go on a golf trip?
"Well, I just went to Bandon Dunes and that became one of my top five destinations, but Shadow Creek [Las Vegas] is my favorite. I get lost in space when I'm there. I'm in golf heaven. Pebble Beach, Hilton Head and Augusta National are great. There are so many venues that make you feel a certain way."