10 Rules For Playing A Really Tough Course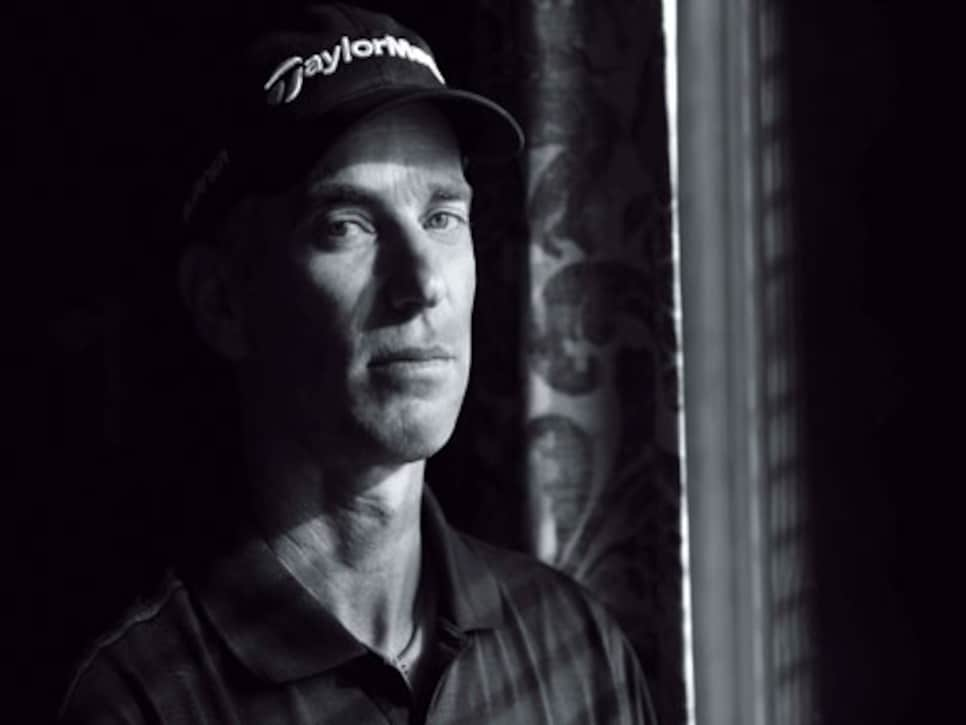 01 Bomb and gouge isn't for you.
You've heard how Tiger, Phil and a few other guys hit their drivers as hard as they can, giving up accuracy for distance and the opportunity to hit a wedge into the green -- even from the rough. I don't think one amateur in a thousand can make the bomb-and-gouge philosophy pay off in the long run, especially if the fairways are narrow and the rough is deep. The key to Tiger's effectiveness isn't just his power with the driver, it's his technique for controlling short irons from any lie, especially poor ones. You have to know exactly how to deliver the club to the ball to overcome thick rough or a flyer lie. Bottom line: If you choose to bomb it on a course with serious rough, count on doing a lot of gouging on your second shot. You'll make some big numbers. It's almost always better to play from the short grass with a longer club.
02 Stick with your "authentic swing."
A passage in the book The Legend of Bagger Vance really resonates with me. The author's premise is that the first time you pick up a club, you discover your "authentic swing," the one you'll have the rest of your life. You can refine it, improve it and do things with your equipment, physical conditioning and so on, but that swing is stamped in your DNA. It'll have limitations as well as strengths, and trying to squeeze more out of it or reshape it to deal with a tough course is dangerous. You'll often play much worse than if you'd stuck with your swing. Deal with a harder course through more practice and a careful strategy.
03 On long approaches, play safe.
It's always interesting to watch guys play the 18th hole at Augusta.You'll notice that when the hole is cut on the front-left, players often hit the ball into the right bunker or even farther right. That's where to make the mistake, because the third shot isn't complicated. On the other hand, look at what happened to Kenny Perry on the 72nd hole this year: He missed the green left, and although he was only 30 feet or so from the hole, he had almost no chance of getting the ball close. How do you as an amateur avoid getting short-sided? If I were caddieing for you, I wouldn't only make sure you aimed away from the hole to what I call the "tall" side of the green, I'd have you aim all the way to the edge of the green. That way, an error in one direction would leave you with an easy chip, and an error in the other direction would put you next to the hole. It's hard to deliberately aim that far from the hole, but smart players do it.
04 Focus on hitting the sweet spot.
When I was at UCLA, one of the things I was in awe of was Tom Watson's 69 in the second round of the 1979 Memorial. The temperature was in the 40s, it was raining, and the wind was blowing 35 miles per hour. The average score that day was over 77. Watson's round seemed almost inhuman, and I wondered how he did it. When I made it to the tour, I found out. Tom was (and is) an awesome competitor and loved tough conditions, but what impressed me was how he seemed to hit the ball more solidly on tough courses in tough conditions. He didn't swing harder; if anything, his swing looked more controlled. The lesson is, think only of hitting the ball on the sweet spot. You'll be surprised by the distance you'll get and how well the ball penetrates wind or rain.
05 Become a master of the par 3s.
Because I'm a short hitter, my strategy on the PGA Tour has always been the same: Birdie the par 5s, attack the short par 4s, hold my own on the long par 4s and excel on the par 3s. For me, the par 3s really are the key. They provide a chance for me to outplay the field. After all, I have a perfect lie, there's no guessing on distance, and the options are clear. I've quietly made the par 3s a focal point of my game plan, and I've been able to play them well -- I've ranked top 5 in the tour's par-3 scoring stat eight times during my career. No matter how tough the course is, the par 3s are ripe targets for pars and the occasional birdie.
06 Know your pet distance exactly.
I've won 15 times on tour, but some of my most distinct memories are of the ones that got away. The 1991 Memorial is a classic example. I found myself laying up on the par 5s a lot that week. What stands out is my performance from my pet lay-up distance of 90 to 100 yards. I've always liked that yardage -- it's just less than a full sand wedge. I can spin the ball or make it land dead, curve it or hit it high or low. That week I hit wedge after wedge stiff and made a ton of birdies on the par 5s. I shot 13 under, two strokes out of a playoff between Kenny Perry and Hale Irwin, which Kenny won. But what I remember most is how that 90- to 100-yard distance became a commandment that helped me in the years that followed. Identify your favorite distance with a wedge, and seek it out with your lay-up. You'll hit your next shot almost automatically.
07 Redefine the word "gamble."
When the course is long or the setup severe, what were once ordinary shots can turn into major gambles. A fairway bunker you can easily carry from the middle tees can present a huge decision from the tips or into the wind. Shooting for a flagstick tucked behind a bunker isn't much when you're hitting an 8-iron, but with a 5-iron, the complexion of the shot changes. So what should shape your decision to take chances? Here's the rule: Never try to pull off a shot where the downside risk with your hole score is so great that you can't make up for it with your score on the next hole. In short, don't bring double bogeys into play.
08 Learn to "pinch" your hybrids.
When I shot 26 on the front nine of the first round at the 2006 U.S. Bank Championship, I set the tour's nine-hole scoring record. Two of my eight birdies came on long, difficult par 4s. I hit my 23-degree hybrid into both holes at various times during the week, and I'm not sure I would've played them so well without it. It really is a miracle club that I can hit anywhere from 180 to 210 yards, but I did have to acquire a knack for hitting it. You have to hit down on the ball slightly, as though you were hitting a 7-wood. By "pinching" it off the turf, you hit better shots, get a surer ball flight and have more variation with trajectory.
09 Be careful switching out clubs.
The temptation on hard courses is swap a club or two in favor of one that is suited to the conditions. That's too risky. The club you're adding -- a strong 3-wood in place of your 4-wood, for example -- is one you probably aren't used to hitting, and under pressure it'll be hard to trust. It also seems to me that the club I'm tempted to take out is one I would end up needing. So before you adjust your set, make sure you've practiced a lot -- and recently -- with any club you're adding.
10 Exert your ego wisely.
The 18th hole at the Stadium Course at PGA West is a tough par 4 with water along the left side. When I won the 1987 Bob Hope, which was played on four courses, I faced the Stadium Course (and that tough hole) twice. Both times, I started my tee shot over the water and faded it back to the fairway, a strategy some people thought was silly. Looking back, I guess it did take a big ego. But the driver fade is one of my go-to shots, so I applied my ego the right way. I didn't try to overpower the hole, or hit low-percentage shots just to try to look good. I played the shot that was right for me, and my ego didn't overwhelm my grasp on reality. A little extra self-confidence is a good thing, provided you use it on your bread-and-butter shot.