Courses
The Best Of The Rest: A World Of Great Golf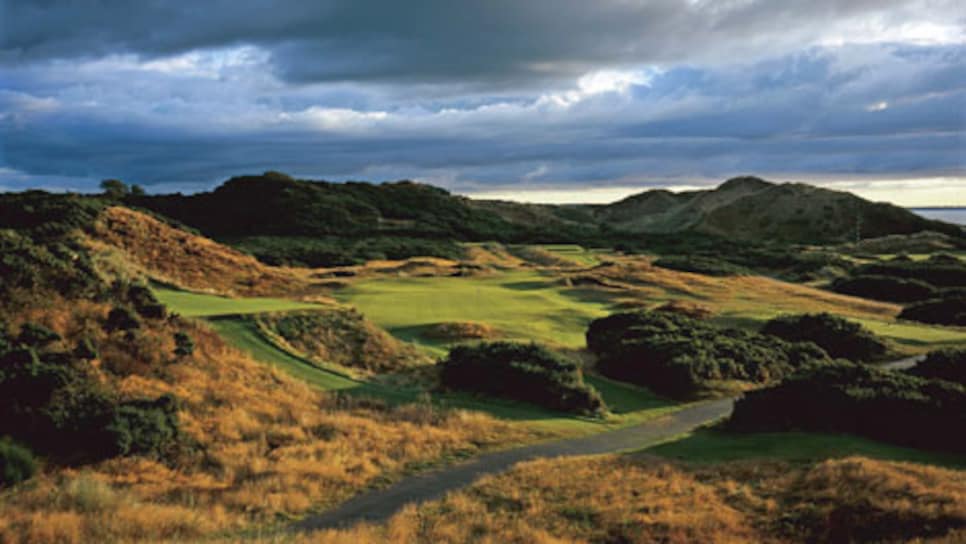 __1. ROYAL COUNTY DOWN /__The singular majesty of the ancient Irish links, laid out by Old Tom Morris
As the British empire expanded, golf was planted in all corners of the world. Wherever the Brits went, they took their golf, cricket, bridge, gin, scones and garden clubs. Royal Calcutta was founded in 1829, Royal Montreal in 1873, Royal Hong Kong in 1889.
Since that time, golfers have wanted to know where the world's best golf can be played. Are South Africa and New Zealand worth the effort? When in Cairo or Paris or Shanghai, where should I play? To answer these questions, Golf Digest again publishes the top-100 courses outside the United States, and individual rankings for every golf nation on earth, too, 199 countries in all (click here to get your copy of World's Greatest Golf Booklet). The rankings were compiled from ballots submitted by our 900-plus U.S. and international golf-course panelists, editors among our network of 23 editions of Golf Digest plus our other affiliate magazines around the world, and various other experts we have come to know and trust.
Though Scotland predictably leads the way in our best-of-the-rest top 100 with 17 courses, it's important to note that you must travel to 26 countries to play them all. Generally you will be searching for the finest coastal sand, for that is where those at the top of our list are to be found. All of the top eight are true links, built on sand or sandy loam. Forty-two of the top 100 are in the British Isles -- again, mostly links -- 13 in the rest of Europe, 17 are in the Southern Hemisphere, nine in Asia, and 11 in Canada.
You will find no better than top-ranked Royal County Down in Northern Ireland. In 1889, Old Tom Morris laid out two nine-hole loops among the shaggy sand hills that isolate each hole while providing perches and tees from which to admire the backdrop of the Mourne Mountains. This is a links so strategically fine and so stunningly beautiful that while you play, it frequently appears as an oil painting -- until the wind disturbs a distant flag.
Rivalries discern themselves as you peruse the ranking. In the Dominican Republic, the Jack Nicklaus-designed Punta Espada (2006) has its revered neighbor, Pete Dye's Casa de Campo (1971), in its sights. In Canada, those two Toronto titans, Stanley Thompson's St. George's (1929) and the National Golf Club of Canada (1974) -- one of Tom Fazio's earliest works -- vie for supremacy. In la belle France, Tom Simpson's masterpiece at Morfontaine (1927) looks down -- from not so far -- on Robert von Hagge's aspiring Les Bordes (1986). The bottom of the list reflects the greatest range and contrast. Nineteen countries -- and every continent but golf-free Antarctica -- are represented in the final 30, including the low country of the Netherlands' Noordwijkse, the massive dunes of Durban, the backbone-like sand hills of Rye, newcomers like Queenwood in England or Fox Harb'r in Nova Scotia, as well as long-respected favorites like Tokyo Golf Club and Belgium's Royal Zoute.
Whether on sand, heathland or parkland, you will find golf that aspires to honor the game as it evolved in St. Andrews. That continuing evolution at the Home of Golf is evidenced by the debut of the Castle Course on our ranking, in 65th position. Designed by Scotsman David McLay Kidd and opened not quite a year ago, the Castle is notable for its large, sloping greens, wide landing areas, and elevated views of the sea and the town. It joins three of St. Andrews' seven courses in our top 100; the Old Course (second place), the New (63rd) and the Jubilee (92nd). With Kingsbarns just down the road (18th), St. Andrews remains the game's pre-eminent destination.
Enthusiasm for the origins of the game has not diminished among aficionados even though global economic trends are having their impact in the farthest-flung corners. From southern Europe to Moscow, the Turkish coast to Palm Beach, Dubai to Japan, the market for new golf courses has generally evaporated, and the value of those already established has fallen. Prices for Korean golf memberships, which are traded like equities, have declined 40 percent in the past year. Russian entrepreneurs' telephones have been disconnected, and e-mail goes unanswered. In Dubai, the opening of the Tiger Woods course has been delayed and the real-estate development surrounding it postponed indefinitely. The English Golf Union reports that 40 percent of its clubs decreased in membership last year -- there's an average of 46 member vacancies per club. Scotland's Loch Lomond -- 21st in our ranking -- is back in the hands of its lenders, and the lenders are in the hands of the government.
Shore thing: 42 of the top 100 are in the british isles, most of them true links.'
Generally speaking, however, the world's great clubs are healthy and will remain so. Destinations in Great Britain, Ireland and Australia that have retained the essence of their golf and forgone the hoopla of distracting amenities and overcooked greenkeeping remain attractive to travelers motivated by value.
Significant new designs can still be produced in a downturn. As Chili Palmer (John Travolta) observes in "Get Shorty": Sometimes you do your best work with a gun to your head. During the Depression, Alister Mackenzie produced Crystal Downs (1931) and Augusta National (1933). William Flynn perfected Shinnecock (1931), and Perry Maxwell gave us Southern Hills (1936) and Prairie Dunes (1937). Hugh Alison refined Naruo (1930) before designing Hirono (1932) and Kawana's Fuji course (1936). Perhaps most notable was A.W. Tillinghast's collaboration at Bethpage Black (1936).
Trend is not destiny, Lewis Mumford observed. But destiny can be trend, regardless of economic obstacles. In some corner of the world, the next Royal County Down is being prepared for future world rankings.
100 Best Courses Outside The United States
1. Royal County Down G.C. Newcastle, N. Ireland
2. St. Andrews Links (Old) St. Andrews, Scotland
3. Muirfield Gullane, Scotland
4. Royal Portrush G.C. (Dunluce): Portrush, N. Ireland
5. Turnberry Resort (Ailsa) Turnberry, Scotland
6. Royal Dornoch G.C. (Championship) Dornoch, Scotland
7. Ballybunion G.C. (Old) Ballybunion, Ireland
8. Carnoustie G. Links (Championship) Carnoustie, Scotland
9. New South Wales G.C. Sydney, Australia
10. Sunningdale G.C. (Old) Sunningdale, England
11. Kingston Heath G.C. Melbourne, Australia
12. Royal St. George's G.C. Sandwich, England
13. Cape Kidnappers Hawke's Bay, New Zealand
14. Royal Birkdale G.C. Southport, England
15. Royal Troon G.C. (Old) Troon, Scotland
16. Lahinch G.C. (Old) Lahinch, Ireland
17. Royal Lytham & St. Annes G.C. Lytham St. Annes, England
__18. Kingsbarns G. Links__St. Andrews, Scotland
__19. Hirono G.C.__Hyogo, Japan
__20. Barnbougle Dunes__Bridport, Tasmania, Australia
__21. Loch Lomond G.C.__Luss, Scotland
__22. Royal Melbourne G.C. (West) __Melbourne, Australia
__23. Woodhall Spa G.C. (Hotchkin) __Woodhall Spa, England
__24. Cabo del Sol (Ocean) __Los Cabos, Mexico
25. Kauri Cliffs Northland, New Zealand
26. Royal Liverpool G.C. Hoylake, England
__27. St. George's G. & C.C. __Etobicoke, Ontario, Canada
__28. G. de Morfontaine__Mortefontaine, France
__29. Ganton G.C.__Ganton, England
__30. Portmarnock G.C.__Portmarnock, Ireland
31. Kawana Hotel G. Cse. (Fuji) Shizuoka, Japan
__32. National G.C. of Canada__Woodbridge, Ontario, Canada
__33. Casa de Campo (Teeth of the Dog) __La Romana, Dominican Republic
34. Hamilton G. & C.C. Ancaster, Ontario, Canada
__35. Beacon Hall G.C.__Aurora, Ontario, Canada
36. Walton Heath G.C. (Old) Walton-on-the-Hill, England
__37. Cruden Bay G.C.__Cruden Bay, Scotland
__38. Capilano G. & C.C. __West Vancouver, B.C., Canada
__39. Machrihanish G.C.__Campbeltown, Scotland
__40. North Berwick G.C.__North Berwick, Scotland
41. The European Club Brittas Bay, Ireland
__42. Highlands Links__Cape Breton, Nova Scotia, Canada
43. Valderrama G.C. Sotogrande, Spain
44. Royal Porthcawl G.C. Porthcawl, Wales
45. Waterville G. Links Waterville, Ireland
46. Punta Espada G.C. Cap Cana, Dominican Republic
__47. Les Bordes__Beaugency, France
__48 Royal Aberdeen G.C. (Balgownie) __Aberdeen, Scotland
__49. Leopard Creek C.C.__Malelane, South Africa
50. Swinley Forest G.C. Ascot, England
51. Redtail G. Cse. St. Thomas, Ontario, Canada
52. Banff Springs G.C. (Stanley Thompson) Banff, Alberta, Canada
53. Four Seasons G.C. at Peninsula Papagayo Guanacaste, Costa Rica
54. Gary Player C.C. Sun City, South Africa
__55. St. Enodoc G.C. (Church) __Wadebridge, England
__56. Mid Ocean Club__Tucker's Town, Bermuda
__57. Ellerston G.C.__Hunter Valley, Australia
__58. Western Gailes G.C.__Irvine, Scotland
__59. Wentworth Club (West) __Virginia Water, England
60. Old Head G. Links Kinsale, Ireland
61. Royal Adelaide G.C. Adelaide, Australia
62. Carne G. Links Belmullet, Ireland
63. St. Andrews Links (New) St. Andrews, Scotland
__64. The Club at Nine Bridges__Jeju Island, South Korea
65. St. Andrews Links (Castle) St. Andrews, Scotland
66. St. George's Hill G.C. Weybridge, England
67. Fancourt (Links) George, South Africa
68. Sheshan International G.C. Shanghai, China
69. Prestwick G.C. Prestwick, Scotland
70. El Dorado G. & Beach Club Los Cabos, Mexico
71. Olivos G.C. Buenos Aires, Argentina
72. Durban C.C. Durban, South Africa
73. Rye G.C. (Old) Rye, England
74. Spring City G. & Lake Resort (Lake) Kunming, China
75. Fox Harb'r Resort Wallace, Nova Scotia, Canada
76. Metropolitan G.C. Melbourne, Australia
__77. Tralee G.C.__Ardfert, Ireland
78. Devil's Paintbrush Caledon, Ontario, Canada
79. Vista Vallarta G.C. (Nicklaus) Puerto Vallarta, Mexico
80. Oarai G.C. Ibaraki, Japan
81. Royal Montreal G.C. (Blue) Ile Bizard, Quebec, Canada
82. Kasumigaseki C.C. (East) Saitama, Japan
83. G. de Sperone Bonifacio, Corsica, France
84. The National G.C. (Moonah) Cape Schanck, Australia
85. G. de Moliets Moliets, France
86. Hamburger G.C. Hamburg, Germany
87. Buenos Aires G.C. Bella Vista, Argentina
__88. Queenwood G.C.__Ottershaw, England
89. Limburg G. & C.C. Houthalen, Belgium
90. Jockey Club (Colorada) San Isidro, Buenos Aires, Argentina
__91. Noordwijkse G.C.__Noordwijk, Netherlands
92. St. Andrews Links (Jubilee) St. Andrews, Scotland
__93. Tokyo G.C.__Saitama, Japan
94. Royal Zoute G.C. Knokke-Heist, Belgium
__95. G. Santander__Madrid, Spain
96. Monte Rei G. & C.C. Tavira, Portugal
__97. Emirates G.C. (Majlis) __Dubai, United Arab Emirates
98. Kennemer G. & C.C. Zandvoort, Netherlands
99. Santa Elena G.C. Santa Rosa, Philippines
__100. G.C. Biella Le Betulle__Magnano, Biella, Italy