Courses
America's 100 Greatest Golf Courses/2007-08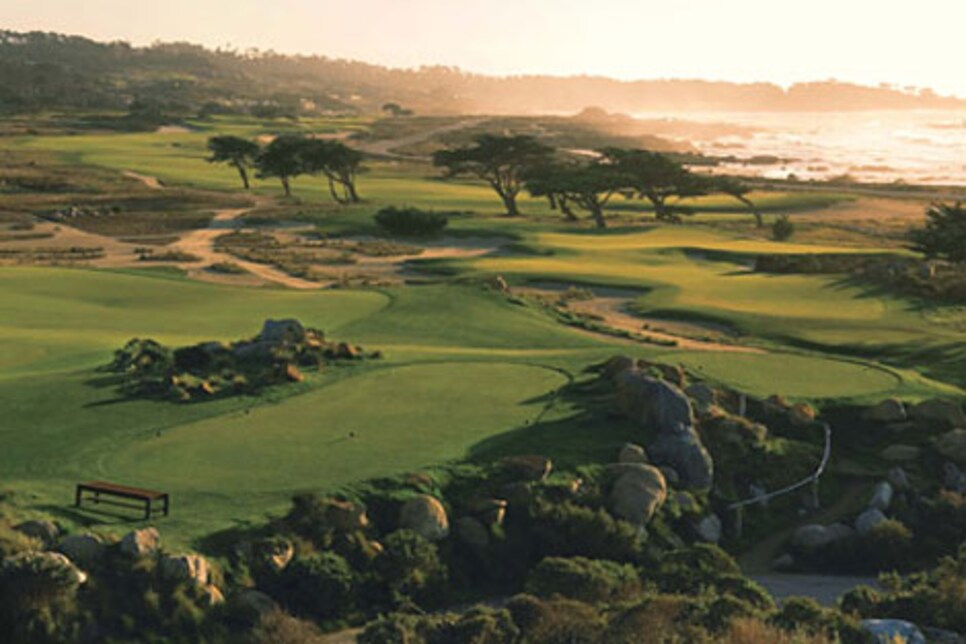 MONTEREY PENINSULA C.C.: The artistry of the Shore Course renovation by the late Mike Strantz lands Cypress Point's neighbor onto the 100 Greatest list.
Yes, America's 100 Greatest Golf Courses get torn up once in a while. More frequently than one might expect, for even the best courses wear out. A few years back, the American Society of Golf Course Architects compiled a list of expected expiration dates for the various components of a golf course: Greens need replacement every 15 to 30 years, tees every 15 to 20 years, bunker sand every five to seven years. That means even a stalwart like Pine Valley, No. 1 on Golf Digest's 2007-'08 list and approaching its 90th year of play, occasionally needs upgrading. So it has seven new back tees, a trio of rebuilt greens and far fewer trees to provide more sunlight and air. Pines, cedars and underbrush were also removed to reclaim bunkers that had been engulfed by vegetation. One controversial improvement: There's now the occasional rake pulled through its legendary bunkers.
No club is immune from the quest for perfection. Some are renovated to lure a major championship. Others are retrofitted with the latest irrigation and drainage. Some are restored to reclaim the luster of an original architect. Such efforts aren't done primarily in search of a ranking. But an improved ranking on America's 100 Greatest is often the result. Because our biennial survey is based on a collection of evaluations accumulated and retained for 10 years, not all changes to all courses are immediately reflected in the next ranking. True, Medinah's No. 3 Course, totally remodeled by Rees Jones prior to the 2006 PGA Championship, is probably the best it has ever been in conditioning, strategy and continuity of style, moving to No. 11 on this year's list after being 15th in 2005. But there's also Crystal Downs in Michigan, which moved into the top 10 this year (up one spot from 2005) without the aid of a massive renovation. And it replaced the National Golf Links of America, which dropped to 13th despite an intensive restoration project during a number of years by former superintendent Karl Olson, who oversaw the removal of nearly 5,000 trees (including 3,000 on one hole!) to recapture the links characteristics of its groundbreaking C.B. Macdonald design. (OK, No. 13 in the nation isn't bad.) Crystal Downs, by the way, is a marvelously quirky Alister Mackenzie design. With No. 3 Augusta National and No. 4 Cypress Point, that makes three Mackenzie courses in the elite First 10, the most for any architect since the 1975 ranking, which had three Donald Ross designs in the first 10: Oakland Hills, Pinehurst No. 2 and Seminole. (This year, Seminole is ninth, Oakland Hills is 17th and Pinehurst 19th.) Any wonder that clubs want to preserve and protect the works of legendary designers like Mackenzie and Ross?
A lot of improvement master-planning is done by modern-day master architects like Jones, who is the Rembrandt of re-dos. His remodeling of Bethpage Black led to its return to America's 100 Greatest in 2001. It ranks 26th this year. He made subtle changes to Pinehurst No. 2 before the 2005 U.S. Open and just completed an extensive renovation of Oakland Hills in preparation for the 2008 PGA Championship. Oakland Hills underwent previous nips and tucks, by architect Arthur Hills, before the 2004 Ryder Cup.
Tom Fazio, who has 14 original designs on this year's ranking of America's 100 Greatest, also claims an array of redesigns. His transformation of Augusta National during the last decade, making it longer and tighter, has been well-documented. So has his work at No. 5 Oakmont, which hosts the U.S. Open in June, and No. 8 Winged Foot West, site of last year's Open. Fazio has also been involved in improvements to No. 7 Merion, No. 21 Butler National and No. 61 Riviera, where, among other things, he recaptured a long-abandoned alternate fairway on the par-4 eighth.
A similar reclamation just occurred at No. 37 San Francisco Golf Club, where three holes cast aside more than 50 years ago (in anticipation of a highway expansion) were recovered by Tom Doak, who in recent years has also helped No. 55 Camargo Club and No. 88 Shoreacres restore their distinctive Seth Raynor designs. Of course, Doak is best known for imaginative original work like No. 14 Pacific Dunes on the Oregon coast and Lost Dunes in southwest Michigan, new to our list at No. 63, one of only six additions to the 100 Greatest in 2007, down from the record turnover of 18 courses in 2005.
(Doak calls Lost Dunes, with two large lakes in play on half the holes and a wild set of boldly contoured greens, his most "modern-looking" design. Its routing is ingenious, linking holes in a mined-out sand pit on both sides of an Interstate highway. Nothing wrong with that: Oakmont is bisected by the Pennsylvania Turnpike.)
Pete Dye, Doak's mentor 20 years ago, spends much of his time these days refashioning many of his early designs. Seven years ago, he rebuilt No. 93 Harbour Town Golf Links on Hilton Head Island, replacing tees, greens and even rotted railroad ties in bunkers and water hazards. He then moved next door and gave a similar treatment to No. 78 Long Cove. Last year, Dye completed a top-to-bottom reconstruction of No. 79 TPC Sawgrass' Players Stadium Course. Can No. 69 Blackwolf Run River, almost 20 years old, be far behind?
Nowhere has the impact of course remodeling been more dramatic than at California's Monterey Peninsula Country Club, whose Shore Course joins America's 100 Greatest this year at No 77. Designer Mike Strantz battled tongue cancer while transforming the bland, low-budget 1961 Bob Baldock design into a scenic and strategic marvel that rivals its next door neighbor, Cypress Point. Strantz died in 2005 at age 50, only months after the course reopened for play.
The Shore is practically a new course. Strantz reversed direction of the fifth through 15th holes, so seven holes (instead of just one) would have a Pacific Ocean backdrop. He weaved fairways so holes could "dance among the cypress," replaced ice plant with a variety of native grasses meant to give the rough a coastal prairie look, and deliberately mixed old-style bent grasses with Poa annua to give the greens an old-fashioned, mottled look. It's a stunning landscape, and a work of art.
Jack Nicklaus is another who is as busy in reconstruction as he is in original designs, most recently touching up No. 68 Valhalla in Louisville in anticipation of the 2008 Ryder Cup. Far more expansive is his reworking of No. 18 Muirfield Village Golf Club, where over the years, Nicklaus has redesigned some aspect of every hole to keep the course competitive for the PGA Tour's Memorial Tournament.
Curiously, Nicklaus has done little to Sycamore Hills Golf Club in Fort Wayne, Ind., which rejoins America's 100 Greatest at No. 92 after dropping off two years ago, one of the many victims of the trap-door effect resulting from our abolition of the Bonus Tradition category that year. Sycamore Hills returns this time, in no need of bonus booster points.
One project Nicklaus didn't get was the rebunkering of No. 58 Scioto Country Club in Columbus, Ohio, the Donald Ross design on which Jack learned the game. That contract went to the Columbus design team of Michael Hurdzan and Dana Fry, whose Calusa Pines Golf Club in Naples, Fla., debuts on this year's list at No. 71. Calusa's flat, drab property was reshaped into ridgelines up to 58 feet above sea level and planted with mature oaks, pines and sable palms. It's akin to Nevada's Shadow Creek (No. 27 in 2007), but with far more sandy waste areas.
We shouldn't neglect the other two newcomers in 2007: No. 83 Tullymore Golf Club is Jim Engh's unconventional, inventive design in the low, wooded wetlands of central Michigan, featuring the longest, skinniest set of greens on the 100 Greatest, and the longest, skinniest set of bunkers, too, mostly deep trenches of sand framed by knuckles of turf. No. 98 Kiawah Island Club's Cassique Course (pronounced Kah-seek) is a lowcountry design for Nicklaus' long-time tournament rival, Tom Watson. Created from old farm fields along the tidal marshes of Seabrook Island, S.C., just across the Kiawah River from famed Kiawah Island (home of No. 38 The Ocean Course), Watson wanted his design to demand the "touch, feel and imagination" of links-style golf, so he framed most holes with choppy faux dunes and installed some of his favorite links features: a burn from Turnberry, Carnoustie's Spectacle bunkers, the Hell Bunker from St. Andrews.
Such additions to America's 100 Greatest are a reminder that there's still plenty of room for exciting new designs in our ranking. But redesigns have taken on new excitement, too, which means a spot on America's 100 Greatest will be even more competitive in 2009. In just the past two years, a number of former 100 Greatest courses have undergone major remodeling programs, including Atlanta Athletic Club, Bel-Air, Bellerive, Jupiter Hills, Oak Tree and Stanwich (Golf Digest's Best New Remodel of 2006). All that these courses need now are the minimum 40 panelist evaluations to qualify for reconsideration on the 100 Greatest.
The lesson for contenders and pretenders: If you're not improving, you're probably not moving. Not onto America's 100 Greatest, at least.