Courses
100 Best Courses Outside The U.S.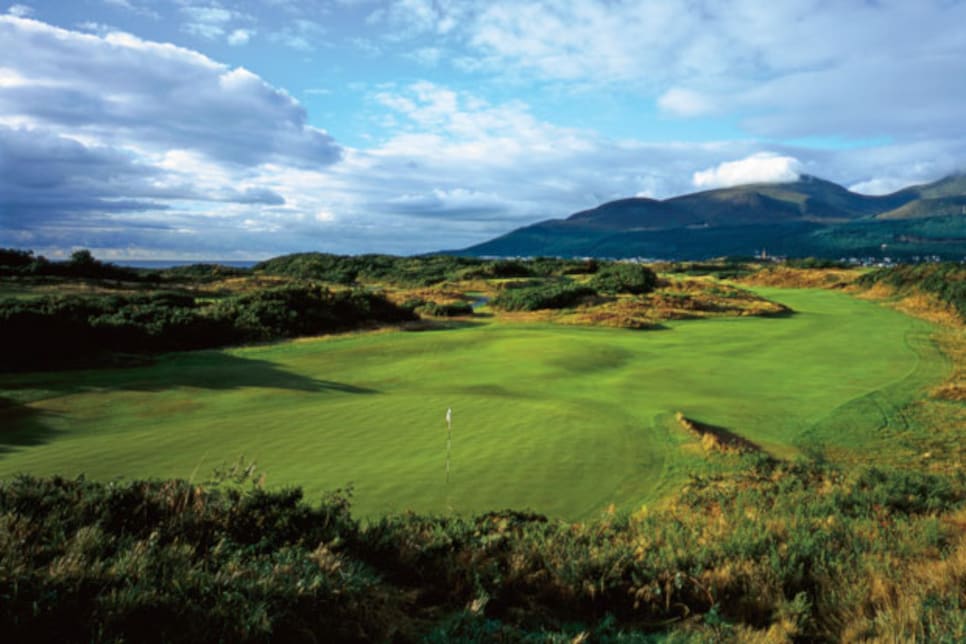 __No 1.:__Royal County Down in Northern Ireland repeats in the top spot.
__1. Royal County Down G.C.__Newcastle, Co. Down, Northern Ireland
2. Royal Melbourne G.C. (West), Melbourne, Victoria, Australia
3. St. Andrews Links (Old) St. Andrews, Scotland
4. Royal Dornoch G.C. (Championship) Dornoch, Scotland
5. Muirfield, Gullane, Scotland
6. Cape Kidnappers Hawke's Bay, New Zealand
__7. Turnberry Resort (Ailsa) __Turnberry, Scotland
8. Hirono G.C., Hyogo, Japan
9. Kingston Heath G.C. Melbourne, Victoria, Australia
10. St. George's G. & C.C. Etobicoke, Ontario, Canada
11. Ellerston G.C. Hunter Valley, N.S.W., Australia
12. Portmarnock G.C. Portmarnock, Co. Dublin, Ireland
13. Royal Portrush G.C. (Dunluce), Portrush, Co. Antrim, Northern Ireland
14. Barnbougle Dunes Bridport, Tasmania, Australia
15. Kawana Hotel G. Cse. (Fuji), Shizuoka, Japan
__16. Carnoustie G. Links (Championship) __Carnoustie, Scotland
__17. National G.C. of Canada__Woodbridge, Ontario, Canada
__18. G. de Morfontaine__Mortefontaine, France
__19. Kauri Cliffs__Northland, New Zealand
20. Royal Birkdale G.C. Southport, England
21. Sunningdale G.C. (Old) Sunningdale, England
22. Casa de Campo (Teeth of the Dog), La Romana, Dominican Republic
23. Waterville G. Links Waterville, Co. Kerry, Ireland
24. Yas Links Abu Dhabi, U.A.E.
25. New South Wales G.C. La Perouse, N.S.W., Australia
26. Ballybunion G.C. (Old) Ballybunion, Co. Kerry, Ireland
27. Hamilton G. & C.C. Ancaster, Ontario, Canada
28. Barnbougle Lost Farm Bridport, Tasmania, Australia
29. Royal Porthcawl G.C. Porthcawl, Wales
30. Fancourt (Links), George, Western Cape, South Africa
__31. Punta Espada G.C.__Cap Cana, Dominican Republic
32. Royal St. George's G.C. Sandwich, England
33. The C. at Nine Bridges Jeju Island, South Korea
__34. Kingsbarns G. Links__St. Andrews, Scotland
35. The National G.C. (Moonah), Cape Schanck, Victoria, Australia
36. Royal Troon G.C. (Old) Troon, Scotland
37. Royal Lytham & St. Annes G.C. Lytham St. Annes, England
__38. Castle Stuart G. Links__Inverness, Scotland
39. Walton Heath G.C. (Old) Walton-on-the-Hill, England
__40. Valderrama G.C.__Sotogrande, Spain
41. Lahinch G.C. (Old) Lahinch, Co. Clare, Ireland
__42. Swinley Forest G.C.__Ascot, England
43. Leopard Creek C.C. Malelane, Mpumalanga, South Africa
44. Rye G.C. (Old) Rye, England
__45. Loch Lomond G.C.__Luss, Scotland
46. Woodhall Spa G.C. (Hotchkin) Woodhall Spa, England
__47. The Mid Ocean C.__Tucker's Town, Bermuda
48. Royal Aberdeen G.C. (Balgownie) Bridge of Don, Scotland
49. Capilano G. & C.C. West Vancouver, British Columbia, Canada
50. Machrihanish G.C. Campbeltown, Scotland
51. North Berwick G.C. North Berwick, Scotland
__52. Diamante G.C.__Cabo San Lucas, Baja California Sur, Mexico
53. Cruden Bay G.C. Cruden Bay, Scotland
__54. Cabo del Sol (Ocean) __Los Cabos, Baja California Sur, Mexico
__55. Highlands Links,__Cape Breton, Nova Scotia, Canada
56. Royal Melbourne G.C. (East), Melbourne, Victoria, Australia
57. Royal Liverpool G.C. Hoylake, England
58. Victoria G.C. Cheltenham, Victoria, Australia
59. G. de Fontainebleau Fontainebleau, France
__60. Sunningdale G.C. (New) __Sunningdale, England
61. The Metropolitan G.C. South Oakleigh, Victoria, Australia
62. Ganton G.C. Ganton, England
63. Les Bordes Beaugency, France
64. Naruo G.C., Hyogo, Japan
__65. St. Enodoc G.C. (Church) __Wadebridge, England
__66. Nirwana Bali G.C.__Tabanan, Bali, Indonesia
67. Phoenix C.C. Miyazaki City, Japan
68. Paraparaumu Beach G.C. Paraparaumu Beach, New Zealand
69. Jasper Park Lodge G.C. Jasper, Alberta, Canada
70. Four Seasons Costa Rica G.C. at Peninsula Papagayo Guanacaste, Costa Rica
__71. St. George's Hill G.C.__Weybridge, England
__72. Devil's Paintbrush__Caledon Village, Ontario, Canada
73. Western Gailes G.C. Irvine, Scotland
74. Kasumigaseki C.C. (East) Saitama, Japan
75. Royal Montreal G.C. (Blue) Ile Bizard, Quebec, Canada
__76. Kinloch G.C.__Taupo, New Zealand
__77. G. de Chantilly (Vineuil) __Chantilly, France
__78. Beacon Hall G.C.__Aurora, Ontario, Canada
__79. Mangilao G.C.__Mangilao, Guam
80. West Sussex G.C. Pulborough, England
__81. Woo Jeong Hills C.C.__Cheonan City, South Korea
82. Tralee G.C. Ardfert, Co. Kerry, Ireland
83. El Dorado G. & Beach C. Los Cabos, Baja California Sur, Mexico
84. Wentworth C. (West) Virginia Water, England
85. Sagebrush G. & Sporting C., Quilchena, British Columbia, Canada
86. Lake Karrinyup C.C. Karrinyup, W. Australia, Australia
__87. Noordwijkse G.C.__Noordwijk, Netherlands
88. The European C. Brittas Bay, Co. Wicklow, Ireland
89. Sheshan International G.C., Shanghai, China
90. The National G.C. (Old) Cape Schanck, Victoria, Australia
__91. Shaughnessy G. and C.C.__Vancouver, British Columbia, Canada
92. Four Seasons G.C. (Pacifico), Punta Mita, Nayarit, Mexico
93. Spring City G. & Lake Resort (Lake) Kunming, China
94. Saunton G.C. (East) Braunton, England
95. Tokyo G.C. Saitama, Japan
96. Kennemer G. & C.C. Zandvoort, Netherlands
97. Redtail G. Cse. St. Thomas, Ontario, Canada
98. Black Mountain G.C. Hua Hin, Thailand
99. Anyang Benest G.C. Gunpo, South Korea
100. The Royal Adelaide G.C. Adelaide, S. Australia, Australia