The Loop
Trending: Rhein Gibson's 55, and nine other 'unbeatable' sports records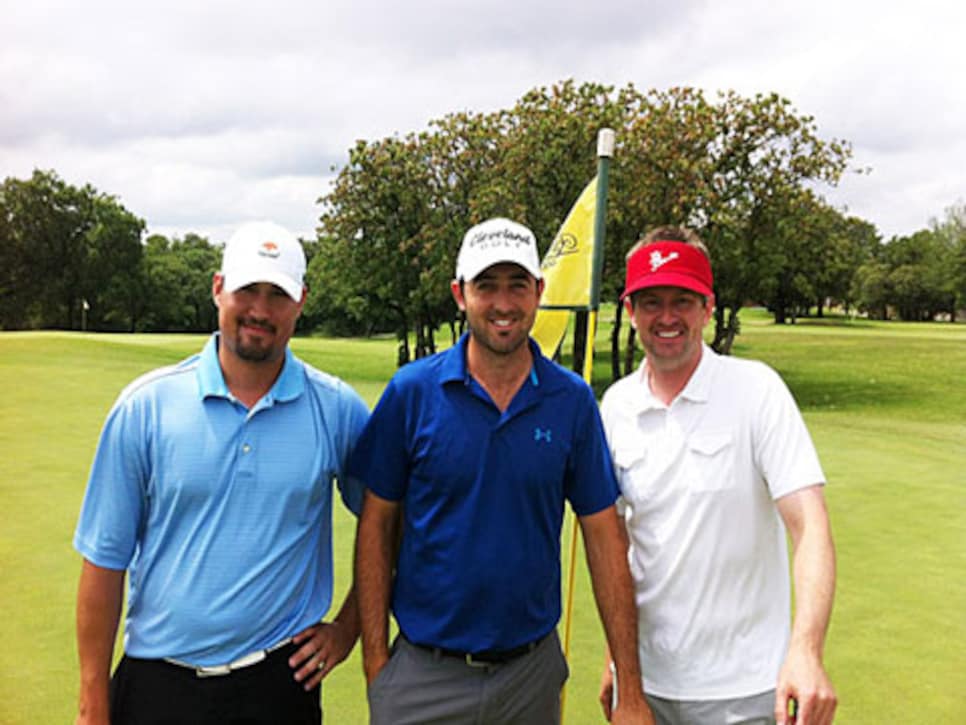 (Rhein Gibson center, flanked by his playing partners Eric Fox, left, and Ryan Munson, right. Photo via GolfOklahoma.org)
Let us all take a moment to congratulate Rhein Gibson for the remarkable 16-under 55 he shot over the weekend at River Oaks GC in Edmond, Oklah. As amazing as it was, it's still only tied for the lowest round of golf ever recorded -- Homero Blancas fired a 55 at the 1962 Premier Invitational, in Longview, Tex. While both rounds are equally remarkable, the Guinness Book of World Records does not recognize Blancas' round because it was shot on a course deemed "too short" (the course, which actually no longer exists, was a 9-hole layout with two different tee boxes on each hole to create the full 18 and was only slightly longer than 5,000 yards). So Gibson's 55 stands alone as the pinnacle of golf records; one that I am going to go on record as saying is unbeatable.
Unbeatable the way Joe Dimaggio's 56-game hitting streak is unbeatable; or Wilt's 100 point game (or his 55 rebound game); or Byron Nelson's 11-straight consecutive tour wins. But these records are all of the sports-bar trivia variety, the kind that even the most novice of fan would be able to answer. Luckily, sports is filled with enough bizarre facts to keep the Elias Sports Bureau in business, so I've collected nine more of the most random unbeatable records to never grace the pages of Guinness. With Gibson's 55, this is a top 10 list for you to throw around the water cooler.
Wilt Chamberlain's 20,000 women.
We know no one will come close to scoring 100 points in a basketball game again, but does anyone have the game, or stamina, to sleep with over 20,000 women ever again (as Chamberlain claimed in his autobiography A View From Above)? While his 23 women in ten days might be attainable, we think his overall record is safe. Then again, Tiger is single (too soon?).
Pete Rose's record of gambling on every Reds game he managed.
We don't have the stubs to know how much he wagered, but we do know this much: he bet on every Reds game he ever managed. The history buff in me wants to believe he was speaking metaphorically, but Charlie Hustle never met line he couldn't beat.
Danny Almonte's record as the oldest Little Leaguer.
Almonte remains the oldest person to ever compete in a little league game at the age of 14; a record that will never be broken because the age limit is 12.
Billy Martin's five stints as Yankees manager in eight seasons.
This record belongs to George Steinbrenner as much as it does Martin. The much-beleaguered and temperamental manager began his Yankees career in 1975 -- a run that lasted until the middle of the 1978 season. He would later be brought back for partial or single season stints in 1979, 1983, 1985, and 1988.
Matt Snell and Ernie Stautner as the first light beer pitch men.
This one actually came up in my searches for Billy Martin, as he was rumored to be the first person to appear in a televised light beer commercial. The answer is actually former New York Jets running back Matt Snell and former Pittsburg Steelers defensive tackle Ernie Stautner, who appeared together in a Miller Lite commercial. A definitive record that will never be broken.
The Bullet's making the playoffs with .20 winning percentage
Sadly, this one is probably in the Guinness Book of World Records. The 1953 Baltimore Bullets made the playoffs with a 16-54 record, a stat line that should never, ever be broken.
Barry Bonds' most home runs after the age of 40
Much has been made of Bonds breaking Hank Aaron's all-time home run record, but taking into account the MLB crackdown on steroids and HGH, his 79 career jacks after the age of 40 might be the most untouchable feat.
Michael Jordan's record for the highest batting average for a 5-time NBA MVP
I was going to take this one in a negative direction until I learned that Jordan actually had a batting average above the Mendoza Line. In 1994, Jordan hit .202 with three home runs for the AA Birmingham Barons.
Most pop-a-shot baskets made consecutively.
This one is actually true, though I'm not entirely sure it's a record. We'll just say it is, because we have video proof that this woman hit 114 shots in a row, which was enough for her to upgrade the pencil she won for either the keychain or yo-yo.