Putting
10 Rules On Being A Savvy Risk-Taker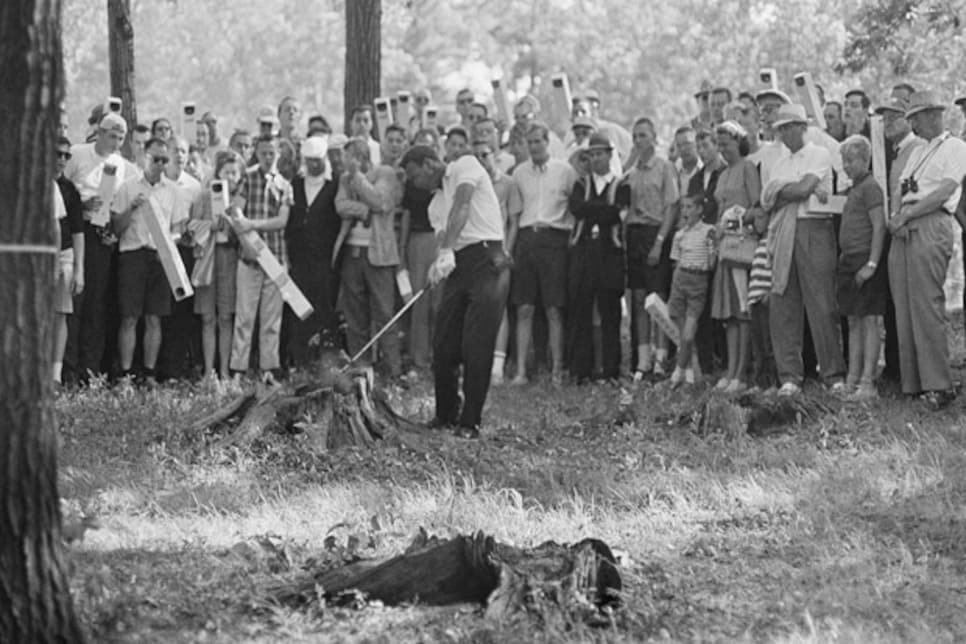 This risky shot led to a triple bogey and a playoff loss in the 1963 U.S. Open.
1. Measure risk against reward.
When I drove the first green at Cherry Hills in the final round of the 1960 U.S. Open, many people thought it was a risky, heroic effort. I didn't see it that way at all. It's a narrow hole with a creek running along the right side, but I figured even if I drove into the water, I still could get up and down for par. The reward--a sure birdie and possibly an eagle--outweighed the risk. The easy birdie I made got me started on my 65 and a career-defining U.S. Open victory.
Always measure worst-case scenarios with the best that can happen, and have a biased eye toward the best.
2. Think twice before reaching deep.
When Jack Nicklaus came on the scene in the early '60s, he could really boom the ball. When I played with him, the urge to keep my drives up with his was irresistible, and the results weren't always the best. Swinging all-out is good; swinging beyond all-out usually leads to disaster.
3. Bold putting isn't risky.
The most important thing in putting is getting the ball to the hole. Or should I say, past the hole. In my prime, if I didn't make a putt, you could bet it was going by the hole. When you continually come up short, you open yourself up to risk because you've stopped moving the putter with authority. Before you know it, this will eat away at your confidence on the greens. You have to give the ball a chance to drop, every time.
4. Don't compound mistakes.
My losing a seven-stroke lead to Billy Casper on the back nine of the 1966 U.S. Open at Olympic resulted largely from Bill shooting a 32 on that nine. But I didn't play well, and if there's one shot I wish I could have over, it would be my second on the par-5 16th hole. After driving into thick rough, I chose to hit a 3-iron instead of playing out to the fairway. The shot went all of 75 yards, and I wound up with a costly bogey and eventually lost the championship to Bill. The lesson: Don't compound mistakes by trying a shot you most likely can't pull off on your recovery.
5. A low ball means a lower risk.
I can still remember my father's directive for playing iron shots: "Hit the ball on a line, at the hole." I always tended to hit my irons fairly low and straight, without much fade or draw. On the whole it's a good way to play for a few reasons. First, low balls are less affected by the wind. Second, the swing that produces a low shot is usually a bit steeper, meaning you can get the club on the ball on less-than-perfect lies. And third, you usually hit it nice and solid.
6. Don't try shots you haven't practiced.
In the 18-hole playoff for the 1963 U.S. Open at The Country Club, on the 11th hole my ball came to rest in a rotted tree stump about two feet tall. I thought long and hard before deciding to play from that stump instead of taking an unplayable lie. What a mistake that was. It took me three swings to get the ball out (see photo at right), and I wound up making a triple bogey and eventually lost to Julius Boros by six strokes. It's one of the shots in my career where I wish I'd had a mulligan. The mistake was trying to hit a type of shot I'd never practiced (not that there are many tree stumps around to practice from). Uncertainty amplifies risk and breeds mistakes.
I've been asked many times if Phil Mickelson is too aggressive, and my answer has always been a firm "no." There's an element of risk with many of the shots Phil plays, but he has been rewarded more times than he's been penalized. Moreover, being too cautious could make Phil play defensively, which in turn invites mental lapses and other mistakes. Let your personality determine what constitutes a reasonable risk, and go with your gut.
8. Reduce risk from rough.
At the 1961 British Open at Royal Birkdale, I had the lead with four holes to play. My drive on the par-4 15th sailed into thick rough, and I decided to go for the green. It was a risky shot, but two things helped minimize the danger. First, I chose the most lofted club that would still give me a chance to hit the green: a 6-iron. Second, I used as much old-fashioned strength as I could to hit through the ball, taking a divot a foot long.
I knocked the shot on the green, and the par I made helped me win my first British Open. Today there's a plaque at the spot from where I played that shot [it's now the 16th hole].
9. Know the difference between risks and gambles.
During the first round of the 1961 L.A. Open at Rancho Park, I made a rather famous 12 on the par-5 18th hole. I hit four consecutive 3-woods out-of-bounds, starting with my second shot. There was O.B. both to the left and right of the green, which made the shot risky--but only mildly risky. It didn't constitute a gamble because my lie was good, I was playing well and I knew in my heart I could pull the shot off. Only a gust of wind ruined a pretty good shot. And the next one. On the third try, I overcorrected and hooked it O.B. Then I did the same thing again! But to this day, I don't see that strategy as a gamble.
10. Don't let a partner tempt you.
Galleries liked to see me make bold, risky plays, and sometimes it was hard not to give them what they wanted--even when I knew the odds were against me. For you, the pressure to hit ill-advised shots probably comes from your partner in weekend four-ball matches. Certainly you can take more risks than normal with your partner backing you up, but even in the most tempting situations you should never try a shot you don't have at least a 50-50 chance of pulling off.