The Loop
10 questions with Joe Galiardi, owner of the largest autographed golf ball collection in the world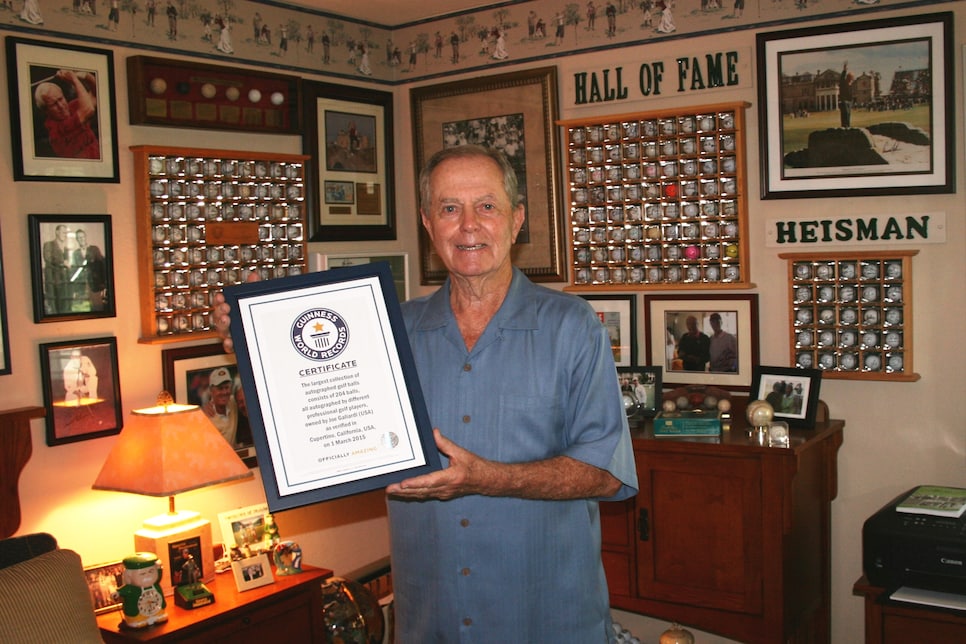 When you ask Joe Galiardi about his collection, he casually mentions that, yes, he has some autographed golf balls laying around his house. This is a modest reflection, like remarking a few bunkers are scattered about Whistling Straits.
Galiardi owns 425 signed golf balls to be precise, a number that's earned him the Guinness World Record for the largest catalog of its kind.
A late bloomer into the game, Galiardi's passion came from a brush with royalty. It was a 1989 encounter with the King, Arnold Palmer, at a senior event where Galiardi collected his first John Hancock. The meeting launched a newfound obsession for Galiardi, and he's been amassing celebrities signatures on balatas ever since.
But for one known for his gathering, Galiardi, now in his 80s, is also a generous giver. He donated profits from his 2009 book Hooked on Autographs to the Walter Reed Society. His endeavor generated thousands of dollars for the non-profit.
We talked to Galiardi about his hobby, why he choose golf balls and what his pastime has taught him.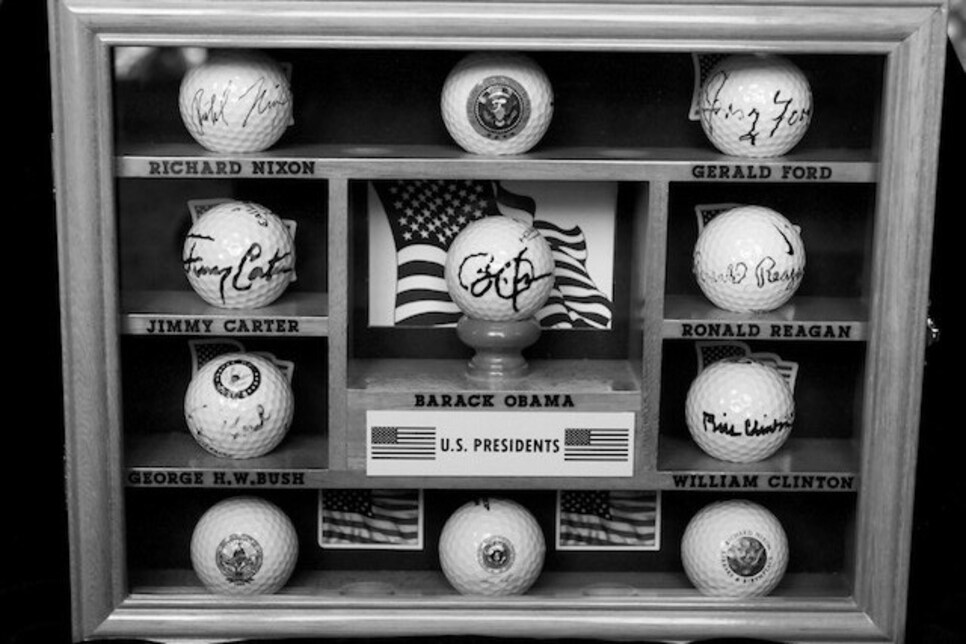 You mentioned Arnold Palmer was your first autograph. Who was your second?
Jack Nicklaus at the 1990 AT&T Pebble Beach Pro-Am. As Jack walked off Pebble Beach's 18th putting green, I asked him if he would pose for a picture with my wife, Judy. He did and he kindly signed a golf ball for me. It was that easy!
Why golf balls? What drew you to that item rather than hats or flags?
I have to take you back to 1942, when at age 7; I knew then I was a collector. I built and collected military model fighter airplanes. In addition, I collected marbles, stamps, comic books and Topps baseball cards. When I took up the game of golf in 1986, it didn't take long before my collector's instinct led me into a new hobby: collecting logo golf balls from the golf courses I played. Not surprisingly, after three years of collecting over 100 logo balls, I was ready to try venturing into a more challenging and fun hobby of collecting signed golf balls, pictures and books.
What is your favorite story behind attaining an autograph?
George H.W. Bush was playing in the AT&T National Pro-Am at Pebble Beach shortly after leaving the White House. Arriving at Pebble Beach, I staked out at the putting green in anticipation of seeing our 41st president practice his putting before teeing off.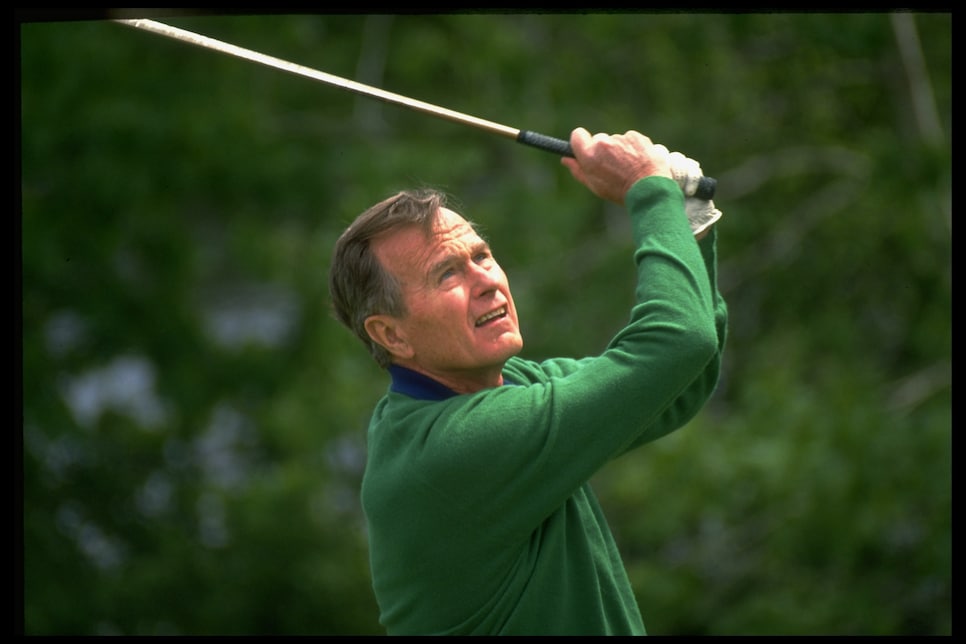 Time & Life Pictures/Getty Images
The crowd applauded Bush as he strode down the path toward the green with Secret Service agents hovering around him. There was no way I could have gotten the former commander-in-chief's autograph on a golf ball until a light bulb lit up in my head. Though it was crowded, I managed to maneuver to the practice green opening where Bush had to pass through to get to the first tee. As he did, I called out, "President Bush, you knew my late brother-in-law, Major General Lewis Mologne." Mologne, who had commanded Walter Reed Army Medical Center in the 1980s, was married to my sister, Rose Marie, a founding member of the Walter Reed Society. "Yes, I did," Bush acknowledged.
Reaching my arm out toward him with the golf ball and sharpie in hand, I politely asked President Bush to sign the golf ball. The Secret Service agents attempted to stop me from handing the golf ball to the president, but Bush acquiesced by signing the presidential seal logo ball. The "ace up my sleeve" paid off.
Which autograph means the most to you?
Not surprising, when I decided to start collecting autographs on golf balls, I wanted to start at the top and get a signed ball from my idol, Arnold Palmer. We grew up 27 miles apart in Western Pennsylvania. My opportunity to get the King's autograph came on Oct. 25, 1989, at the inaugural Transamerica Senior Golf Championship at Silverado Country Club in Napa, Calif. I was thrilled to see Palmer up close on the putting green talking to knickers-clad Bill Casper. After he finished his practice round, a large crowd of Arnie's Army fans approached him for his autograph, with me among them.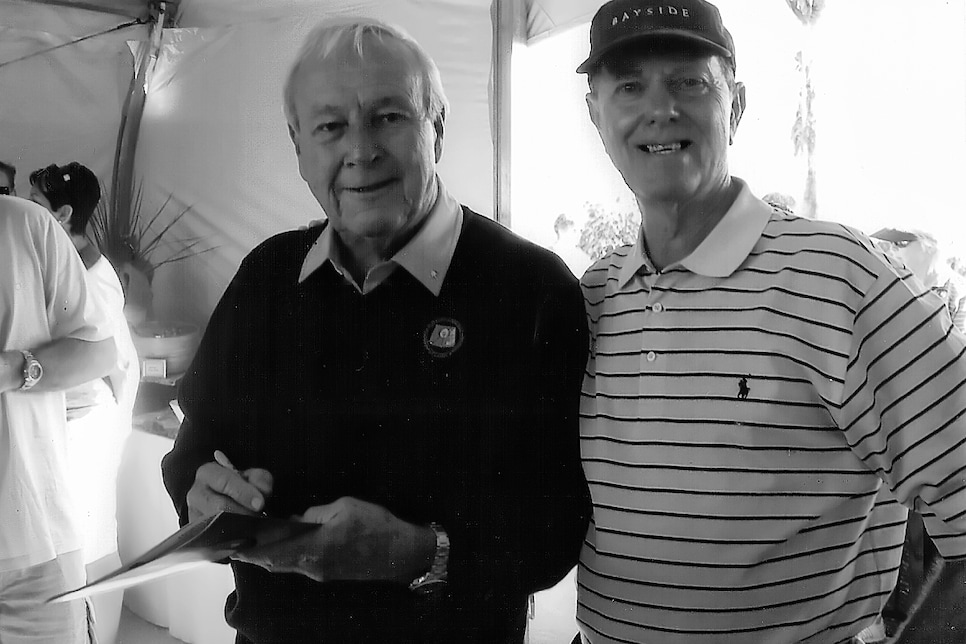 Being inexperienced at getting autographs from famous people, I had a concern about asking Arnie for his signature because I had heard that some pro golfers don't sign golf balls. Arnie wasted no time and started signing. When my turn came, I handed him a Pebble Beach Golf Links logoed golf ball, and he graciously signed it. I thanked him and walked away with my prized possession feeling like a giddy, 6-year-old kid who had just gotten a new puppy. With my first golf ball signed by the most important golfer of all time, my new hobby was launched.
Do you collect autograph golf items besides balls?
Yes. I collect autographed pictures and signed books by professional golfers. Seventeen of the books are authored by Palmer or about him, including the first book he had written titled, Hit It Hard! I have the first edition signed.
What spurred the idea of getting non-golfers to sign golf balls?
Good question. In 2001, while vacationing in La Quinta, Calif., I read in the local newspaper that the Frank Sinatra Celebrity Golf Tournament was starting that day at the Desert Willow Golf Resort in Palm Desert. I decided to go to the tournament the next day not knowing the names of the celebrities playing in this charity event. I took with me nine new golf balls, hoping I would get some of the celebrities to sign them. I arrived early to catch up with the celebs practicing at the driving range. I learned the tournament featured 72 celebrities. As it turned out, I had my best day on a golf course by getting signed balls by Johnny Lujack, Ralph Kiner, Jason Giambi, Joe Torre, Steve Garvey, Rollie Fingers, Pat Boone and Robert Wagner.
Who is a celebrity you want to get that you don't have an autograph of yet?
Two celebrities I've been trying for years to get Barry Bonds and Steph Curry. They are tough!
Have you ever had your collection appraised?
No. I have no idea how much my golf memorabilia collection is worth since I haven't called upon appraisal services to determine the value. My collection is not for sale. I'm still tracking down celebrities for their autographs. After all these years, collecting autographed golf balls still excites me.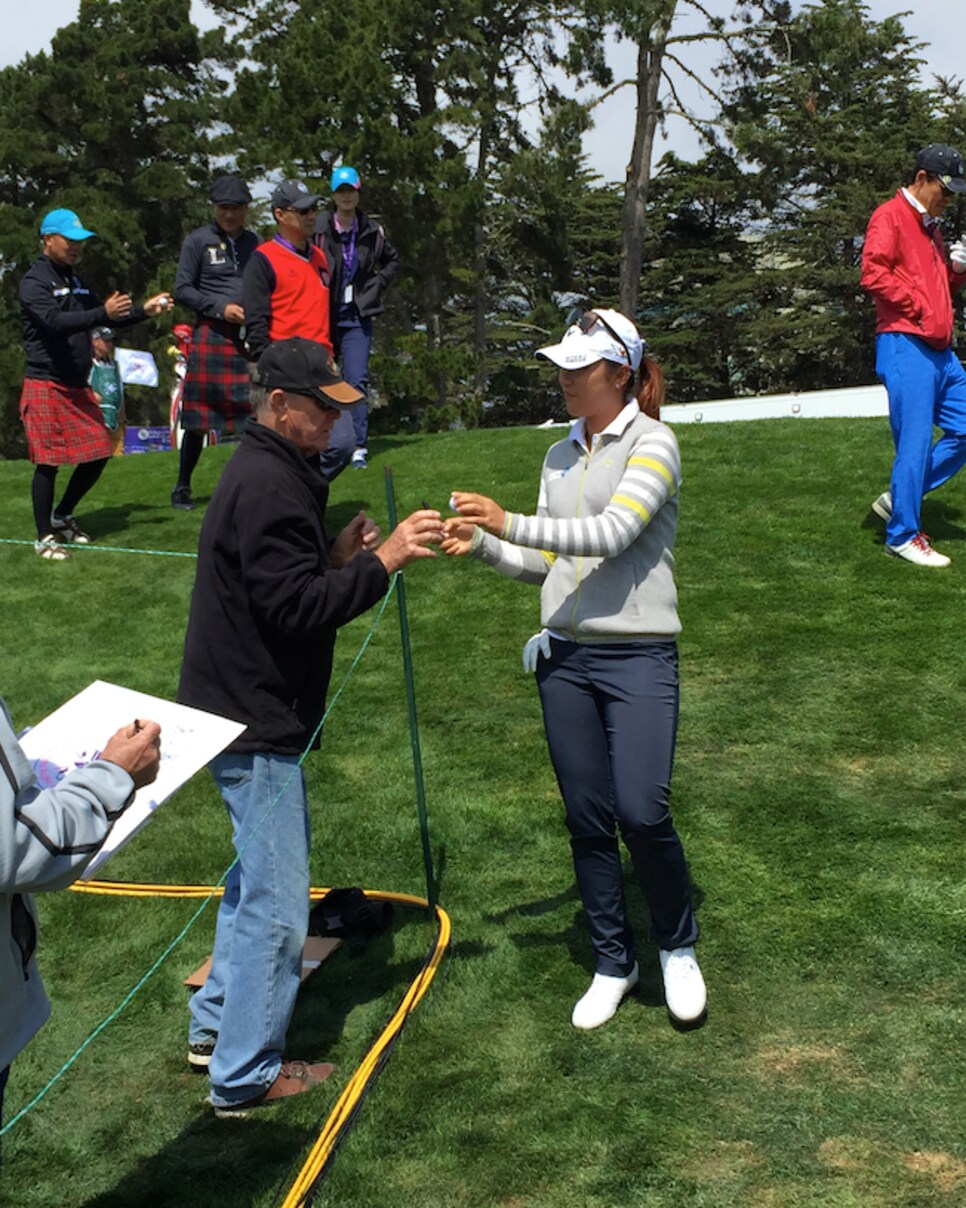 Did you get all these autographs in person, or did you purchase some?
I obtained most of my autographed golf ball the old fashion way -- by traveling all over the country hunting down golfers and celebrities mostly at golf tournaments. I estimate that I have gotten about five percent of my signatures through the mail. By mail, you get more legible signatures, but the hardest part about collecting autographs through the mail is the wait.
What's your biggest takeaway from a lifetime of collecting?
A great question, but easy for me to answer. There are many reasons why people collect things. In my case, I had an infectious passion for the hobby of collecting autographs. I wanted the thrill-seeking challenge of tracking down icons and superstars for their autographs and walk away with keepsake memories. To this day, I have an intrinsic joy in looking daily in my golf room at my stockpile of celebrity signed golf memorabilia items acquired over the past 25 years. I'm having a ball!