Mind your divots
1 picture that shows the best (and worst) way to take divots on the driving range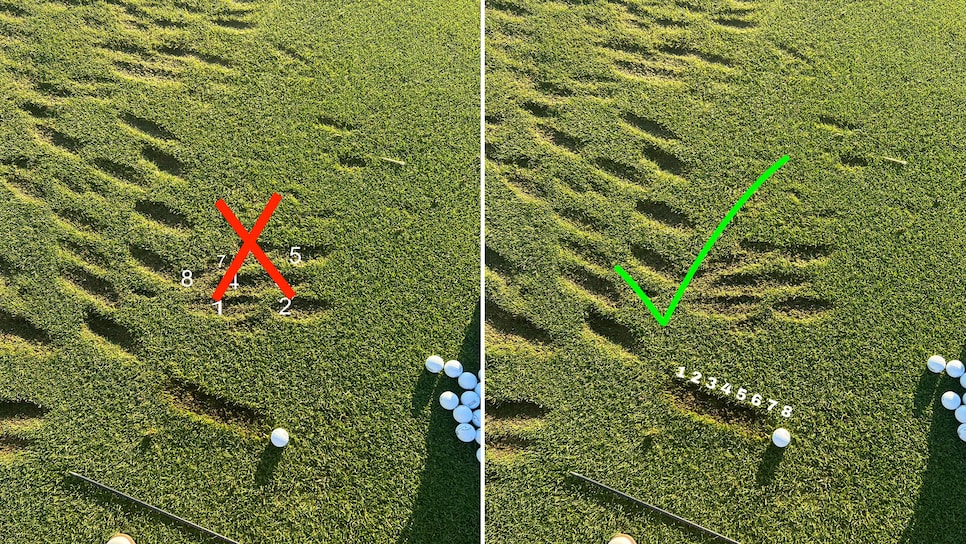 If you've ever been to a driving range, you've probably seen signs like the one below asking you to manage your divot patterns in order to care for the course.
No matter how hard the superintendent tries, somehow their range still ends up looking like swiss cheese. And these bad divot patterns act like a domino effect on the range. Once enough golfers hit with incorrect divot patterns, it becomes even more difficult to hit using the right ones. Which ends up ruining the grass and the range.
So why is it so hard for golfers to follow these patterns?
Mostly because they don't understand the right way to arrange their ball when hitting. Luckily, Hannah Gregg, a professional golfer on the Epson Tour, shared a great tip that should help clear up the confusion for most golfers—and hopefully make your superintendent's life a little easier.
In the tweet above, you can see that Gregg breaks down hitting patterns on the range using numbers. Starting from one and working up to eight, you can see that golfers with a bad divot pattern hit their shots sporadically on the range.
But, golfers with a proper divot pattern are more organized, placing each new ball directly behind the one before it. This works because when using an iron, you should be hitting the ball, then the ground. So your divot should actually happen in front of your ball, not under it or behind it.
Not only does this contribute to the betterment of the range, but if you're more cognizant about your divot pattern you can also use it as a tool to analyze what's going on in your swing.
Try taking a look after you hit to see how deep or shallow your divots are, and where they're pointing.
Having a solid divot pattern will allow you to recognize when something changes in your swing and how it's affecting your game.