Contenders Prepare for U.S. Open Challenge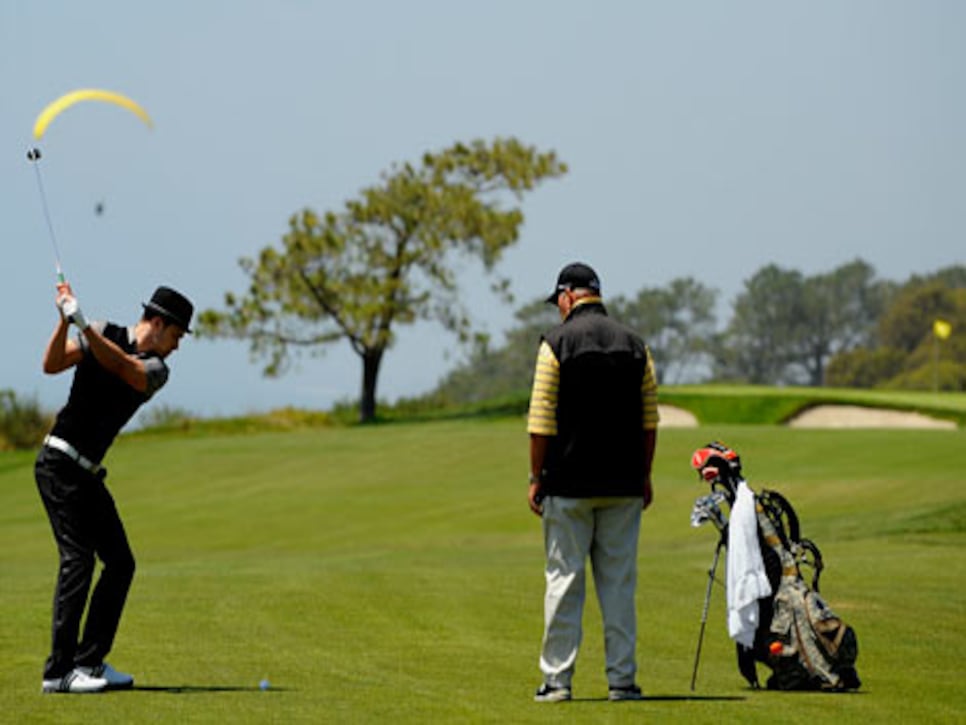 One hesitates to make too much of a practice round, but if Thursday's rehearsal for today's Golf Digest U.S. Open Challenge is any indication, hey, these guys may just do it. Break 100 that is.
They've certainly come well-armed. Challenge winner John Atkinson, who along with fellow amateur competitors Justin Timberlake and Matt Lauer, played the Torrey Pines South Course, brought high-powered help. Atkinson's caddy is sport psychologist Dr. Bob Rotella. Timberlake's caddy is the country's leading teacher, Butch Harmon. And Lauer had the former No. 1 player in the world, Greg Norman, on his bag. Tony Romo, their fourth, arrived too late to practice yesterday. Lauer and Timberlake impressed, especially with iron shots -- Timberlake stuck a wedge to four feet on 18 -- and Atkinson was steady in his nine-hole round, though all found the kikuyu rough gnarly and tough.
In a pre-round meeting with USGA and NBC, there was plenty of ribbing. Caddy Norman asked the first question: "Are we going to have spotters?... all due respect to the golfers, of course." When the USGA's Mike Davis laid out the rules and reminded the players that only their caddies are allowed to provide advice, NBC's Roger Maltbie, who will be walking the course with the four, asked if he might give them any help. "Well, first of all, it might not be right," replied Davis to laughter.
Norman, who called the Torrey Pines set-up "the hardest, fairest test I've seen so far at a U.S. Open." complimented Golf Digest, NBC and especially the USGA on the event. "[For amateurs] to be able to understand what the U.S. Open is really like from a player's point of view…This is the best thing to happen to golf," said Norman. Timberlake added that such an event could only happen in golf. "We can't play quarterback for the Dallas Cowboys at the Super Bowl, he said." "This is the only game where an amateur can play a US Open course from the tips, just like the pros."
According to the Southern California Golf Association, which rated the course for the USGA yesterday, it will play at a rating of 79.7 and a slope of 153, not quite as difficult as predicted. John Atkinson, Index 8.1, becomes an 11; Matt Lauer, a 5.6, and Justin Timberlake a 6.0, will play as 8-handicaps; Tony Romo, Index 2.2; will play to a 3.
(In rounds today the four Open Challenge runners-up -- Ross Troike of Memphis, Erik Norton of Boston, Matt Rice of LA, and Phil Dembure of Atlanta--shot 95, 99, 101 and 106 respectively. All are 8-handicap or lower.)
The players will be miked during Friday's taping, to air before Sunday's final-round broadcast. NBC producer Molly Solomon reassured them about inadvertent comments making the broadcast: "Don't worry; we're not out to embarrass you with the audio," she said.
"What about the video?" asked Timberlake.