News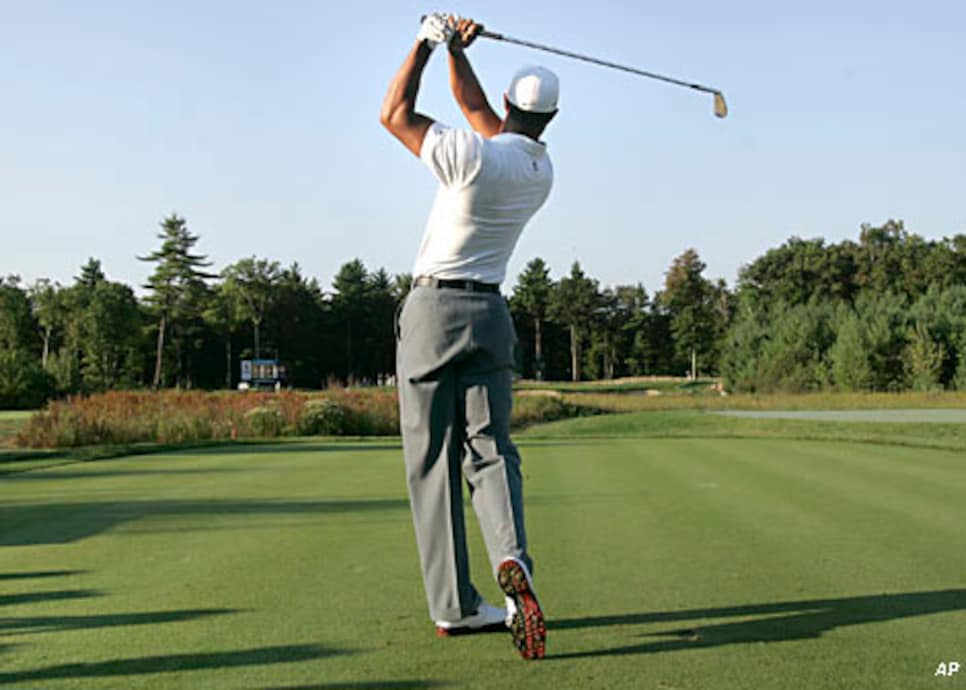 Interesting view... It's all the field is likely to see of Tiger this weekend.
NORTON, Mass. -- Don't look now, but there was a perceptible buzz Thursday at the Deutsche Bank Championship. Maybe it was because Tiger Woods showed up, but players were actually talking about the FedEx Cup. Most still have no clue about the points system, but understand if they play well, they could make big money at the Tour Championship.
"I'm looking forward to it," said Woods, who fell from first to fourth in the points race after skipping The Barclays last week. "I know I've slipped back in the standings, but there's plenty of points out there, and just going to go out there and get some Ws."
Woods dropped six pounds in the heat at Southern Hills while bagging his 13th major title, then put away his clubs for about 10 days. He spent some family time on his boat, rang the bell at the New York Stock Exchange and took in Tuesday night's Yankee-Red Sox game as guest of Derek Jeter, dining with him afterward.
"I love the strategy involved in baseball, how the shortstop controls third base and what goes on, the communication between Jeter and A-Rod," said Woods. "Are you kidding me? That's what I grew up with. So for me to go sit there right behind home plate and see everything unfold right in front of me and know what to look for, it's like going back to your childhood days, but just on a much better scale."
Now, it's back to work. Has Wood received any flak for missing The Barclays?
"As far as the players, I really haven't heard much," he said. "I know that a bunch of my buddies were giving me some grief. But as far as the media stuff, I've been on the boat and getting away from it."
Woods had intended to play all four FedEx Cup events, but was simply worn out and wanted to spend time with his family.
"It's not just four in a row, it seven out of nine," Woods said. "That's what people don't realize. You've got to look at the bigger picture of it. Especially given what we went through temperature-wise those two weeks. I lost quite a bit of weight, and it's not easy for me to put weight on."
Woods has always prided himself on wanting to win every tournament he enters. He knew he wasn't 100 percent last week and was not about to go through the motions.
"If you're not ready to win, there's really no point in playing," said Woods. "That's why I play a very limited schedule, and when I come to play, I come to win, period. I want to give it my best in order to do that. That's allowing myself to prepare both physically and mentally."
Woods said he will continue to work with swing coach Hank Haney; just not as much.
"Definitely not as often," he said. "He has some things that he needs to take care of, which is totally understandable, and he really should be there."
Haney's wife is battling health issues.
For the record, Woods said he would play the last three FedEx Cup events, regardless how he plays the next two weeks. He could clinch the title before the Tour Championship with strong showings.
Also, spectators are in for a treat the first two rounds at TPC Boston, with Woods, Phil Mickelson and Vijay Singh playing together in a PGA Tour tournament for the first time together. The only other time the three competed together was in the PGA Grand Slam of Golf.
Mark Soltau is a contributing editor to Golf Digest and the editor of TigerWoods.com.