News
The Best Six Weeks Of His Life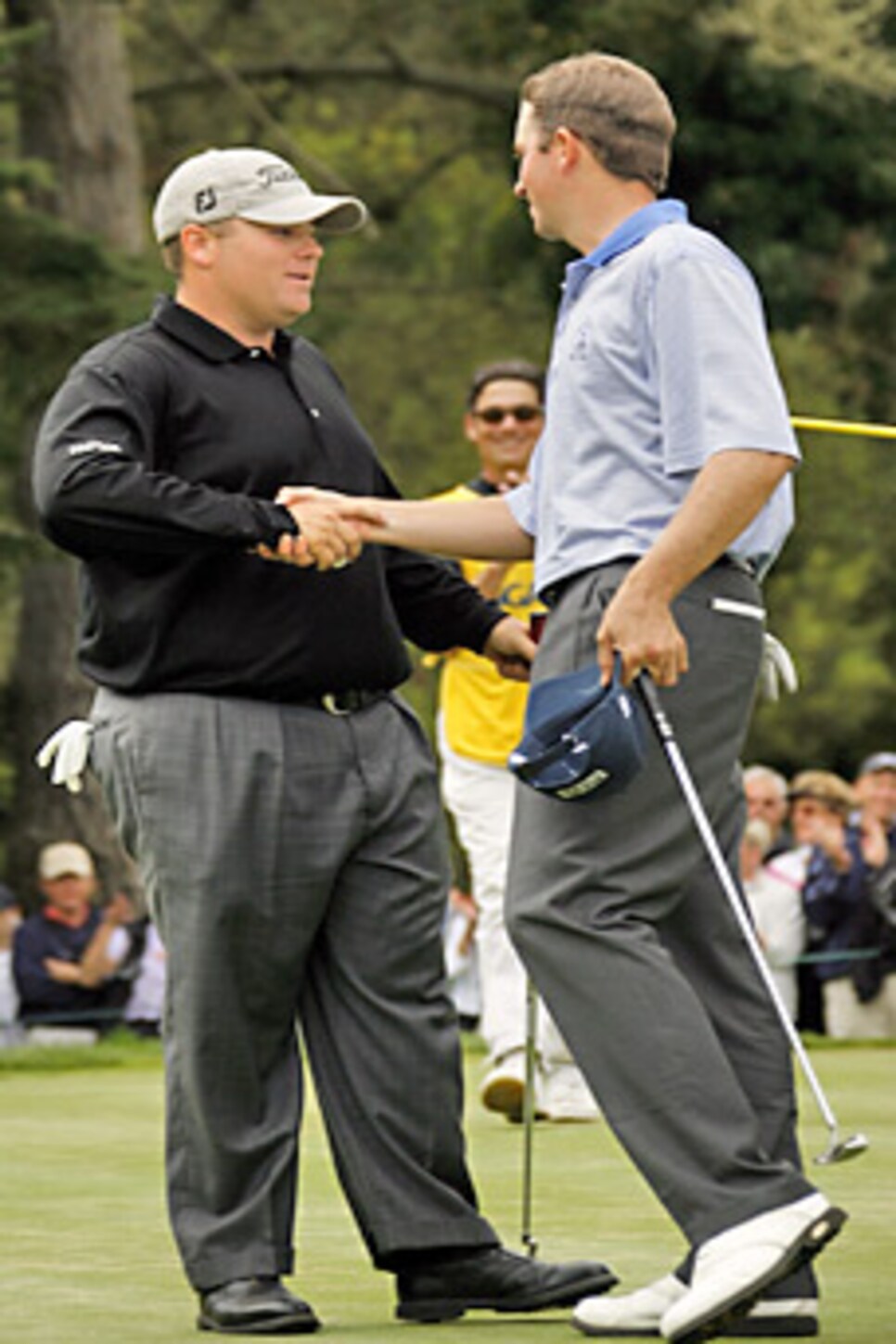 Thompson (right) chased Knost, but couldn't quite catch him.
DALY CITY, Calif. (AP) -- No matter what Colt Knost accomplishes after his pro golf career begins in a few months, he realizes he'll be hard-pressed to top his remarkable final summer as an amateur.
Knost won the 107th U.S. Amateur Championship on Sunday, holding off Michael Thompson 2 and 1 to win both of the nation's biggest amateur golf events in six weeks.
Knost, a stocky 22-year-old whose good-natured Texas twang masks his penchant for playing angry, is only the second golfer to win the Amateur and the U.S. Public Links titles in the same year. Ryan Moore did it in 2004.
"I know it's a pretty rare feat," Knost said while checking out his large gold cup. "Just to win this trophy is pretty unbelievable, and to have that other one with it, it's been an amazing month-and-a-half."
After a tumultuous 36-hole final match in which both players held a lead in the final 18, Knost put a tricky 45-foot chip within 3 feet on The Olympic Club's 17th hole. Thompson conceded a short par putt moments later, and Knost thrust both arms in the air before hugging Thompson, who might be his teammate next month on the American entry in the Walker Cup.
"I know in these USGA events that pars are good," Knost said. "I make a lot of pars. I make very few mistakes. I'm a guy that doesn't shoot 62 a lot of times, but I very rarely shoot more than a couple over par, so therefore I know I can wear people down in match play."
Knost, who played at SMU before winning the Publinx championship in July, took the lead for good with a 15-foot birdie putt on the 13th. He then holed a tough chip shot on the 14th, pumping his fist as it rattled home from the back of the fringe to put him 2-up on the historic course on the rolling hills south of San Francisco.
Thompson pulled within one hole with a birdie on the 16th, but put his 17th approach shot well down the hill past one of The Olympic Club's tough raised greens.
Knost and Thompson earned spots in the 2008 fields at the Masters and the U.S. Open with their semifinal victories.
"I'm not terribly disappointed I lost," said Thompson, a Tucson, Ariz., native who plays at the University of Alabama. "Runner-up still sounds pretty darn good. I still get to play in the Masters and the U.S. Open, so this has been a great week. ... I get to skip school for this, so I can't complain."
Thompson planned to fly out of San Francisco for Tuscaloosa on Sunday night, with an accounting class waiting for him on Monday morning.
Knost still hasn't decided whether he'll wait to use those amateur berths at Augusta and Torrey Pines instead of turning pro, which he originally planned to do after the Walker Cup in Northern Ireland. He said he'll find it difficult to turn down a chance to play in the Masters, but might not wait until the Open in June before he starts playing for money.
"I've got Walker Cup next week. That's what I'm ready for," Knost said. "That would top off the best summer of my life if we go over there and win that one, and then I'll go from there."
Knost was only 1-up after an unremarkable first 18 holes, and he obviously was frustrated with himself, muttering and stalking around the course.
"I get fired up, and I get upset at myself, but I get over it pretty quickly and go on to the next shot," Knost said. "I move on from things very quickly. I try not to let things stay with me too long, whether they're good or bad."
Thompson evened the match when he bounced a circus shot off the lip of a bunker to within 3 feet to save par on the third hole of the second 18. Thompson went ahead on the fifth, holing a hard-breaking 45-foot birdie putt.
But Knost cleared his head in time to go back ahead on the eighth with an easy birdie -- his first birdie of the day that wasn't conceded. Thompson never held the lead for more than one hole Sunday.
Thompson still hasn't been chosen for one of the two remaining spots on the Walker Cup team with Knost, who earned his spot with his Publinx title -- but if Knost is asked, he knows what he'll say.
"If (Thompson) doesn't make that team, something is really wrong," Knost said.