News
Tiger Is Doing Them A Favor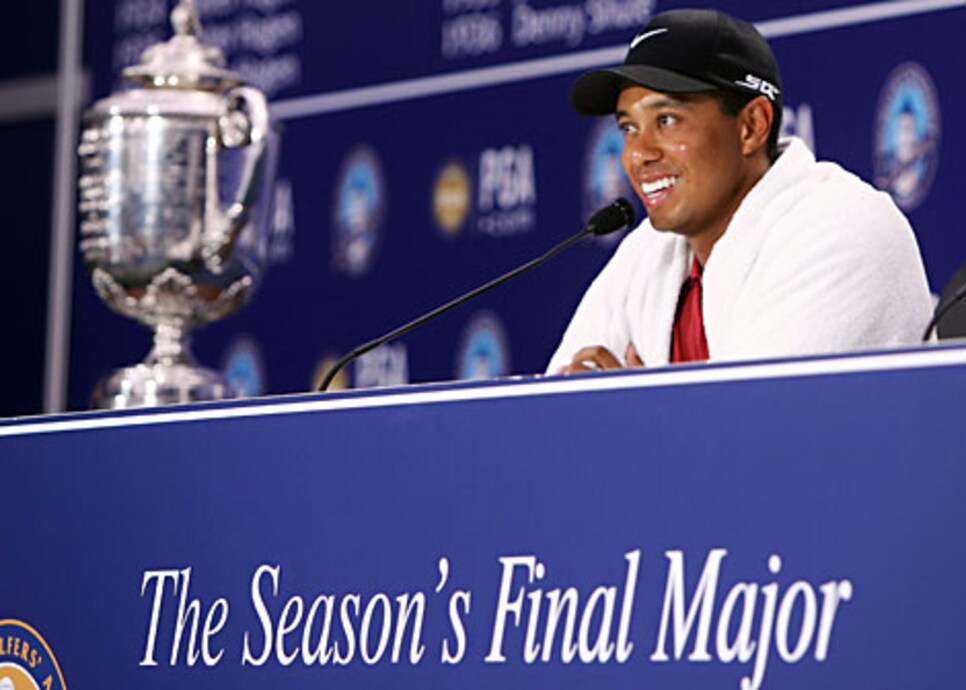 Does the banner in front of Tiger tell the real story for his season?
OK, so let's give them this: The FedEx Cup has created intense anticipation. But it's not so much about who's positioned where going into this week's Barclays -- the first of four consecutive FedEx Cup playoff tournaments -- but rather just exactly how this is all going to play out. Though the folks at PGA Tour headquarters probably won't admit it, even they must be wondering if the second-ever playoffs in professional golf will produce high drama or high anxiety. One thing for sure, they should be glad Tiger Woods is skipping The Barclays. That's right, glad.
First off, you're probably saying, "second-ever playoffs? I thought this was the first." Well, it's the first only if you don't count last year's debut of the ADT Championship, the LPGA season-ending event in which the field is determined by a year-long qualifying system that builds toward a Sunday finish in which eight players, starting from scratch after being whittled down from 32 through 54 holes, play 18 holes with $1 million going to the winner and $100,000 to the runner-up. So there's that.
Then there is this little matter of Tiger skipping the first-ever tournament of the second-ever playoffs. The guy says he's tired after playing two weeks in a row -- and winning both. That apparently answers those questions about how fatherhood will affect Tiger. Those late-night feedings must be taking a toll on a 31-year-old guy who just might be the most-fit physical specimen ever to play professional golf. Maybe the tour should pony up some money to hire him a night nurse.
Tiger said all the right things when he opted out of The Barclays -- how he still supports the FedEx Cup, how he had always intended to play all four and how he still plans to bank the $10 million annuity that goes to the Tour Championship winner. But, between the lines, wasn't he really saying that once he got his hands on the Wannamaker Trophy that goes to the PGA Championship winner, his season was over?
That's a point many will be willing to debate, especially those at tour headquarters. But the more I think about it the more strongly I feel that it's a good thing Woods is skipping The Barclays. In fact, I propose that he be forced to skip one of the three playoff events leading up to the Tour Championship each year. It's sort of like how in horse racing they put extra weight on the best horses to try to even up the field. It's only fair that Tiger skip The Barclays. It gives the other guys a fighting chance.
Back in the 1970s there was a thoroughbred racehorse by the name of Forego. He had the misfortune of being born the same year as Secretariat, which is sort of like having the bad luck of being a professional golfer with eyes on major championships competing at the same time as Woods. Beating the best is difficult enough; beating the best ever is close to impossible.
Anyway, it turned out that Forego was a late bloomer and, not having had a good Triple Crown season, he had dubious value in breeding and was gelded. While Forego might not agree that was good luck, it turned out to be a great thing for sports fans because long after Secretariat had retired to stud and was partying in the blue grass of Kentucky, Forego was winning races in the most entertaining of fashions. He became the people's champion.
What they do in handicap races is put added weight on the favorites to try to even up the field. Forego was constantly asked to carry more than 130 pounds, giving away a dozen or more pounds to his opponents, and the added weight and his already big size meant he often drifted to the outside rail and that it took him a while to get up to full speed. And what that meant was thrilling come-from-behind victory after thrilling come-from-behind victory.
In 57 races, Forego won 34 and finished in the top-three 50 times. Very Tiger-like numbers. And it was never easy because they kept piling the weight on him. If you want to see a great sporting achievement, go to YouTube and stick Forego's name into the search engine. When the results come up click on the 1976 Marlboro Cup, a race in which Forego came from eighth place to nip Honest Pleasure in a photo finish. That's even more impressive when you consider that Forego was carrying 137 pounds -- 18 more than Honest Pleasure -- on a sloppy track.
Tiger sitting out is just leveling the playing field. If Tiger had played The Barclays there was the possibility that an outcome even more embarrassing than him pulling out could have happened. What if Woods had piled up a lead so large in the first three FedEx Cup playoff tournaments that it didn't matter where he finished in the Tour Championship? What if he went into that climatic event having already clinched the $10 million annuity? Now that would have been silly.
So you see, Tiger was really looking out for the best interest of the PGA Tour by pulling out of this week's tournament. It was a totally selfless move by a man who clearly wants to protect the competitive integrity of the tour. All he was doing was giving the other guys a chance. If I were Vijay Singh -- the No. 2 guy in FedEx Cup points -- I'd send Tiger a thank-you note, even knowing it would be returned unopened. But that's another column.
It's settled then. Tiger Woods has to sit out one of the FedEx Cup playoff events each year to make it a more equal playing field. Either that or he has to play 72 holes -- actually 288 holes cumulatively in the four events -- with 137 pounds strapped to his back, which would be sort of like playing while lugging Paris Hilton (and a couple of bricks) around the course. Now that's a compelling image. Come to think of it, the tour might want to go that route instead of making Tiger sit out an event. It's all about maintaining the integrity of the competition.