News
Snedeker Delivers...On Time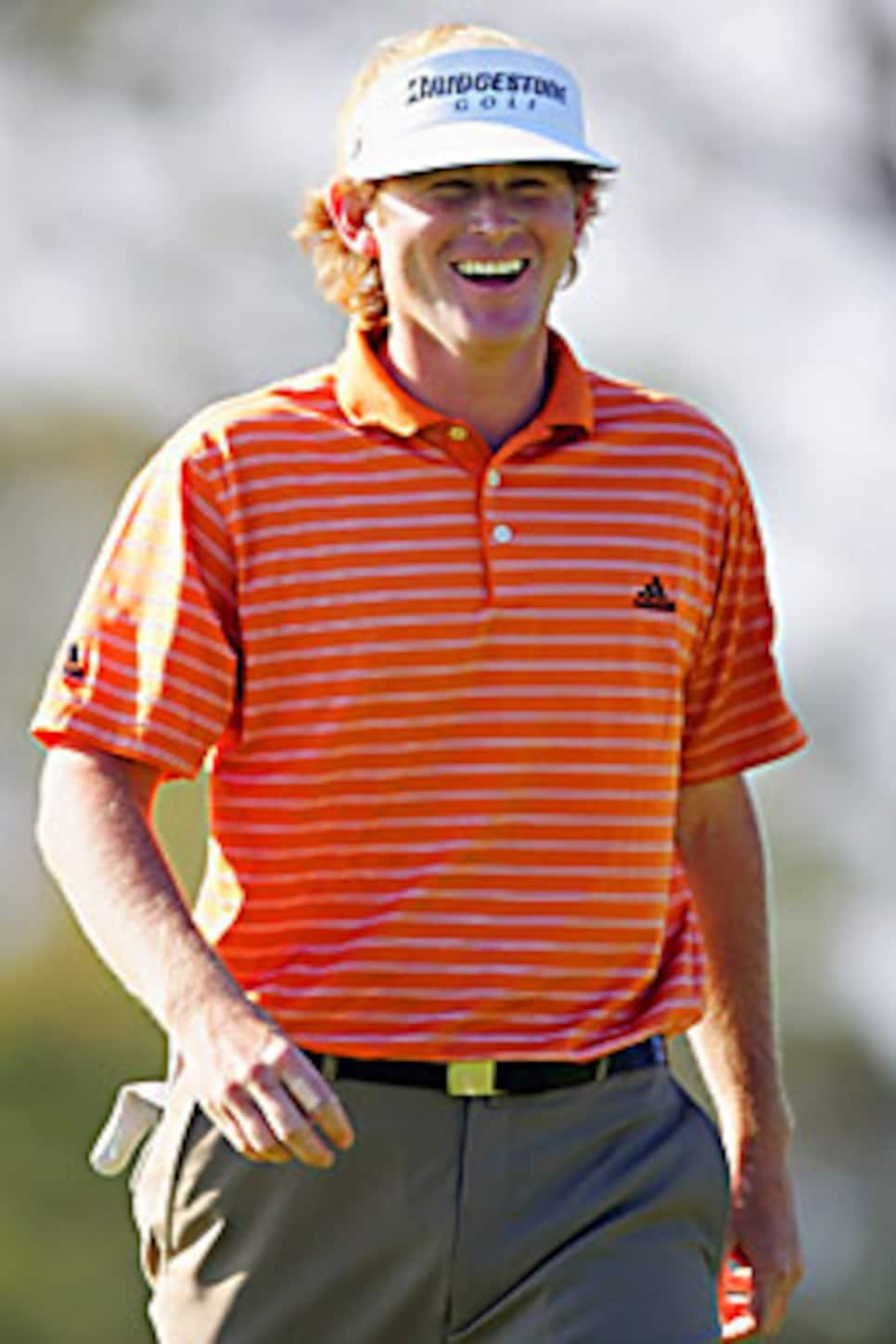 Did he wrap-up the Rookie of the Year race in North Carolina?
Brandt Snedeker is that FedEx package Tim Finchem was waiting for. On a dead weekend in late Augusta, the Saturday-Sunday before "the playoffs," this Opie with the flipped up hair and the visor from Nashville turned Greensboro into his own proving ground, mixing the look of a young Johnny Miller with the fast-playing and birdie-making of Lanny Wadkins. If the PGA is looking for young stars that are more than one-win wonders, this Snedeker kid could be the answer to the question: What's wrong with Generation Next?
The impulse is to say his win in the Wydham Championship is the first of many, if only because "Sneds," as some of his brethren call him, ranks so high on the charisma meter. He's eagled the pressroom all year, from the day he shot 61 to open at Torrey Pines, until his closing 63 on Sunday at Forest Oaks GC. But there's more to fame than being a good interview, and Snedeker, 26, has just enough of the game's intangibles to believe this pile of cash (over $2.6 million) and FedEx Cup points (he finished the year ninth) are only going to multiply in the coming years.
One of the good qualities about Snedeker is that he's still hungry. His year did not end with the PGA Championship or that $900,000 deposit of Wyndham's pony-up. And neither did his relationship with Steve Holmes, the Wyndham CEO, who gave Snedeker a ride in the corporate plane on Sunday night from Greensboro into Teterboro.
On the phone Monday morning, from his hotel in Westchester, Snedeker was up and ready to take on the first stage of this start-up concept that will unfold over the next four weeks in New York, Boston, Chicago and ultimately Atlanta for the Tour Championship, or Super Bowl of golf. He has played three of the four courses, and his energy level couldn't be much higher after making 10 birdies on Sunday in North Carolina. "One thing that did save me was that the scores were going low and I knew I had to make birdies," Snedeker said. "I was shooting at pins…I wasn't there to finish high. I was there to win."
That attitude was developed on the Nationwide Tour, where he got into two playoffs last year by making eagle on the 72nd hole and a third by closing with a birdie. Tiger calls it "the art of winning." And it was a trait Snedeker started developing as a junior golfer growing up in Tennessee. "The thing I remember about Brandt is that he could always putt lights out," said Adam Shank, a mini-tour player and assistant pro at Linville Ridge in North Carolina who competed against Snedeker as a boy. The difference now, as opposed to the Snedeker who was the first player in Vanderbilt history to qualify for the NCAAs, or the Snedeker who won the U.S. Public Links in 2003, is that he's evolving as a more complete player.
Besides passing Vijay Singh for most rounds in the 60s this year (37 to 36), Snedeker also had strong showings at the U.S. Open (T-23) -- where he was on the board through two rounds before a 77 on Saturday -- and PGA (T-18). "The one good thing about me is, I'm never complacent with where my game is, I always want to get better," Snedeker said. "It's great to win, but working my butt off to get better most fun part or it, getting better and now competing on Sundays and seeing myself mature as a golfer is what gives me the most satisfaction." He gave credit to Anderson and strength coach Randy Myers of Sea Island as being instrumental in putting the components of his game together, both physically and mentally.
Snedeker used to fight the low hooks. Anderson, of the Golf Digest instruction staff, said he would get twisted on his back swing, slide through the ball, and then, to catch up, flip at the ball through impact. Anderson went to a reverse stack-and-tilt concept, getting Snedeker more on his right side in the backswing. The big confidence builder to Snedeker at Greensboro, especially on Sunday, was the way he drove the ball (78.6 percent of fairways hit, T-6 for the week). He is no longer just a player with a wedge and a putter to go with his work ethic.
"I've worked with a bunch of these young guys over the years and I've told him one of his greatest strengths is that he's a perfectionist," Anderson said. "I told him last night, 'the tour is full of one-time winners. Now you have to have the same amount of intensity and work ethic as you did coming off the Nationwide Tour wanting to keep your card. Now you're going to get all these endorsements thrown your way because you've got a great smile and a great way with people. But there are other people out there who want what you have, so you have to put in the work to keep it.' He gets it. He understands. He says, 'You're right.' ''
Snedeker's victory just about wrapped up a tightly contested Rookie of the Year race that featured Anthony Kim, Steven Marino and Jeff Quinney. He also won on the same Sunday that Australian Nick Flanagan earned his promotion from the Nationwide Tour while winning for the third time this year. They competed against each other last year, while Snedeker won twice in between breaking his collarbone (freak accident, tripped on a tree root), and in the summer of 2003, when Flanagan won the U.S. Amateur at Oakmont. They shared time in the Crow's Nest during the 2004 Masters as the Public Links and Amateur champion. "He's a great guy with a load of talent and his caddy is a good friend of my caddy's, too," Snedeker said of Flanagan. "It'll be good to have him come out here with us."
The only downside for Flanagan is that the FedEx Cup will intercede on his exempt status and he won't be allowed into events until the Fall Finish in February The upside is that along with Snedeker, Kim, Marino, Quinney and Jeff Overton, the 24-year-old from Indiana who led Greensboro for three rounds, there appears to be a crop of young players who have taken advantage of the training ground for winning. "I've always said the worst thing to happen to a guy is have him come out and play his first year to play on the PGA Tour," said one of Snedeker's managers, Mac Barnhardt. "All the evidence in the world states that's where you should go. You do them so much better service by going to the Nationwide, and they hate to hear that."
The best thing for Finchem was the immediate delivery Snedeker made on the FedEx Cup, plugging it with real enthusiasm in is interviews with CBS and The Golf Channel. This is not like replacing Tiger Woods, but at least it gives The Barclays some positive traction going into the week of preview stories from Westchester. No doubt Woods skipping the tournament will give Mike and The Mad Dog, not to forget Mike & Mike, Kornheiser & Wilbon and Jim Rome good subject matter. But like Anderson said, it's "Sneds" that gets it.
"More than anything else, I'm excited about the way we're ending the year," said Snedeker, "We rarely get the best fields two weeks in a row, let alone four -- with everybody playing for $10 million. Golf's never seen anything like this before. It's pretty unbelievable if you think about it."
Speaking of unbelievable, so is Brandt Snedeker: A young man who knows his manners, his place in the game, and how to win. Is it too late for Jack Nicklaus to make one more pick for the Presidents Cup?