News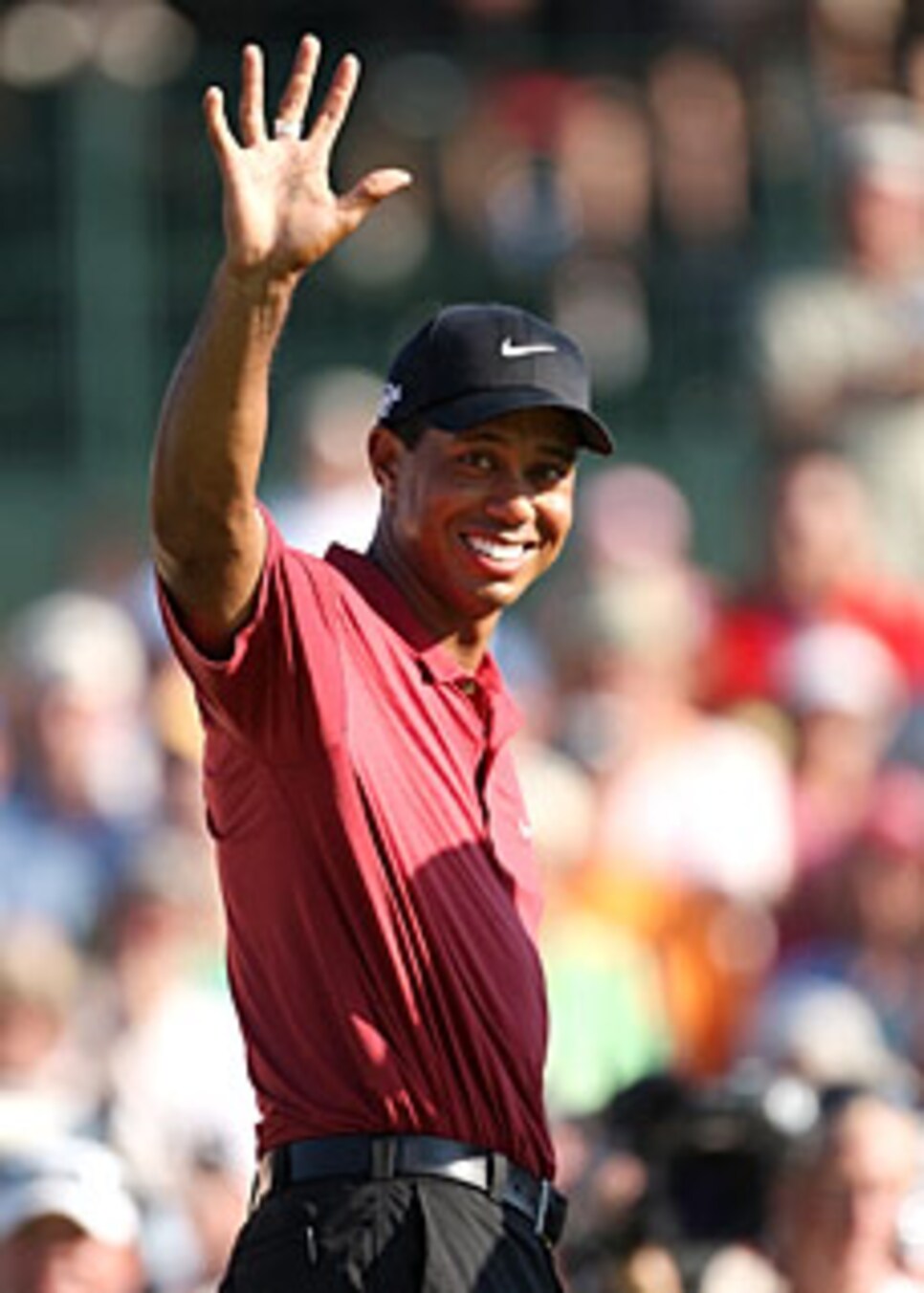 That's right, Tiger -- you're five majors away from Nicklaus.
TULSA, Okla. -- Tiger Woods defines his year by winning a major championship (or championships). Sunday, on another sweltering, 100-degree day at Southern Hills, he put an exclamation mark on 2007.
The 31-year-old Woods withstood the heat and every challenge in the 89th PGA Championship to claim his 13th major title, and he's first since winning this tournament a year ago. He also added to his legacy of golf's top closer -- he's now 13-0 in a major when leading after 54 holes. He's also 40-3 on the PGA Tour when leading after three rounds.
While Woods had come close in previous majors in 2007, this was his last chance to avoid the shutout. He did so claiming the lead after his second-round 63 (a career-low in a major), and then holding off all challengers for the last 36 holes.
"It turned into a great year," said Woods, whose closed with a 1-under-par 69 and finished at 8-under 272, two strokes better than Woody Austin, to collect his second-straight Wanamaker Trophy and fourth overall.
That puts him just five behind Jack Nicklaus's career major mark of 18. But for some perspective, consider this: Woods won his 13th major in his 44th start as pro. Nicklaus won his 13th in his 53rd pro start.
"Eighteen is just a long way away," Woods said. "You can't get it done in one year. It's going to take time. It took Jack 20 years to get it done. And hopefully health permitting and everything goes right and I keep improving, that I'll one day surpass him."
His fifth win of the year was the sweetest, and was witnessed by his wife and new daughter. Even little Sam Alexis was dressed in red.
"Well, it's a feeling I've never had before," Woods said. "It used to be my mom and dad. And now Elin and we have our own daughter. So it's evolved, and this one feels so much more special than the other majors."
Earlier in the week, some suggested the tight, tree-lined course was too tight and awkward for Woods to conquer. In the 2001 U.S. Open here, he tied for 12th.
But the 2007 version of Woods is much different than the one seen at Southern Hills six years ago.
"I don't understand why people kept saying that," Woods said. "If you watched the way I hit the ball in 2001, I wasn't hitting it very well. But if you look at where I was hitting it, I was hitting it exactly the same spots I did this week. I just wasn't able to hit the fairways."
And get this: He never got tired, despite the high temperatures.
"I feel when I walked up 18 I felt the same way as I did going off the first tee," said Woods. "I felt great."
Woods held a three-shot lead heading into the final round and his goal was to play each side under par. His second consecutive 1-under 69 was good enough.
"If I did that, I felt the tournament would be mine," he said.
Woods looked vulnerable early but holed an eight-foot par putt at the first hole. He bogeyed the par-4 second, where he drove into the left rough and was forced to punch out well short of the green. He was fortunate his third shot hung on the back fringe, a water hazard lurking just beyond.
Knowing Austin and Ernie Els were mounting charges ahead, Woods responded. At the par-4 fourth, he split the fairway with 4-iron, then knocked a pitching wedge 10 feet below the hole and buried the birdie putt.
After a nice up-and-down par save from the greenside bunker at No. 5, Woods struck again with back-to-back birdies at the short par-4 seventh and 245-yard par-3 eighth. At the seventh, Woods flagged his 8-iron approach eight feet behind the hole, then drilled a 2-iron at the eighth 25 feet right of the hole and rolled home the putt, pumping his right fist in celebration.
"I got pretty excited there," he said.
A poor drive into the left rough resulted in a bogey at the par-4 ninth. Woods still made the turn in 1-under 34, three strokes ahead of Els, who was playing two groups ahead.
Sticking to his conservative game-plan of hitting fairways and greens, Woods parred 10, 11 and 12, but lost ground to Austin and Els, who pulled within two shots. Austin birdied 11, 12 and 13, while Els birdied 13 and 14.
Thinking birdie at the easily reachable-in-two par-5 13th, Woods pushed a driver into the rough, grimacing after he swung. He had no choice but to play short of the green, then punched a low sand wedge from 86 yards too hard, the ball bouncing into the back bunker. Woods nearly made birdie anyway, his explosion shot rimming the cup for a tap-in par.
The tournament tightened at the 223-yard par-3 14th, where Woods three-putted from 40 feet -- his only three-putt of the tournament -- and saw his cushion dwindle to one.
"I made a mess of that hole, but I still had the lead," said Woods. "If I made pars, they would have to come get me."
Woods regrouped at the par-4 15th, finding the fairway with an iron, then carved a 7-iron from 179 yards 12 feet right of the hole. The putt was center cut, extending his lead to two over Austin.
"I just did some serious yelling at myself going up to the 15th tee, just to get back into what I do," Woods said. "And position the golf ball, put it where I need to put it and just bear down, get it done somehow. I felt like I had momentum again and was back in control of the tournament."
Energized by the putt, Woods crushed a driver down the fairway at the 507-yard par-4 16th. He cut an 8-iron from 166 yards about 18 feet left of the flag and two-putted for a par. He did the same at the final two holes, then raised both hands and removed his cap to raucous applause at the 18th green.
"I felt like I've played well most of the year," said Woods. "And just didn't quite get it done in the first two major championships. This time I did."
Mark Soltau is a contributing editor to Golf Digest and the editor of TigerWoods.com.