News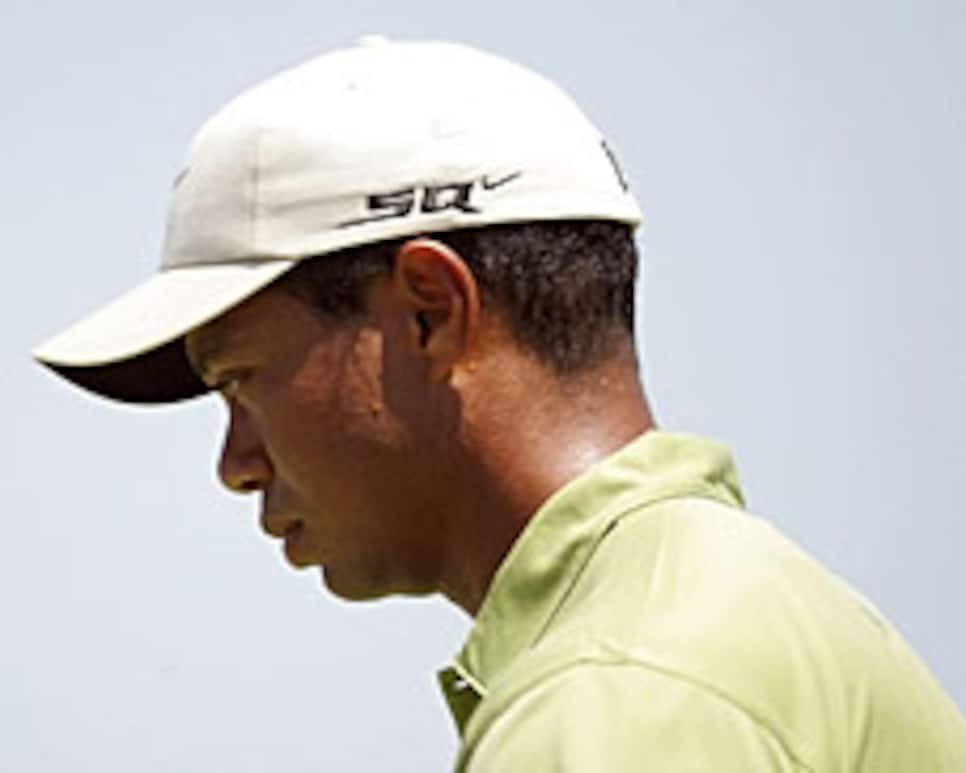 Tiger will have his game face on Sunday.
TULSA, Okla. -- Tiger Woods doesn't need added incentive in major championships, especially when he has the 54-hole lead. He's 12-0 and has been a perfect 23-0 on the PGA Tour when holding more than a one-stroke advantage. Winning another major and drawing one step closer in his quest of surpassing Jack Nicklaus' win total of 18 majors is his longtime goal.
But just in case he needed a bit more motivation in the Oklahoma heat ...
Woods takes a three-stroke cushion over Stephen Ames of Canada into Sunday's final round of the PGA Championship at Southern Hills. Thanks to Ames' birdie on 18 on Saturday, the two will be paired in Sunday's final round. And there is history between the two.
Prior to last year's WGC-Accenture Match Play Championship at La Costa Resort & Spa, Ames was asked about his first-round match against the top-seeded Woods.
"Anything can happen, especially the way he's hitting the ball," Ames said.
Woods' response? He birdied the first six holes, shot a 7-under-par 29 on the front nine, and routed Ames, 9 and 8.
"It was the wrong thing to say to me," Woods noted.
Ames said his comments were taken out of context, but the two haven't spoken about it since.
"We all know Stephen is a guy who likes to speak his mind," Woods said Saturday. "It is what it is."
Of course, Ames isn't the only player within striking distance. But as Rory Sabbatini has learned, it's not wise to lob pot-shots at Woods, contrived or otherwise
"I'm just going to go out there and play," Woods said. "I know what I have to do."
"He's not going to go backwards," said Woody Austin, alone in third place and four strokes behind. "I've got to go forward."
Added Adam Scott, who trails by six: "You never want to say that (it's over), but certainly he's proved that he's very hard to catch up to in a major. There have been 63s out here, so someone can go out and play the round of their life, put a little pressure on him."
Woods, who shot a 1-under-par 69 Saturday and has a 54-hole score of 7-under 203, has a pretty good idea why he's been such a ferocious closer.
"I think it's experience," he said after a business-like two-birdie, one-bogey day. "I've played a lot of tournaments starting at a very young age. And I've had to deal with pressure before. And I've lost a lot of tournaments. But I've also won my share as well. You learn what it takes."
As he always does, Woods will pick a target score, which will depend on the conditions, then go after it.
"I usually have a pretty good feel for what the number will be," Woods said. "I think that comes with a lot of experience. And knowing what to do when you're out in that situation. You get a feel for what you need to do and luckily I've been able to get it done."
Ernie Els certainly isn't conceding victory. He's in sixth place, seven strokes behind Woods.
"I can't say that because I'm competing," he said. "And tomorrow is the final day. It's 18 holes of golf left to be played. The statistics will tell you, yes, it's over. But as a competitor, I can't sit there and tell you it's over. I can't ever do that."
"Yeah, if I was not a golfer, a fan on the couch, I'd be putting my house on him, yeah," Els said.
Woods is the consummate plodder, forcing other players to abandon their gameplans and escape their comfort zones.
"He just does it with such horrifying precision that the rest of us are made to fire at flag sticks in cases where normally we wouldn't and therefore we make mistakes," said Arron Oberholser, tied for sixth.
Woods has a final-round scoring average of 69.25 in the 12 major championships he has won, while his playing partners have averaged 72.92.
"He has that influence on players," Ames said. "It's probably going to happen to me."
"He's the greatest in the world for a reason," Oberholser said. "And in my opinion definitely the greatest I've ever seen play without a doubt."
Someone mentioned Bobby Jones.
"I think he would take Bobby Jones behind the wood shed, absolutely," Oberholser said. "No disrespect to Bobby Jones, but you're dealing with an athlete of just incredible ability. And no one in history has had the ability that Tiger has."
Especially when he has extra incentive.
Mark Soltau is a contributing editor to Golf Digest and the editor of TigerWoods.com.