News
Can You Say You're Surprised?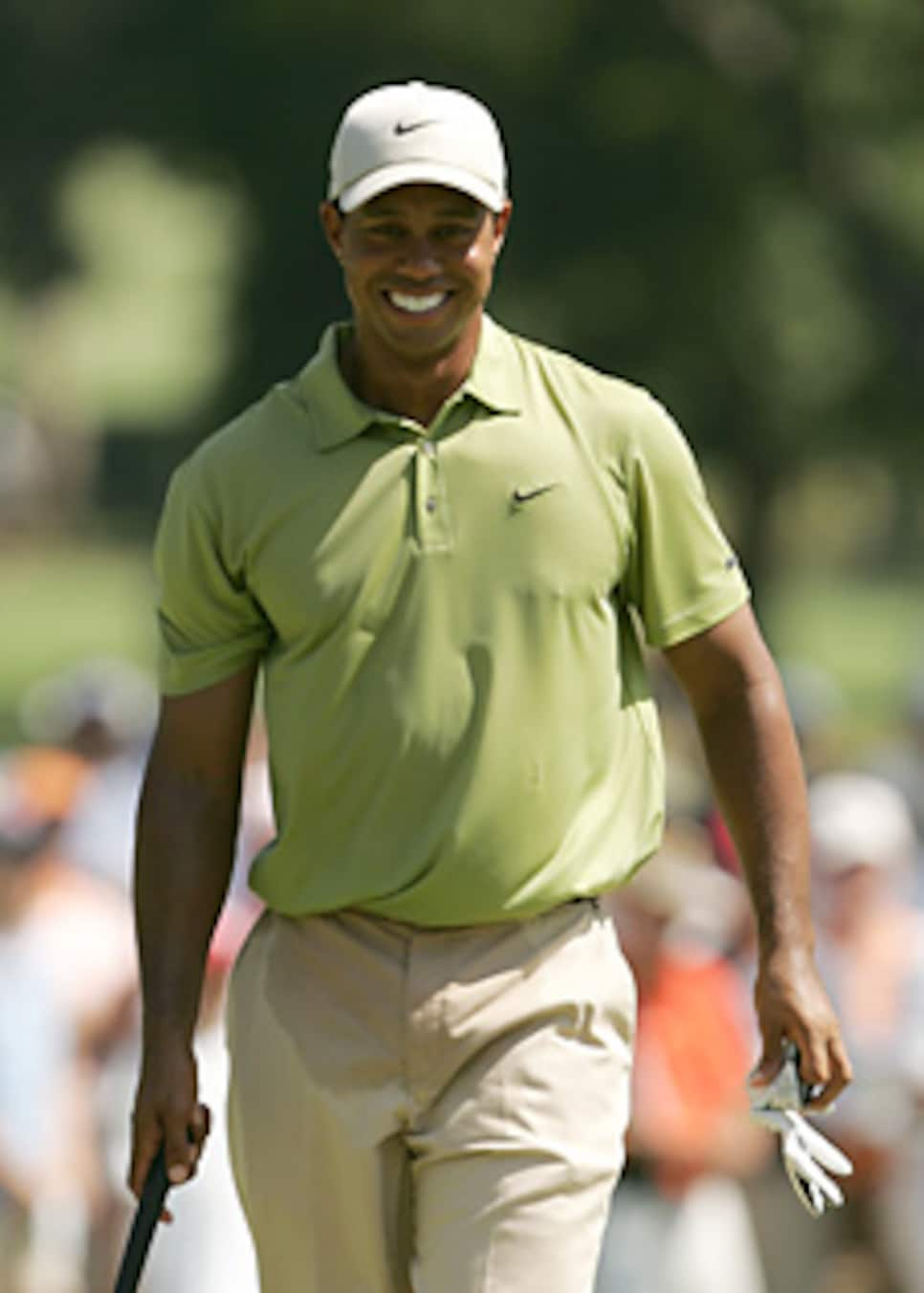 Don't be fooled by the smile. He hasn't let up one inch.
TULSA, Okla. (AP) -- Tiger Woods draped a blue towel over sagging shoulders, looking like a heavyweight who had gone the distance.
You should have seen the other guys.
Woods set modest goals that led to great expectations Saturday in the PGA Championship, turning in a 1-under 69 in torrid temperatures at Southern Hills to build a three-shot lead over Stephen Ames.
He has never lost a major when leading after 36 holes. He has never lost any tournament anywhere in the world when leading by more than one shot going into the final round.
"I've always enjoyed being out in front," said Woods, who was at 7-under 203. "And hopefully, tomorrow I can go ahead and play the way I've been playing the last few days."
No one conceded the final major to the world's No. 1 player.
But it sure sounded that way.
"If you're trying to win a tournament like this, he's the wrong guy to let get out ahead of you," Scott Verplank said after a 74 that made him look more like a bystander than a contender.
"He knows he's going to win," Arron Oberholser said after an even-par 70 left him seven shots behind. "I think the scary thing is that maybe he knows that you know he's going to win."
Saving his best golf for the final major, Woods followed his record-tying score of 63 with a round that wasn't anything special but no less effective. He made 15 pars, two of them with 10-foot putts that kept him in control early, and rarely took on the flags.
"I accomplished my goal today," Woods said. "My goal was to shoot under par and increase my lead. And I was able to do that."
Five players remained under par, and only Ernie Els (69) at 1-under 209 has experience winning a major.
"The statistics will tell you, yes, it is over," Els said. "But as a competitor, I can't sit there and tell you it's over. I can't ever do that."
But if he were watching from his house?
"If I was not a golfer -- a fan on the couch -- I'd be putting my house on him, yeah," Els said.
Woods made it look as though this were a Sunday afternoon and he was protecting his lead, playing away from trouble and rarely having to work too hard for par. He picked up his birdies with a 6-foot putt on No. 4 and a 12-footer on the 12th that stretched his lead to five at one point Saturday.
It will be the third time this year Woods plays in the final group of a major. He was trailing at the Masters and U.S. Open and never caught up, but the odds are much higher in his favor of capturing his first major of the year.
Ames made a 12-foot birdie on the final hole for a 69 that put him in the final group of a major for the first time. Just his luck he gets Woods, spotting the 12-time major champion a three-shot lead.
Ames bristled when his loss to Woods in the Accenture Match Play Championship last year was brought up again. He jokingly said that anything could happen "especially where he's hitting the ball," and Woods went on to a record 9-and-8 victory two days later.
This time, Ames figures he has nothing to lose.
"For me, it's a great opportunity of being in the situation," he said. "Tiger's going for his 13th. I'm looking for my first."
Woody Austin lost his chance to be in the final group when he took bogey on the final hole for a 69, leaving him at 207. John Senden had a 69 and was another shot back, followed by Els.
"You recognize him as the world's No. 1, and him having the lead ... it's a tough ask to go out there and compete with him because you respect how good he is," Senden said. "I have to continue on what I have to do best, and if that's good enough to beat Tiger Woods, well, fantastic."
Verplank held his own until a double bogey from the rough and trees on the signature 12th hole, and a three-putt from the back of the 18th green for bogey ended his long day. He was in a large group at even-par 210.
For the briefest moment, the former U.S. Amateur champion from Oklahoma State pulled within one shot. Verplank dribbled an 8-foot birdie putt down the hill and into the cup at No. 4 to reach 5 under, only to watch Woods hole a 6-foot putt to match his birdie and restore the margin to two shots.
Walking to the fifth tee, Verplank smirked and said, "That guy makes everything."
Woods atoned for a poor chip on the third with a 10-foot par save, and saved par from 10 feet again on the eighth after hitting into a bunker. His streak of 24 straight holes without a bogey ended when he hit 6-iron into the bunker on the 14th and missed from 18 feet.
He led by as many as five shots on the back nine until that bogey on 14. Even so, it was his largest lead going into the final round of a major since the 2005 Masters, which he won in a playoff over Chris DiMarco.
One after another, players finished their rounds, looked at the top of the leaderboard and figured it would require their best round to have any chance of winning. They have seen this before.
And so has Woods, even if he won't concede the tournament is over.
This is only the fifth time in his career that Woods came to the final major of the year without winning one, although he arrived at Southern Hills fresh off an eight-shot victory at a World Golf Championship.
But the work is not done.
"I've always said in order to have a great year you have to win a major championship," he said. "You can win every tournament, but the majors are where it's at. And this year, I've had some opportunities to deal with this. I haven't done it. I'm in good shape going into tomorrow and hopefully, I can get it done."
The only low scores were in the morning, when the greens were still smooth. Boo Weekley had a chance to shoot 63 until he hit his approach on the 18th about 45 feet away and took three putts for a bogey and a 65.
Playing with Weekley was Sergio Garcia, but not for long. Weekley marked down a 4 for Garcia on the 17th hole when the Spaniard made 5, and Garcia signed it anyway and was disqualified.
Woods looked as though he might come back to the field, but he steadied himself quickly. He saved par twice on the first three holes, then wiggled his way out of trouble on the par-5 fifth when he bounced his third shot out of the rough, under a tree and tumbling up to the green about 35 feet left of the pin.
It will be the second straight week that Woods played in the final group against someone whose comments about him got wide publicity. Last week, Woods turned a one-shot victory over Rory Sabbatini -- who said earlier this year Woods looked "beatable as ever" into an eight-shot win.
This will be the first time since Match Play last year that Woods and Ames have played together.
For both, it seemed like a distant memory. More important is the immediate future.
"I know what I have to do tomorrow," Woods said.