News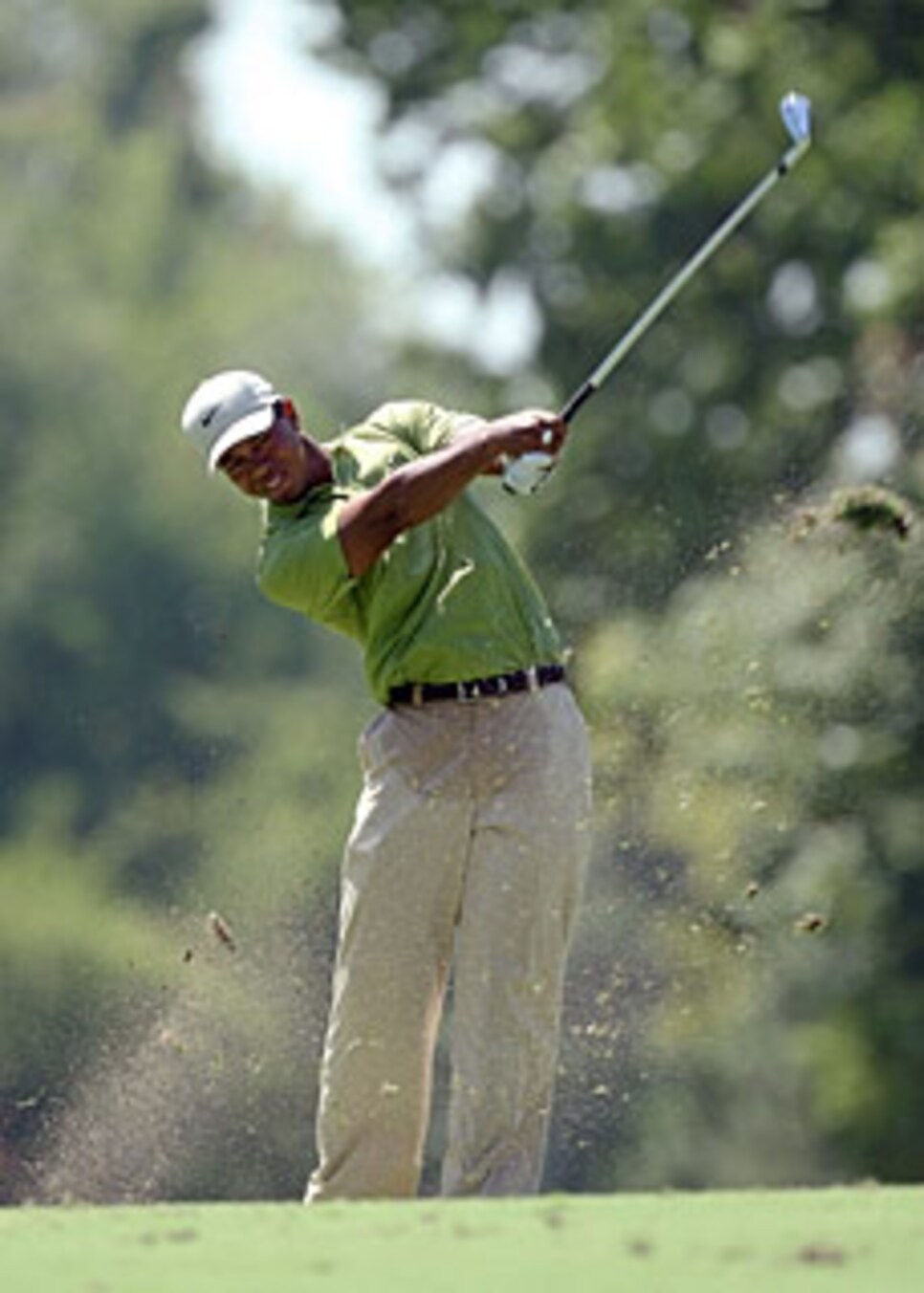 The swing is fixed and Tiger is in control at Southern Hills.
TULSA, Okla. -- If Tiger Woods wins a 13th major championship on Sunday at Southern Hills -- and the odds (12-0 as a 54-hole leader) are heavily in his favor -- the credit might go to a minor swing adjustment before the final round of the Bridgestone Invitational in Akron, Ohio, a week earlier.
Woods had clearly struggled with the consistency of his swing much of the year. It was most apparent during the British Open where he tied for 12th and, although he had stretches of impeccable form, they weren't sustainable.
Same story through 54 holes of the Bridgestone where he managed to challenge despite not having his best stuff.
Woods has always prided himself on self-correction, and he apparently found the answer on the practice range prior to his Sunday showdown with Rory Sabbatini, whom he trailed by a stroke.
Earlier in the week, he tried to add a little more flip in his release at the bottom to combat what he felt was a propensity to hold off the release. In fact, he had begun to exaggerate the action, which only compounded the inconsistency in ball flight and distance control. On Sunday, he decided to junk the flip and find a middle ground -- somewhere between the quick release and the delayed one. In other words, he delayed the release of the club slightly and released it more naturally.
The result was a silky, unhurried swing in perfect rhythm that propelled him to a bogey-free final-round 65 and an eight-stroke victory.
"He's got his positions so much better in his swing that really all he has to do is relax and let it flow," swing coach Hank Haney said. "He's swinging beautifully."
The carryover has been apparent at the PGA Championship. His action appears similar to the third round of the U.S. Open, his best ball-striking performance of the season.
He has also shored up his short game, especially his chipping and bunker play. Four chip-ins in his last 72 holes are a testament to his growing short-game arsenal. Most of them were bump-and-runs, a shot he has increasingly become more comfortable using in pressure situations.
The book on Tiger has always been the effectiveness of his putting. When his putter is hot, he's virtually unbeatable -- no matter how wayward his tee shots or inconsistent his ball striking. He says he putted his best at Carnoustie but he just didn't hit it close enough to contend. That's what precipitated the experiment with various ways to release the club.
For the record, he's averaging 28.3 putts this week, tied for 10th, and is without a three-putt.
Haney likes the fact that he looks relaxed in his demeanor and delivery of the club to the ball.
"He's a lot more relaxed and letting the club release a little freer," Haney said. "He looks good."
A three-shot lead with 18 holes to go and a swing finally in sync bodes well for the man in quest of a fourth Wannamaker Trophy. Not so well, though, for those chasing him.
"I've always enjoyed being out front," Woods said. "And hopefully tomorrow I can go ahead and play the way I've been playing the last few days."