News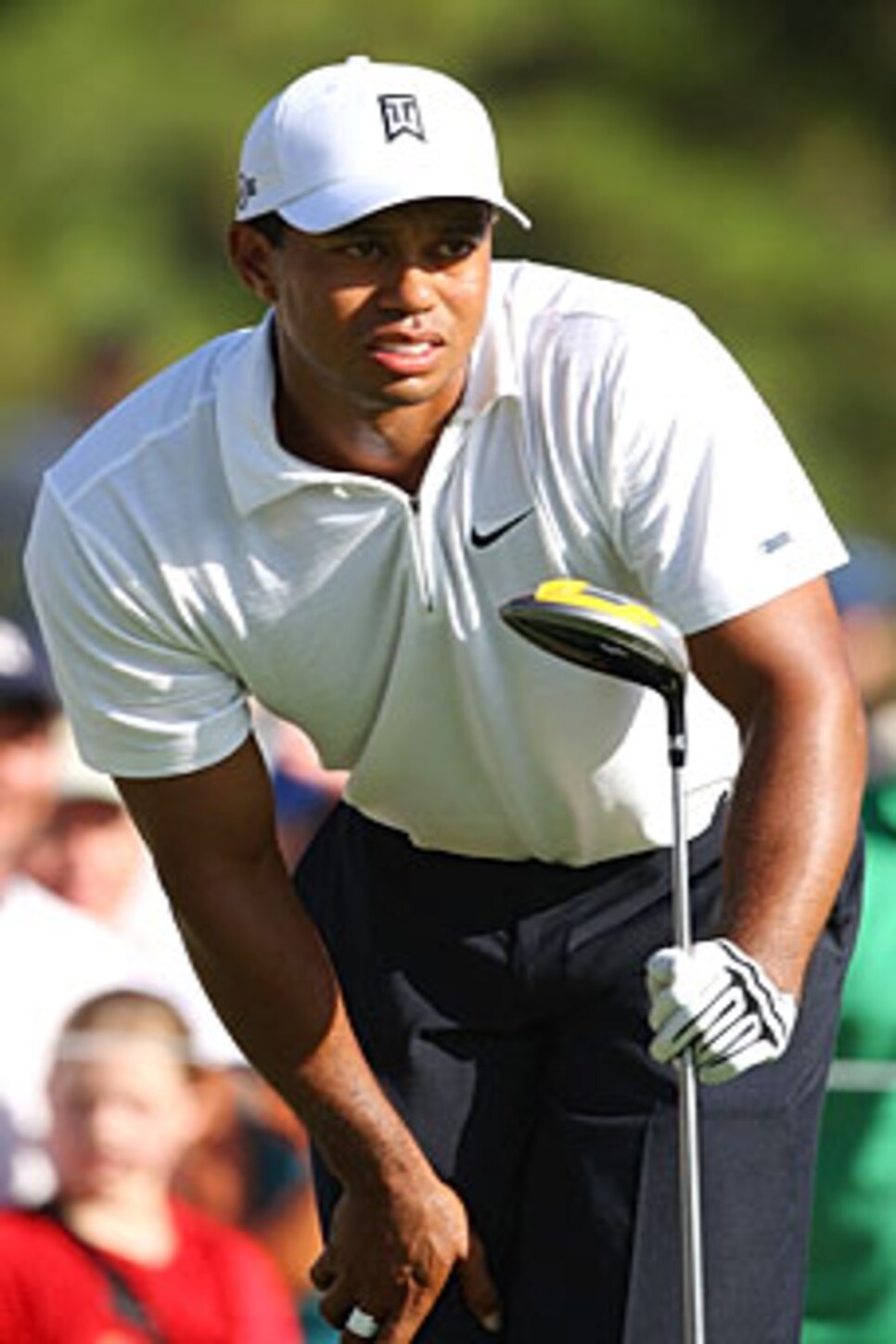 Tiger has never lost a major when he's held or been tied for the lead after 36 holes.
TULSA, Okla. -- He thought it was in. Indeed, it looked in. And had it dropped, Tiger Woods would've added a "nice" little piece of history to his already lengthy list of accomplishments.
But his 15-foot birdie putt on the final hole at Southern Hills -- a putt that would've given him a 62, making him the first player ever to shoot that number in a major -- took a slight detour left just as it approached the middle of the cup, spun around the back of the lip, and came out the right side. Tiger flipped his club in disbelief.
He'd have to "settle" for a record-tying 63, his career-low in any major round, and a two-shot lead going into the weekend at the PGA Championship.
"I'm very satisfied," a mellow Woods said. "I'm just really hungry. I just want to go home and eat."
Woods, a three-time winner and the defending champion, was equal to the challenge. After shooting a disappointing 1-over-par 71 Thursday, a round he said he wasn't rewarded for, Woods came out firing Friday. He made eight birdies and only one bogey to match the course record with a 63. His previous best was a 64 at the 1997 British Open at Royal Troon.
Woods, who became the 21st individual to shoot 63 in a major, knew what was at stake at 18.
"It would have been nice to have gotten a record and a three-shot lead going into the weekend," he said. "The good thing is I hit a good putt. It just didn't go in."
Woods set the tone for the round by making birdie at the par-4 first hole, stiffing his approach to six feet. He followed with a 20-footer at the par-4 fourth and an eight-footer at the par-5 fifth. He stumbled at the short par-4 seventh, where his second shot found the back bunker, resulting in an awkward stance and a bogey.
But Woods rebounded quickly. He flagged another approach at the par-4 ninth for a tap-in birdie and made the turn in 3-under 32.
Woods knocked down the pin again at the par-4 10th, cashing in from four feet. He almost sunk his 8-iron tee shot at the par-3 11th, settling for par. Then, came the defining moment of his round, possibly the tournament.
At the 458-yard par-4 12th, Woods found the fairway, then pulled his second shot left into a greenside bunker, the ball plugging. With little option, he blasted 30 feet past the hole and poured in the par-saving putt, the ball dancing around the hole before disappearing. Woods shuffled his feet and pumped his right fist, savoring the huge momentum lift.
"That was big," Woods said. "The bunker shot actually stayed on the green, which was a huge benefit. And then I saw the putt I saw as it rolled down there and broke a lot from right to left. I said, well just make sure you get it up to the hole.
"And when I hit the putt, I hit it flush. It was just a matter of it taking the break but it took its time. It didn't really want to break. But at the very end it snapped and went in."
Woods followed with three-consecutive birdies, getting up-and-down from a front bunker at the par-5 13th; chipping in from the back fringe at the par-3 14th -- his fourth sink in the last three rounds; and buried a 20-footer at the par-4 16th.
Through 15 holes, Woods had 18 putts and finished with 24 overall.
Woods mis-read a 12-foot birdie putt at the par-4 16th, then hit a safe, short iron approach to the par-4 17th, two-putting from 25 feet. Then came the near-miss at 18.
"Mad," he said, when asked his emotions. "I hit a good putt. And I thought I made it."
Woods has proven a great front-runner during his career, especially in majors, where he is 7-0 when tied or leading after 36 holes and has won 27 of 36 in PGA Tour events.
"It certainly does give you confidence, there's no doubt," said Woods. "I know what to do. It's just a matter of going out there and doing it."
He's also smart enough to know there is a long way to go.
"I just have to keep plugging," Woods said. "These are tough conditions. The golf course is playing tricky."
Maybe so. But it was Woods who delivered the magic on Friday.
Mark Soltau is a contributing editor to Golf Digest and the editor of TigerWoods.com.