News
Reality Differs From Perception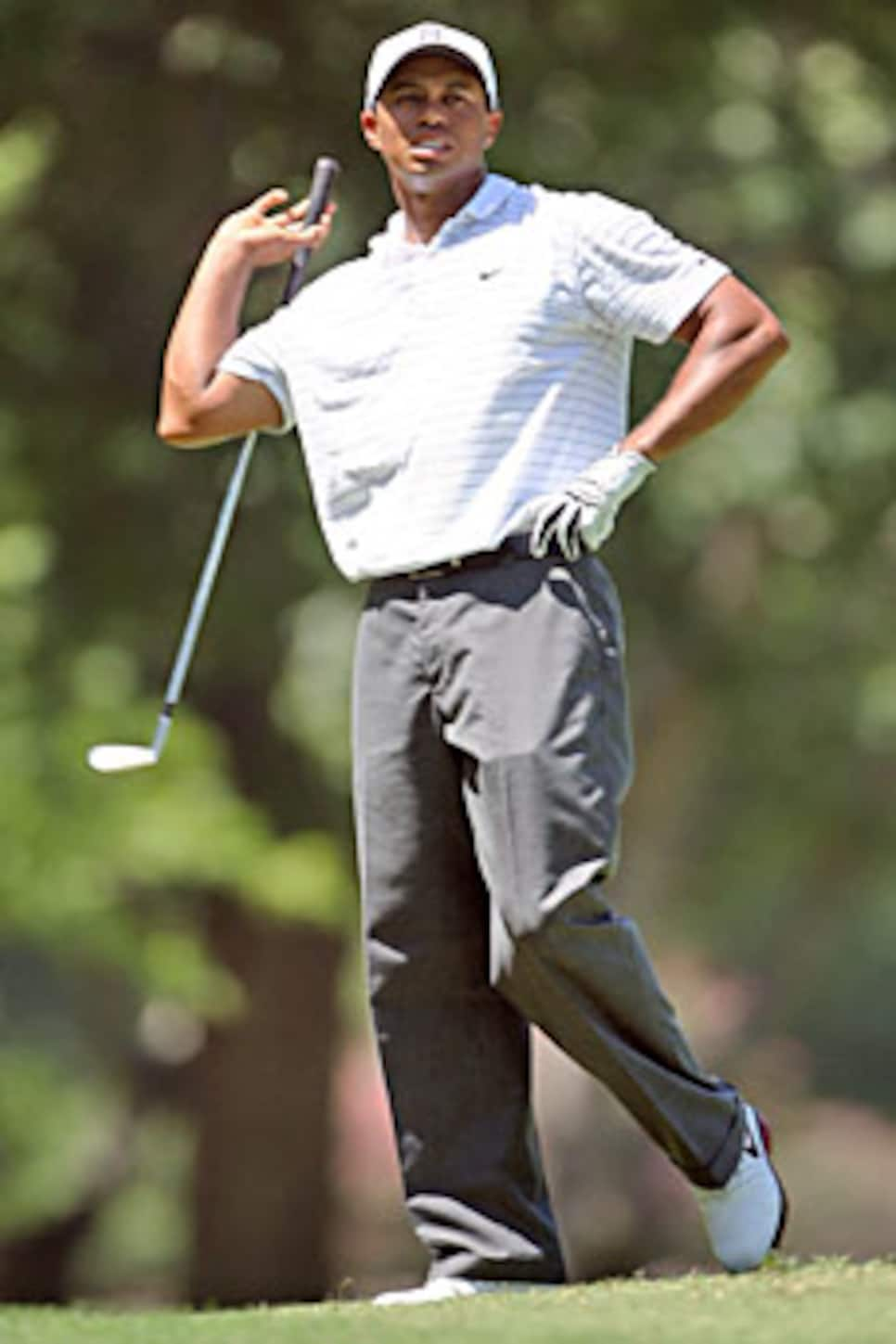 A strong start and a weak finish.
TULSA, Okla. - Tiger Woods seemed perplexed when asked to assess his first round Thursday in the 89th PGA Championship at sizzling Southern Hills Country Club.
"I don't know," said the world's top-ranked golfer after shooting a 1-over-par 71. "I felt like I hit the ball better than my score indicates."
Actually, he didn't. Woods ranks second on the PGA Tour in greens in regulation at 69.70, but hit just 10 of 18 Thursday. He did find 10 of 14 fairways and used 30 putts.
An early back nine starter with Rich Beem and Bob Tway, Woods birdied three of the first six holes and climbed to the top of the leaderboard. He made clutch par-saves at 16 and 17, holing a long putt at 16 and chipped in at 17 -- his third chip-in in the last two rounds. But in sign of things to come, Woods knocked his approach shot at the par-4 18th into a front bunker and failed to get up-and-down.
"I hit a couple of loose shots and I got away with the two pars and felt like just keep playing the back nine and see what happens," he said.
Woods, the defending champion and a three-time winner of the event, bogeyed the par-4 second and fourth holes, then nuked two woods at the prodigious 653-yard par-5 fifth, his ball finishing 15 feet right of the cup. The eagle putt looked true but stopped an inch short.
"I had 286 front," Woods said of his second shot. "I was just trying to put the ball in the gap or in the right bunker. To be honest with you, I should have probably been in the right bunker because hugging the right side it kicked left and everything tilts right to left so it should have gone in the right bunker."
Woods short-sided himself with his approach shot into the par-4 seventh and wound up in a front bunker, resulting in another bogey. He also bogeyed the 245-yard par-3 eighth, where his 3-iron came up just short of the green. Woods left his chip shot about nine feet short of the hole and missed the putt.
"The back nine I missed a couple of shots, and also the wind was a little hard to gauge," Woods said. "It was swirling all over the place. Cost me definitely one shot for sure."
Woods said Beem and Tway had similar problems.
"The wind was playing tricks on all of our group," he said. "Good shots didn't always end up where we thought they would be."
Temperatures were in the mid-90s most of the day.
"It's warmer than Florida but nowhere near as humid, which is nice," said Woods. "That's one of the reasons why you run all those miles out here in the heat and stay in decent shape."
It's supposed to get even hotter Friday, and Woods has a late tee time. He's also missing swing coach Hank Haney, who stayed home to be with his wife, who is having surgery.
"I'm right in the ballgame," Woods said. "I just need to clean up my round a little bit."
Mark Soltau is a contributing editor to Golf Digest and the editor of TigerWoods.com.