News
Tiger watch: He's more than ready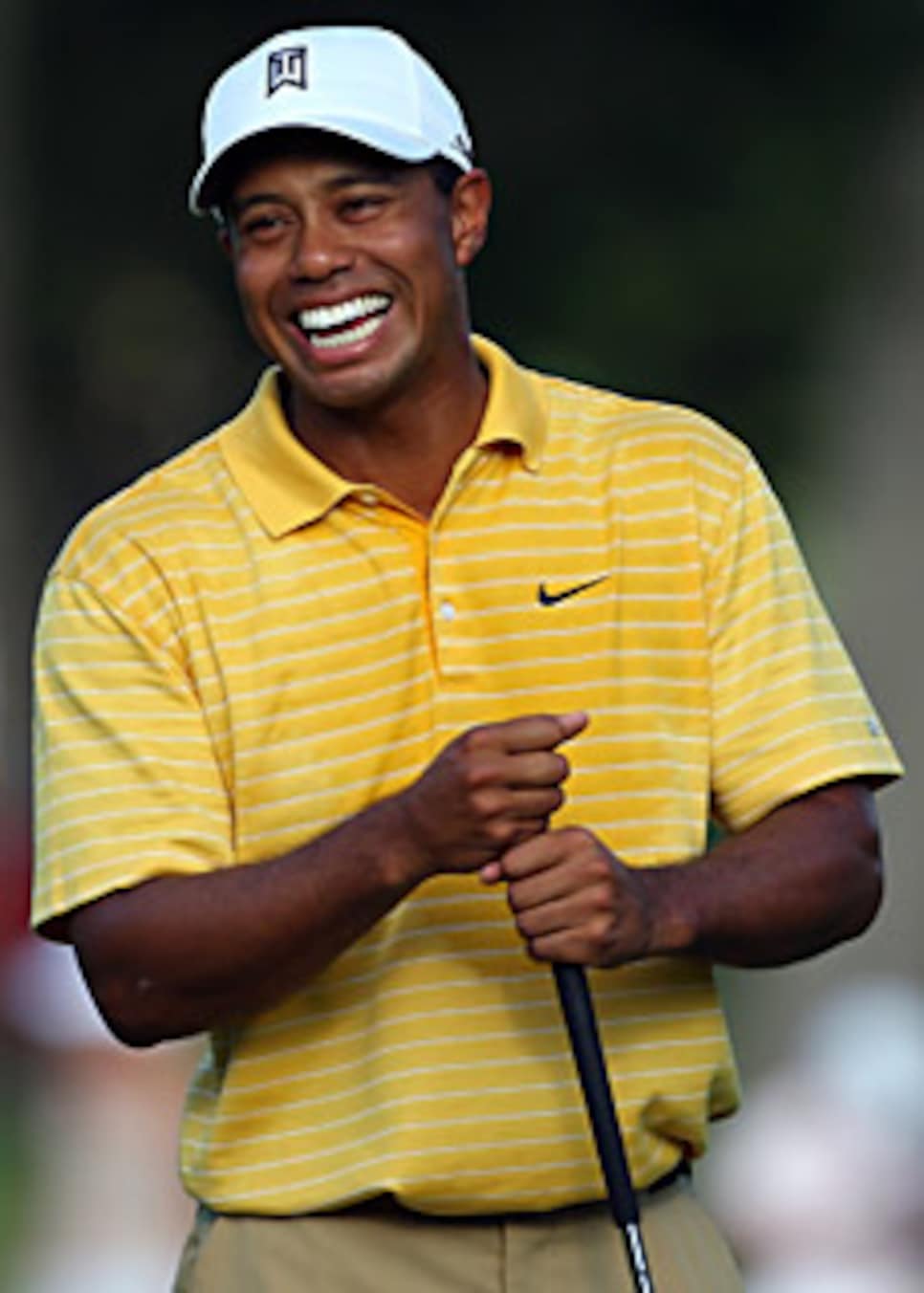 Don't let a relaxed exterior fool you.
TULSA, Okla. -- Tiger Woods has had a nice little year, winning four tournaments and another dumpster full of cash. But it won't be complete without a major.
The 31-year-old Woods, owner of 12 major titles, has come close this year, tying for second at the Masters and U.S. Open. He gets his last shot this week in the 89th PGA Championship at steamy Southern Hills Country Club.
Woods feels no satisfaction finishing second.
"Well, the whole idea is to win," he said Tuesday after an early-morning practice round with Bubba Watson. "That's why you go to an event is to win. You don't go there to show up or I'm here to work on my farmer tan, shed a couple pounds. You go out to win, period. That's why I'm here, and I give it everything I have to do that.
"When it doesn't turn out to be the case, which in our sport is far more likely to be the case where you don't win, yeah, it's disappointing, it's frustrating, and you have to learn from it an apply it to the next one so that you can go ahead and get the job done."
"This is the last opportunity to win one," said Woods. "It's a great challenge and it's fun. I've been in this position before where I haven't won one, and was able to get the last one, so hopefully that will happen this year."
Otherwise, he'll have to wait six months until the 2008 Masters.
"Golf-wise, it's been a pretty good, year but not great," Woods said. "I just think the major championships are valued that highly, and I've come close. Just haven't got it done yet."
Contrary to popular opinion, Woods doesn't feel uncomfortable at Southern Hills, where he tied for 12th in the 2001 U.S. Open. True, with many doglegs and only two par-5s, his power and strength won't be as useful. But Woods likes the course, especially after changes to the par-4 ninth and 18th greens, and enters with renewed confidence after romping to an eight-stroke victory last week at the WGC-Bridgestone Invitational.
"I like the golf course," he said. "I like the layout, but I just wasn't hitting the ball well in '01. If you're not hitting the ball well and not hitting precise, you're going to be exposed, and I was that week. The only thing I did well was I putted well to keep myself in the championship."
Woods pronounced Southern Hills in fantastic shape and said the 90-to-100-degree temperatures won't be a problem. Aside from the golf ball traveling further, his only adjustment will be changing gloves more often.
"That's about it," said Woods. "As far as your concentration waning, I don't see how that can ever be a problem"
Easy for him to say. Asked if he was excited about playing any specific holes, he replied, "Yea, all 18."
You get the feeling Woods is ready to pounce.
"Tiger Woods is probably one of the few names that when you play a tournament, you'll always look to see what he shot and what score he's on," said British Open champion Padraig Harrington.
If anything, Woods seems to have convinced himself he can play well at Southern Hills.
"It certainly does have some movement to it," he said of the slopes. "But you know, we're all basically playing the same spots anyways. People tend to forget, Augusta has a lot of movement, too, from both ways. You have to shape the golf ball. This week, you'll probably be shaping it with less club."
Woods rarely plays the week before a major, but seems to be peaking at the right time. He led the field in greens in regulation last week, putted well and chipped in twice on Sunday.
"I just think that winning gives you confidence no matter what," said Woods. "I feel good about the way I played and the way I managed my game and made some nice putts on Sunday. Hopefully I can carry what happened last week into this week."