News
Master of his own destiny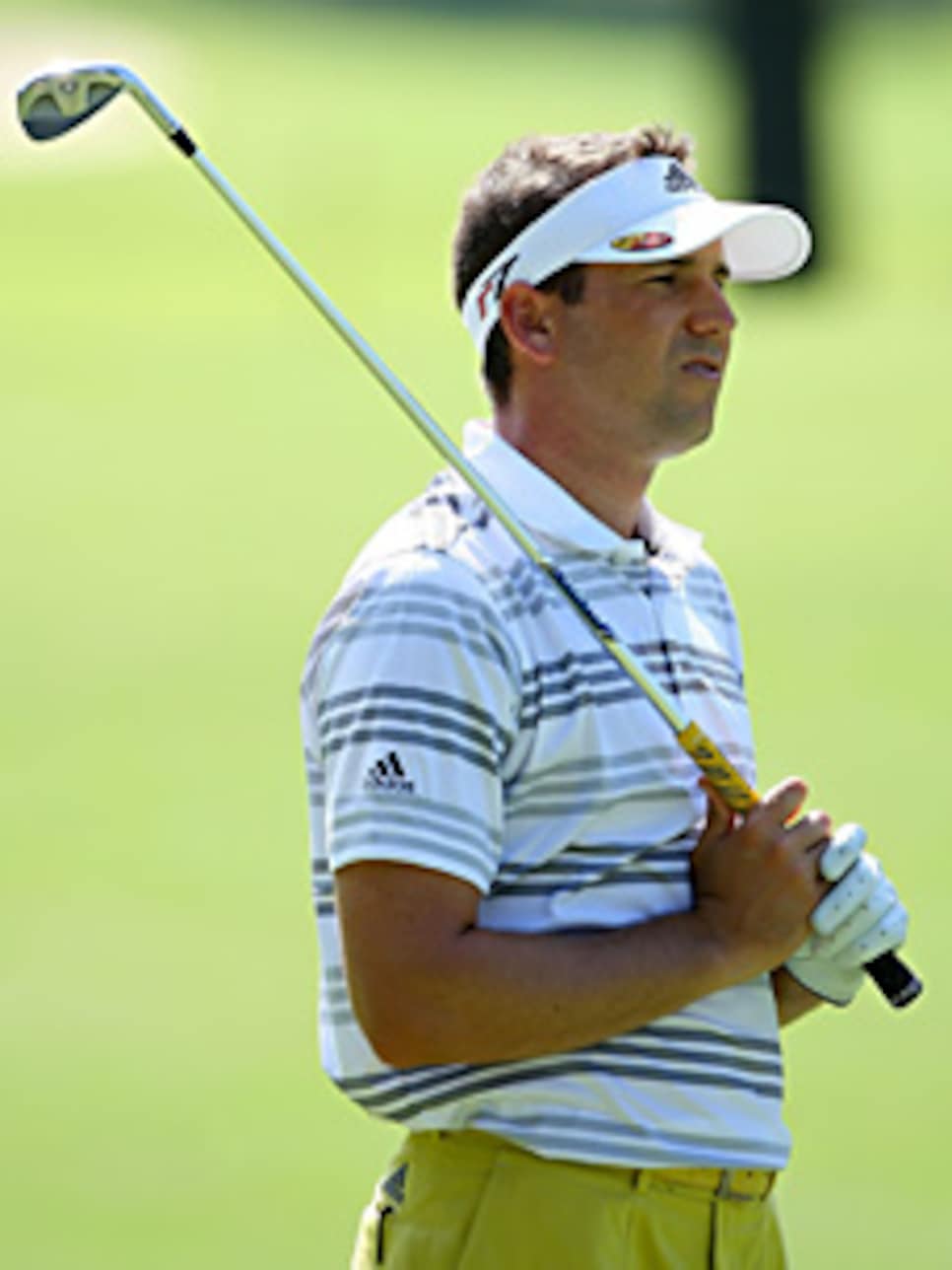 Garcia is refreshed and ready.
TULSA, Okla. - Sergio Garcia makes no apologies for his comments in the media center after losing the British Open at Carnoustie. He suggested he gets more bad breaks than other players and often plays against more than the field. He also thought he got a raw deal for having to wait for a greenside bunker to be raked at 18 before he hit his second shot in regulation.
"Yea, I was emotional," Garcia said Wednesday at Southern Hills Country Club, site of the 89th PGA Championship this week. "I opened myself to you guys and I said what I felt. That's pretty much it."
Critics suggested Garcia should have taken the high road and not complained.
"I didn't want to take anything out of Padraig (Harrington) winning the Open," he said. "I felt like I played well enough to win it and unfortunately it didn't happen. Definitely if a couple of breaks would have gone my way, it would have been a different story, but that's pretty much it."
The 27-year-old Garcia led most of the tournament and took the loss hard. Using a belly putter, he played great golf most of the week and just missed a winning-putt on the 72nd hole.
"It wasn't easy the first week after, a couple days after," said Garcia. "You get over it. I just had some fun with my friends and played some different sports and, you know, I managed to get through it. Just tried to get all of the positive things out of it, and there were a lot of positives."
"I stayed within myself throughout the whole week," he said. "I was calm all week, very confident with myself, very confident with my game. I stuck to my game plan. That's what got me in winning position. I've just got to do the same thing this week, play within myself and hopefully I'll have a shot at winning the PGA."
There was one consolation: Garcia controlled his own fate at the end.
"I was the only one that had the winning putt in regulation," said Garcia. "And to me, you know, that means a lot. I hit a great putt. Unfortunately, it didn't go in."
His father, Victor, was there to console him.
"He said well played," said Garcia. "He almost had tears in his eyes, but he told me, 'You did all you could. You did everything right. Unfortunately it just wasn't meant to happen.' Then end of the day, that's all you can really do."
Garcia escaped the heartbreak at Carnoustie by playing tennis and going to the beach.
"Just to get a little away from golf," Garcia said. "And then I started practicing on Thursday, trying to get ready for Bridgestone last week."
Garcia tied for 20th, but posted a final-round 67. He thinks his game is well-suited for Southern Hills, where he tied for 12th in the 2001 at the U.S. Open.
"Hopefully I can keep playing the way I've been playing," said Garcia. "I played pretty good last week. I had a couple bad holes here and there. But other than that, it was good. It was good to get back into competition and get back into it."
The belly putter remains in his bag.
"Oh yea, I'm thrilled," he said. "I've been playing nicely. Even though there's been some rounds where I didn't make as many putts as I would like to, but at least the putts I hit are good, solid putts."
In his heart, Garcia knows he will win a major championship.
"I don't have a doubt that it will eventually happen," said Garcia. "It's just a matter of giving myself chances and I'll definitely give myself a lot of them. I've always said it, like I should have won at least more than one by now, but it hasn't happened yet. The only thing I can do is keep putting myself in that position and it will happen sometime."
Mark Soltau is a contributing editor to Golf Digest and the editor of TigerWoods.com.