Grand Slam, Anyone? It's Tiger's To Take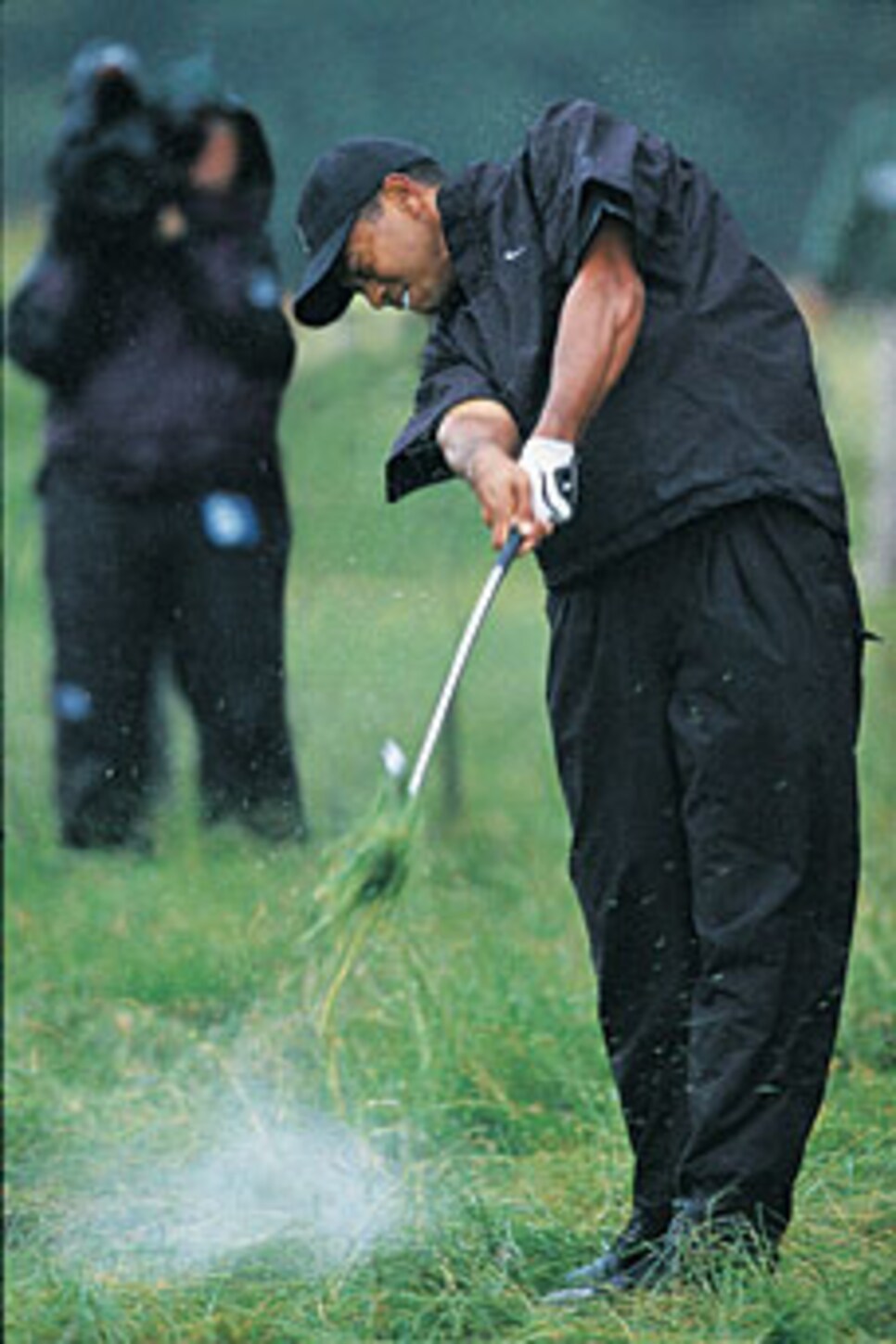 When Tiger Woods three-putted the first two greens in the final round of the U.S. Open, it quickly brought to mind Bye, Slamma Jamma. But Tiger had found his swing after three days at Bethpage Black, and that's all he needed to continue his Grand Slam attempt and his battle against his main adversaries -- Bobby Jones, Ben Hogan and Jack Nicklaus.
There are a handful of guys who keep telling themselves they have a chance to duke it out with Tiger, but so far it's only wishful thinking. Two of them this time were Phil (I'm proud of myself again) Mickelson and Sergio (Mommy likes Tiger best) Garcia, but they couldn't take advantage of Tiger playing less than magnificently.
So now Tiger heads to Muirfield in Scotland for the British Open as only the fourth player to seek a slice of immortality. Hogan won the Masters and Open in '53, went to Carnoustie and brought back a Triple Crown, the only other jewel available to him. Arnold Palmer invented the modern Grand Slam in '60 when he went to St. Andrews after winning at Augusta and Cherry Hills, but he lost by a stroke to the unlikely Kel Nagle. Then came Nicklaus in '72. Jack won at Augusta and Pebble Beach and appeared on the brink of keeping the Slam alive at Muirfield until Lee Trevino chipped in at the 71st and nailed him by a shot.
Should Tiger win at the very same Muirfield, where the ghosts will have become even more suffocating, it's safe to say that the PGA at Hazeltine outside Minneapolis in August will be one of the toughest tickets in the history of sports.
Jones won the Grand Slam of British and U.S. Open/Amateur titles in 1930, and Tiger has already won the Tiger Slam -- four consecutive majors over two seasons. He says that might have been tougher than a Calendar Slam because of the seven-month hype between the 2000 PGA and the 2001 Masters. "It's certainly doable," he says, "because I've done it before. I had all four trophies on my mantle at the same time."
Sorry, Tiger. Doesn't count.
It's hard to imagine what can stop him, though, other than some guy lapsing into a putting trance. Mind you, there's still a Jack Fleck somewhere in Tiger's future, but when he might reveal himself is impossible to say.
Tiger's putter carried him along through the first two rounds of 67-68. He one-putted 17 times in those 36 holes, and that doesn't count the numerous times he holed five- and six-footers for par to avoid three-putts. On Thursday alone he made a 20-footer, an 18-footer, two 15-footers, a 12-footer, two 10-footers and an eight-footer. It had a bunch of us math majors trying to figure out the last time we made 108 feet worth of putts in a round.
Tiger led by four strokes after three rounds, but he worked until dark Saturday evening, spending the better part of 45 minutes on the range with nobody but swing coach Butch Harmon and caddie Steve Williams -- and a bleacher full of fans. After getting up early all week, Tiger stayed up late watching TV to force himself into sacking in for the final tee time at 3:30 the next afternoon.
The opening three-putt greens showed that even Tiger Woods gets nervous. But he was well aware that the wind was finally blowing, and what with such other elements as the rough and Sunday being the final round of a major, a 72 would be a good enough score to bring him home. It was, by three strokes, his three-under total of 277 making him the only player under par. Without any real drama at the finish --
Tiger bogeyed two of the last three -- it was still the most watched Open in history.
It was Tiger's 11th major in all (counting the three U.S. Amateurs, certainly), but maybe it's more impressive that it was his sixth major out of the last nine and seventh out of the last 11. That ranks with Jones' 13 in eight years and Hogan's eight out of 12 from '48 through '53.
It was noisily well received by the fans at Bethpage State Park, in a part of Long Island that no tourist had ever seen. It's four or five traffic jams from Manhattan or the Hamptons or the view of an ocean.
But the U.S. Golf Association obviously knew that nothing can daunt a New Yorker, that the 42,500 paid spectators wouldn't mind getting to Jones Beach, then lining up to board the shuttle buses that would take them to get a happy glimpse of Tiger. It would be easier than what they endure in their everyday lives.
It was not only the largest crowd in Open history, it was also the loudest, even though beer sales were shut off as the leaders made the turn each day. The fans came to sing Happy Birthday to Mickelson (No. 32 on Father's Day) and to serenade Sergio with 21-waggle salutes after he flipped them off during Friday's monsoon. Sergio complained that the USGA would have stopped play if Tiger had been playing in the worst of the weather, but that argument lost something when it was pointed out that the afternoon scores were better than those from the morning slog. Let's just say it wasn't easy for anybody, because the day's average was almost 6½ strokes over par.
Bethpage's added attraction for the USGA, of course, is the immense real estate -- four other 18-hole public courses, a polo field and picnic grounds, all of which had been sitting around for years yearning for corporate-hospitality tents. Small wonder there'll be future Opens at Bethpage.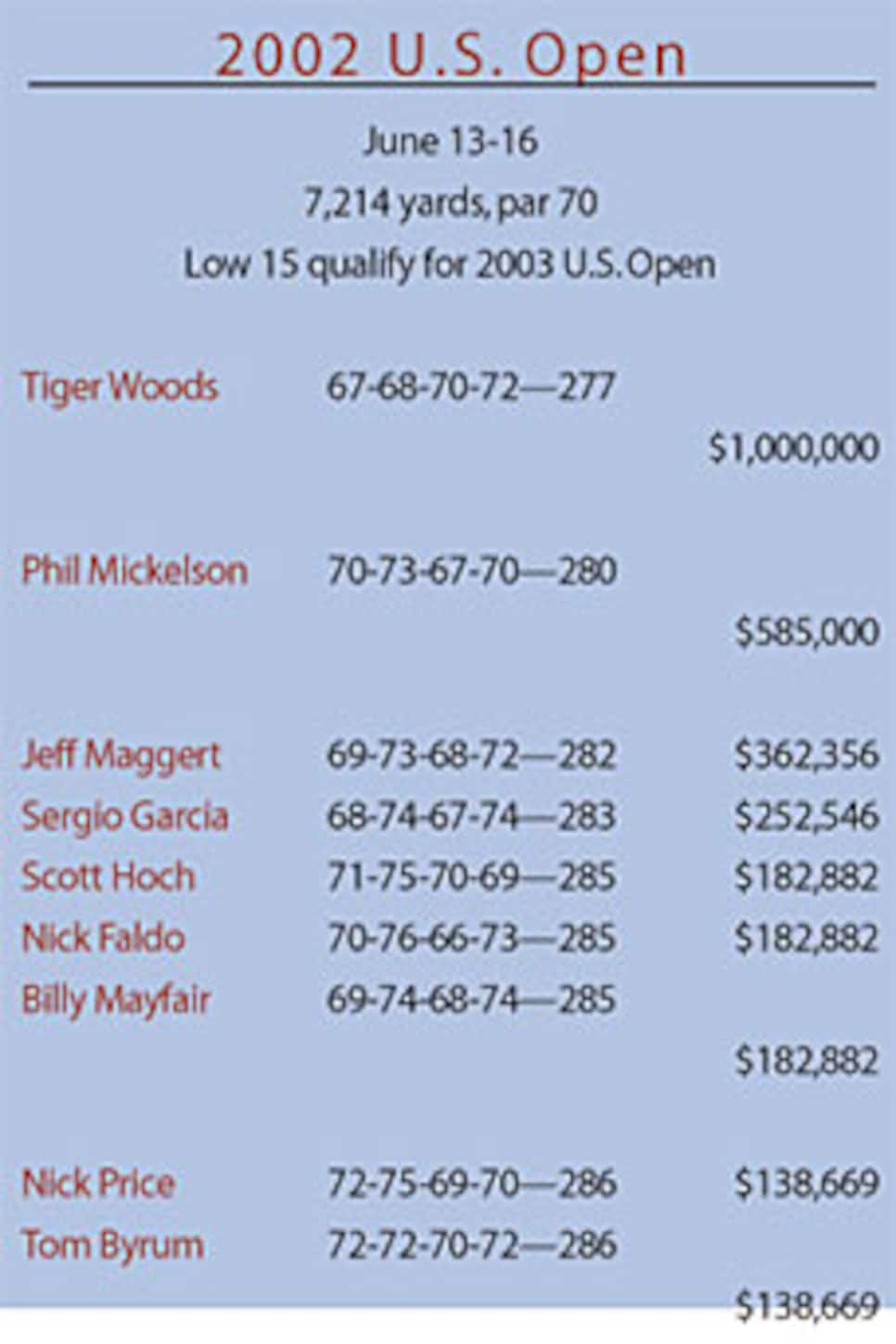 It's a known fact that the USGA loves corporate-hospitality tents as much as it loves the minimum 1.68 inches in diameter of a golf ball. To the organization, that was infinitely more important than how good the course was, but fortunately Bethpage Black provided a stern test.
Not that any discerning course collector is going to put it in a top 10 or 20. The Black was lengthened to an Open-record 7,214 yards, given speedy greens -- supposedly approaching 15 on the Stimpmeter before the final round -- and tightened by vicious rough. But it offers no memorable stretch of holes. In fact, many of them look the same: A hole ringed by bunkers with old-fashioned round greens that from above, on a knoll or in a grandstand, look as if a flying saucer has come from a galaxy far, far away -- or Jones Beach -- and gone splat. There's no out-of-bounds, and only one water hazard, the one at the par-3 eighth, a small pond that would terrorize only your Member-Guest partner.
The layout was a rigorous challenge for the touring pros because it's only at a U.S. Open where they have to confront narrow fairways and thick rough, and the Black's rough was rougher than usual. The ball loved to sink deep, usually out of sight.
Which brings up what was undoubtedly the shot of the championship, that lob wedge that Tiger hit from behind the 17th green on Friday. He'd struck what looked like a perfect 4-iron from the tee, high and right at the flagstick on the back of the green. But he overpured the shot, hitting it 210 instead of 207, and the ball buried in the deep rough, visible only to an ant.
Getting it out would be one thing. Stopping it would be another, for the cup was close and down a slick slope. That's where Tiger gouged the ball almost straight up, landed it precisely on the fringe, from where it trickled lazily and amazingly down to the cup for a gimme par.
Now, folks, although Tiger was leading by two at the time, he was in double-bogey territory with that lie, and I can promise you that Ben Hogan at the top of his game -- especially Ben Hogan at the top of his game -- never would have attempted that shot. Hogan would have taken double bogey out of the equation. Made sure he got the ball on the green. Even 30 feet beyond the cup. Take his two putts for bogey and gingerly get out of there.
Such is the artistry and confidence that Tiger brings to the game. Just another reason why the week was more or less all his from start to finish.
But not completely. There were the drivers of the shuttles who transported us from our hotels to Bethpage and back every day. They were brought in from a firm in Oklahoma. One afternoon the young lady behind the wheel said, "Well, I got my wish on this trip: I wanted to see Chinatown, and I did. Boy, I'll tell you what, they've got bars, restaurants, stores, buildings, everywhere. We don't have any Chinatown back home, and where I come from we don't have too many hills and trees like this -- but we do have the world's third-tallest grain elevator."
Along with Tiger, that made my week.