News
Come From Behind Win For Trahan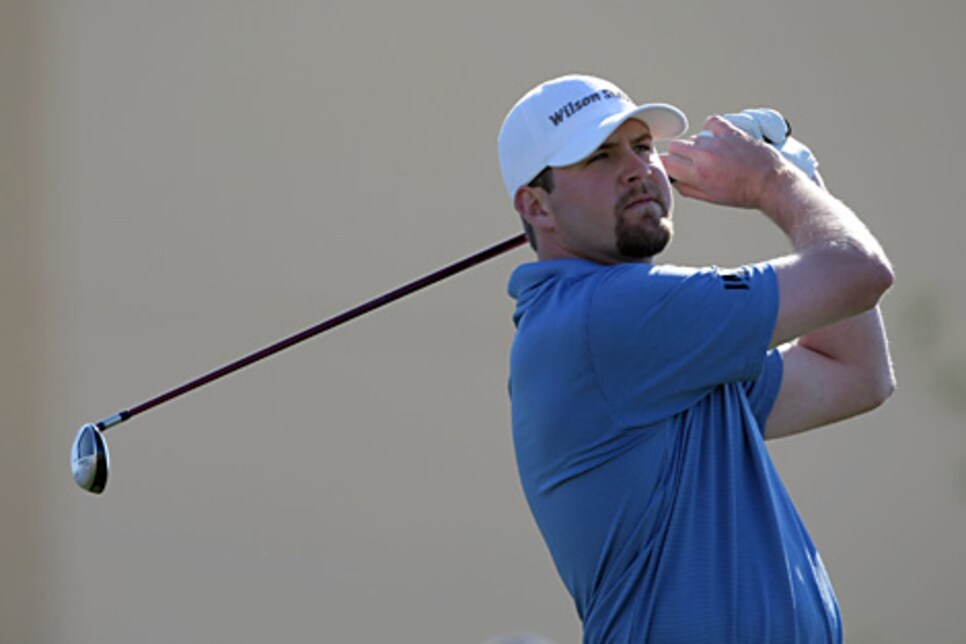 D. J. Trahan's putter was there when Leonard faltered in the stretch.
PALM DESERT, Calif. (AP) -- D.J. Trahan played like the seasoned veteran.
The 27-year-old Trahan, who had won just once before, charged from four shots back Sunday to overtake Justin Leonard and win the Bob Hope Chrysler Classic.
The 35-year-old Leonard, whose 11 victories include the 1997 British Open, was the one who faltered.
Trahan shot a sparkling 7-under 65 to beat Leonard by three strokes. The younger player said a four-shot deficit looked imposing heading into the final round of the five-day tournament.
"You certainly don't feel particularly optimistic about it when you're playing against a guy like Justin Leonard," Trahan said. "I wasn't playing against a rookie who was in the lead for the first time.
"He's won a major championship, Ryder Cups. I don't know how many times he's won on tour, but it's definitely more than me."
Leonard closed with a 72 that included a 39 on the back nine at the Classic Club. He still was only one shot behind before his drive went into the water on No. 18 to end his chances.
"I played solid the first eight holes, was 3 under," he said. "Obviously D.J. was playing very well. I just didn't get that (good play) to the back nine and he did. That was the difference.
"To have a four-shot lead and come out and play as well as I did the first eight holes, and lose a golf tournament is disappointing.'
Trahan birdied the final hole to finish the 90-hole tournament at 26-under 334 for his biggest payday, $918,000, and the right to play in this year's Masters. It will be his second trip to Augusta; he missed the cut as an amateur in 2001.
Leonard, who last year failed to make the cut in his first six events, including the Hope, began playing well in July and finished the season strong. So he wasn't discouraged by his runner-up finish this early in the season.
"I get some perspective in the fact that at this time last year, I was pretty lost," he said. "That gives me a bit of comfort, but still it only takes a little bit of the sting out of it, not all of it."
Kenny Perry, the 1995 Hope champion, and 22-year-old Anthony Kim, who played high school golf in nearby La Quinta, shot 69s to tie for third at 338.
Trahan turned what had threatened to be a runaway into a duel when he picked up four shots over three holes beginning at No. 9. He sank an 8-footer birdie putt on the ninth hole, rolled in a 40-footer from the fringe for another birdie on the 10th, then parred the 11th while Leonard went par-bogey-bogey.
Trahan took the lead for good with an 8-footer for birdie on No. 14 to go to 25 under. He capped his round with a 5-foot birdie putt on No. 18 while Leonard took a bogey 6.
Trahan finished as the best putter in the tournament, averaging 26 putts per round.
"Pardon me for smiling, but I've never heard anybody tell me that before," said Trahan, who normally isn't known for his putting.
A former Clemson All-American, Trahan got his first tour win at Madison, Miss., in 2006.
The first four days of the Hope are a pro-am played over four courses. The low-scoring 70 pros and ties played the final round at the Classic Club.