News
With win, Tseng is youngest with three majors
SOUTHPORT, England -- When it comes to artistic merit, not even the most sympathetic of judges could have given this effort high marks. But all that mattered was what it said on the scorecard, and when the numbers were added up Sunday at Royal Birkdale, Yani Tseng won the Ricoh Women's British Open by one stroke over Katherine Hull.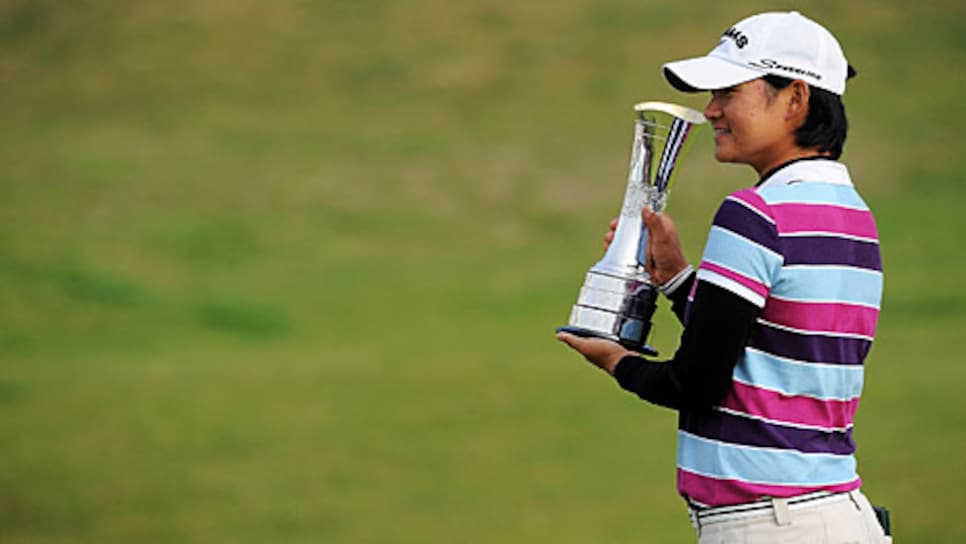 After playing nearly flawless golf for 54 holes -- missing only six greens --Tseng pitched out sideways from pot bunkers, scraped it out of the rough and horseshoed out enough putts in the final round to break a dozen hearts. But she closed with a 73 -- after three consecutive rounds of 68 -- and finished at 11-under-par 277, edging Hull, who turned in a solid 70.
"The last four holes today were really tough," Tseng said, "not like the last two days when I was making birdies and eagles. It was really tough and Katherine was pressuring me."
Hull, who made a mess of the final hole when she half-chunked a chip, was at 278 with I.K. Kim and Na Yeon Choi at 281. After Tseng drove into a pot bunker on the par-5 18th and had to pitch out, Hull was 60 feet from the hole in two but managed to get her third shot barely more than halfway to the hole.
"It's bittersweet, I guess, right now," Hull said. "I'll be working twice as hard on my short game after that last hole. Still, there are a lot of positives I can take from the week, so I'm very happy."
The closing stretch was a bit painful to watch as Tseng failed to make a birdie after the sixth hole and Hull was shut out after her birdie on No. 13 pulled her within one stroke. The birdie drought was a huge surprise since Birkdale ends with three par-5 among the last four holes, with Nos. 17 and 18 being very reachable in two shots when playing downwind -- as they were on Sunday.
But perhaps that was the key word: "Sunday." That day at a major championship is a different animal altogether. Both players showed some frayed nerves, but when it came down to the decisive stroke, Tseng rolled in a four-footer for par -- fittingly enough -- after Hull's 30-footer for a birdie grazed the left edge.
The 21-year-old from Taiwan is the youngest women to have three major championships and is now only the U.S. Women's Open short of the career grand Slam. Se Ri Pak won two majors when she was 20 but didn't get her third until she was 24. It was Tseng's fourth career LPGA victory.
Tseng, who won the Kraft Nabisco Championship in April, is the first player to win two LPGA majors in the same season since Annika Sorenstam in 2005, which was fitting because Yani purchased Annika's house last year and received an inspirational message from her before the final round.
"She's my big idol," Tseng said of Sorenstam. "She said 'just trust your ability and have fun.' I wrote that in my yardage book so I would remember it."
The victory also ended a two-major run by the Americans after Cristie Kerr won the LPGA Championship and Paula Creamer grabbed the U.S. Women's Open. Kerr was the best of the Americans at Birkdale, finishing T-5 at 282. Morgan Pressel was at 284, Christina Kim and Brittany Lincicome at 286, with Michelle Wie T-17 at 288 and Creamer at 290.
If Tseng wants to get more inspiration from Sorenstam, she should consider this: The Swede did not get her first LPGA victory untl she was 24 years old, and it was the U.S. Women's Open, the first of her 10 major championships among 72 LPGA titles.
Those are two numbers Tseng might want to write in her yardage book. They are good goals to remember. She should also remember that all those trophies count, even when getting the job done was not an artistic success.
*(Photo by Christopher Lee/Getty Images)