The Loop
Mid-week Lesson: How to play against a tough competitor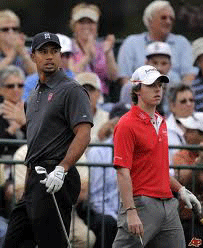 *Editor's Note: Ever play in a group in which one of the golfers is a really strong player? Maybe it's the club championship and you drew the defending champion. Or you're playing against someone who has a reputation of intimidation. Every week Kevin Hinton, Director of Instruction at Piping Rock Club in Locust Valley, N.Y. and one of Golf Digest's Best Young Teachers, tells you how a tour player hits a key shot. This week, Kevin discusses something a little different, inspired by a key pairing at the Barclays Championship at Bethpage on Long Island. For at least the first two days of this week's PGA Tour event, PGA champion Rory McIlroy and FedEx points leader Tiger Woods will be playing together. This gives Kevin an opportunity to discuss how tour players handle playing with a tough competitor, and how you can perform optimally when you're competing against someone who seems to pure it off every tee.
*How do you play to your potential when you're battling feelings of inferiority or insecurity? That's often what you face when playing with, say, the top golfer at your course or the best player in your town. Here are some tips when playing with your personal rival:
Tom Kite once told me that one of the reasons he would practice so hard was that it gave him a sense of "deserving" to win. He would tell himself that no one in the field had prepared more, thus he deserved to win.
2.  Figure out how hard to try
This is one of golf's big challenges. Trying extremely hard and grinding on every shot is not likely the recipe for success, nor is casually hitting shots without any focus. It is important to find the right balance, and that will take some experimentation. When playing a rival, most people err by trying too hard. It is mentally exhausting if every shot is hit as if it's life or death.
One putting exercise I do with my students is to hit putts with different effort levels, and track at what level they make the most putts. I'll have them hit groups of putts at different levels of intensity. A "10" would be reading the putt from multiple locations and summoning as much mental fortitude as possible, essentially trying to "will" the ball into the hole. A "1" on the scale is barely reading the putt and taking no practice strokes. It's just about as casually as a putt can be hit. Most people find that they have the best results somewhere in the middle, but it varies for each player. You can also apply this to full shots.
Much easier to say than do, but there is actually no reason why a rivalry should affect how you play. Golf is an individual sport in which you play against the golf course and yourself. Overly focusing on your opponent's game isn't healthy, even in match play. Stick with your routine, and just keep playing as you know how. I think that's why many tournaments are won by players who are not in the final group, flying under the radar a bit. Both Webb Simpson and Ernie Els won majors this year by doing so.