The Loop
Tiger tries to laugh off snub from Poulter
AUGUSTA, Ga. -- A year ago, there was an application process for the media just to get into the Augusta National interview room on the Monday before the Masters. A year ago, Tiger Woods entered from the door farthest from the microphones and walked slowly and dramatically to the front. A year ago, there were questions how he would handle his first encounter with reporters since his private life became marked by sleazy tabloid headlines.
A year ago, there were questions as to how well Woods' golf game would perform after a five-month absence from competition, a stint in rehab and public humiliation. On Tuesday at Augusta National Golf Club, Woods entered the interview room by simply walking through the door closest to the microphones, dressed in head-to-toe black and carrying a bottle of water.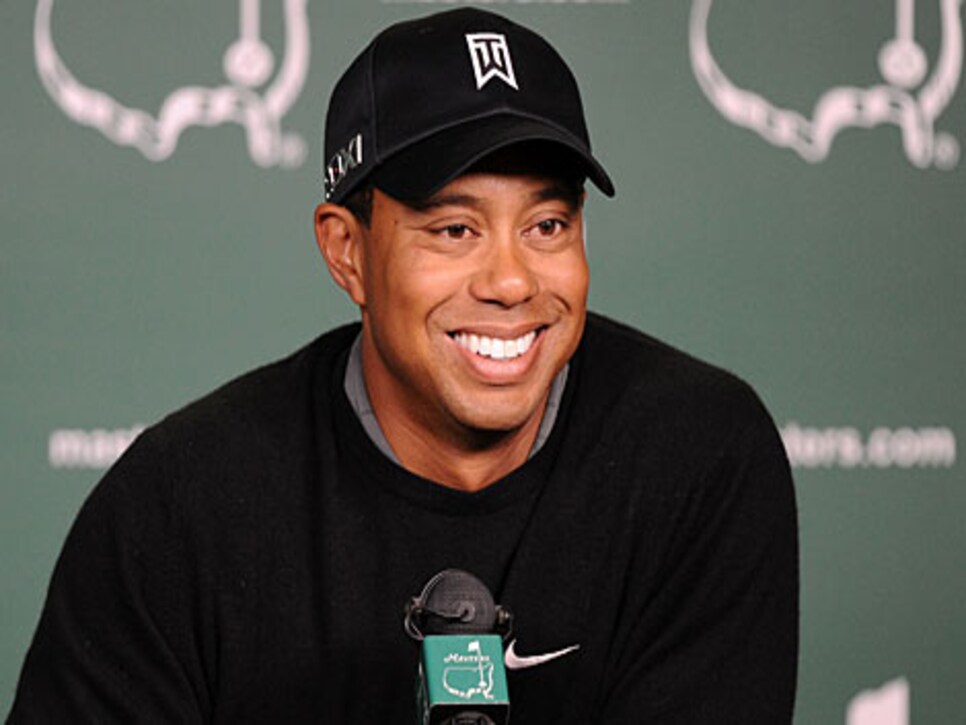 Woods said he still liked his chances this week, even if he hasn't contended all year. Photo by Getty Images
Now, a year and a day after Woods first returned to the game in that electric pre-Masters interview, a lot is different -- he is a divorced parent who took off Monday to be with his children -- and one huge thing is the same. No one really knows how he is going to play this week. In fact, the state of his golf game is more of a question now than it was a year ago.
Even those who were most insistent a year ago that Tiger would not miss a beat and go on being the best player in the game despite the personal chaos surrounding him, now have doubts. Five tournaments into the new year, Woods has not sniffed victory and has tumbled to No. 7 in the World Rankings.
Even his adversaries -- often schooled in the punishments that accompany public criticism of Woods in the form of on-course thrashings -- now speak rather openly of his diminished self. Asked on Twitter if he thought Woods could finish in the top five at the Masters, Ian Poulter replied: "Not this week."
"The shots he [Woods] was hitting at Doral, they were very inconsistent," Poulter told a group of reporters. "You can't afford to hit shots like that round this golf course and get away with it."
Asked Tuesday about the comment, Woods replied: "Poulter's always right, isn't he?" Pressed on whether he felt he had a better chance of finishing in the top five than Poulter, Woods diplomatically replied: "My whole idea is to try to win the golf tournament and that's what I'm trying to do."
From the very first day Woods was a professional -- at the Greater Milwaukee Open in August 1996 -- he has had one goal every time he has teed the ball up in competition and that is to win. That competitive desire and that belief in self was again on display Tuesday at Augusta National, albeit in a slightly muted, but no less articulate form.
Asked if he felt ready to win his fifth green jacket this week, Woods nodded his head slowly, said "Um-hmm" and punctuated the sound with a smile. Asked why he felt that way, Woods repeated, "Um-hmm," again nodding and smiling. Asked what part of his game is ready, he smiled one more time and said: "Everything."
Later, when asked if we had seen the best Tiger Woods yet, he said simply: "No." And when asked if he still wanted to get the five major championships he needs to break Jack Nicklaus' record of 18, Woods said: "I absolutely want to do that. That's the benchmark. The gold standard of the game is 18."
And asked if he thinks he will pass Nicklaus, Tiger said: "Um-hmm," this time not so much with a smile as with steely determination flashing in his eyes. And then things came full circle. Given one final opportunity to reply to Poulter, Woods said: "I already did, didn't I?"
Yes, well, sort of. The old Tiger Woods -- the one who trashed Rory Sabbatini and Stephen Ames after they mouthed off about him -- would have the last word on the golf course. When the tournament starts for Woods on Thursday, we will get the first idea how much articulation Tiger has left in that regard. For him, a victory would be the ultimate final word and his most significant step yet in moving past a year ago.
Yet, for a full 12 months, Woods' success on the golf course has been as abbreviated as his answers were off it on Tuesday. Asked if he is a better person now than a year ago, Woods said: "I try to do that every day. That will always be the case." As to whether he is a better player now than a year ago, the better question is if he is anything near what he once was. Those answers will come in the four days of competition ahead.
(Photo: Harry How/Getty Images)