Social Media
The Week In Instagrams: 03.13.2017
Hadwin breaks through, Beef meets the GOAT, and Belen shows off her modeling skills.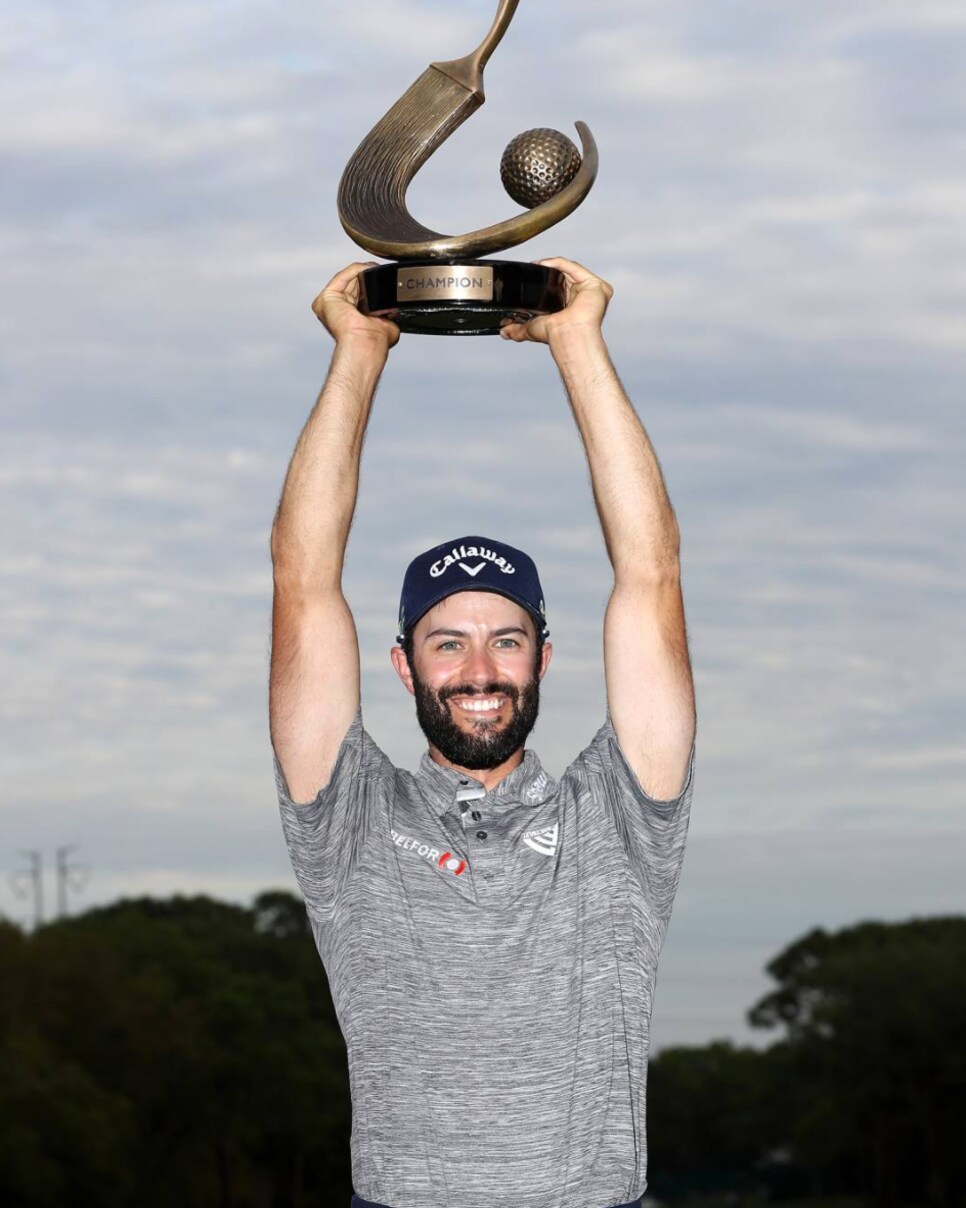 PGA Tour @pgatour
Holding it high and proud.
Golf Digest @golfdigest
1st PGA Tour win ✅
Masters invite ✅ Victory kiss from your fiancée ✅ It was a good day for @ahadwingolf.
Callaway Golf @callawaygolf
An Epic year continues . Mr. 59 Adam Hadwin takes home the Valspar Championship for his first #PGATOUR victory with a full bag of Callaway gear, including the GBB Epic driver, 3-wood and Chrome Soft X ball A👊A👊🏼
Andrew 'Beef' Johnston @beefgolf
I think my face tells u how excited I was to meet this legend. A👊🏼😄A👊🏼😄😬A👊🏼😄😬😬
European Tour @europeantour
A👊🏼😄😬😬🕴
Tony Finau @tonyfinaugolf
Solid final round 64 today! Fun going low on Sunday on the
@pgatour
! 5th place finish for the week. Shout out to my caddy
@gbo7
for making some nice club calls down the stretch.
@boydsummerhaysgolf
off season work paying off! Thanks
@valsparchamp
for a great event! Until next year! #64 #A👊🏼😄😬😬🕴📸💋🐥A👊🏼😄😬😬🕴📸💋🐥🐥A👊🏼😄😬😬🕴📸💋🐥🐥🐥A👊🏼😄😬😬🕴📸💋🐥🐥🐥🐥A👊🏼😄😬😬🕴📸💋🐥🐥🐥🐥🐥A👊🏼😄😬😬🕴📸💋🐥🐥🐥🐥🐥🐥A👊🏼😄😬😬🕴📸💋🐥🐥🐥🐥🐥🐥🐥 #nikegolf #crewecapital #sklz
Morgan Hoffmann @morganhoffmannpga
Check out the new weapons, honoring Arnold Palmer! From
@titleist
@vokeywedges
Haven't been this excited about new clubs in a while! Boom! #tailnumbers #icedtealemonade #theking
Billy Horschel @billyho_golf
Cheyenne Woods @cheyenne_woods
Paige Spiranac @_paige.renee
Featuring my Bob's Burger calendar in the background
Morgan Pressel [@mpressel](https://instagram.com/mpressel]
Happy Saturday! Do you have plans to play golf this weekend?? ‍A👊🏼😄😬😬🕴📸💋🐥🐥🐥🐥🐥🐥🐥🏌A👊🏼😄😬😬🕴📸💋🐥🐥🐥🐥🐥🐥🐥🏌🏼‍♀️
Ashley Mayo @ashleykmayo
I finally found a golf dress that falls just right
Lexi Thompson @lexi
The only way to be you is to #DoYou ! #PUMAWomen Thanks
@Puma
A👊🏼😄😬😬🕴📸💋🐥🐥🐥🐥🐥🐥🐥🏌🏼💪⛳ A👊🏼😄😬😬🕴📸💋🐥🐥🐥🐥🐥🐥🐥🏌🏼💪🖒! #strongisbeautiful
Tiffany Joh [@tiffjoh](https://instagram.com/tiffjoh
As the sun gets ready to set on the last day of my extended offseason, I can't help but reflect on what an amazing period of growth the last few months have been. Strangely, the more time I spend in competitive golf, the more strongly I feel that life is less about accomplishments and more about relationships. I'm so grateful to get to play a game I love, but I'm immeasurably more grateful for the community of amazing unicorns that I'm surrounded by. LPGA season #6, here we go. It's about to get a whole lot weirder out there. #CleanUpOnAisleFeels
Bud Cauley @budcauley
always enjoy playing
@valsparchamp
one of my favorite courses! looking forward to next week
TPC Sawgrass @tpcsawgrass
Sunset on hole #4 ⛳A👊🏼😄😬😬🕴📸💋🐥🐥🐥🐥🐥🐥🐥🏌🏼💪🖒🔥A👊🏼😄😬😬🕴📸💋🐥🐥🐥🐥🐥🐥🐥🏌🏼💪🖒🔥🌅
Barry Havenga @loose_impediment
CENTRE CUT
Justin Thomas @justinthomas34
When I realized I played the par 3's 7 over for 2 days.... good recipe for a weekend off! time for some much needed rest after 4 weeks in a row #onward
Pebble Beach Resorts @pebblebeachresorts
Be the #caddie. 18th green at Pebble Beach. Birdie putt to win. What's your read? ⛳ #beautifulgolfcourses #mypebblebeach A👊🏼😄😬😬🕴📸💋🐥🐥🐥🐥🐥🐥🐥🏌🏼💪🖒🔥🌅📷
@kelvin.eu
Sean Ogle @breakingeighty
Merion was great! Until you hit it in this stuff. Actually, I take that back. Still great, even in that. Photo Cred:
@pjkoenig
Lydia Ko @lydsko
"Let your smile change the world. Don't let the world change your smile." A👊🏼😄😬😬🕴📸💋🐥🐥🐥🐥🐥🐥🐥🏌🏼💪🖒🔥🌅📷😁A👊🏼😄😬😬🕴📸💋🐥🐥🐥🐥🐥🐥🐥🏌🏼💪🖒🔥🌅📷😁😁A👊🏼😄😬😬🕴📸💋🐥🐥🐥🐥🐥🐥🐥🏌🏼💪🖒🔥🌅📷😁😁😁
Carly Booth @carlyabooth
Nailed it 154 yards with a 7iron A👊🏼😄😬😬🕴📸💋🐥🐥🐥🐥🐥🐥🐥🏌🏼💪🖒🔥🌅📷😁😁😁💪A👊🏼😄😬😬🕴📸💋🐥🐥🐥🐥🐥🐥🐥🏌🏼💪🖒🔥🌅📷😁😁😁💪😄A👊🏼😄😬😬🕴📸💋🐥🐥🐥🐥🐥🐥🐥🏌🏼💪🖒🔥🌅📷😁😁😁💪😄😄A👊🏼😄😬😬🕴📸💋🐥🐥🐥🐥🐥🐥🐥🏌🏼💪🖒🔥🌅📷😁😁😁💪😄😄😄 #holeinone #9thhole #dukes #cobragolf
Graeme McDowell @graeme_mcdowell
Golf Digest @golfdigest
Dreaming of Masters Sunday (but not for long ).