Diaz
My Five: Lefties Who Got It Right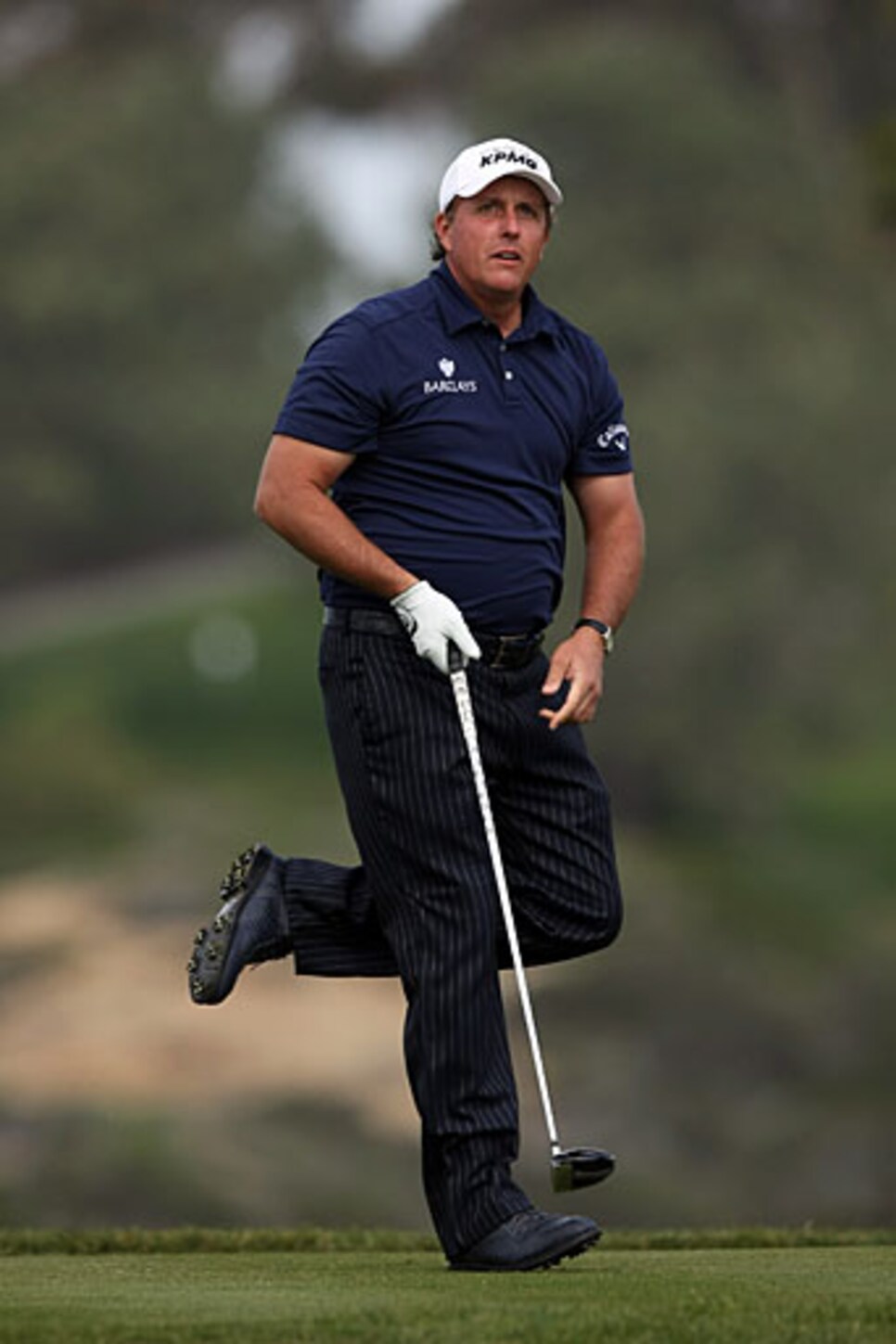 Photo By: Donald Miralle/Getty Images
Photo By: Sandra Mu/Getty Images
Photo By: Stephen Dunn/Getty Images
Photo By: Sam Greenwood/Getty Images
Phil MickelsonEveryone knows that Lefty laps the field with 38 victories and four majors. But do you remember that he won three straight NCAA individual titles, joining Ben Crenshaw as the only player to achieve that feat? Or that he's never led the PGA Tour money list or been Player of the Year? Or that he crashed into a tree while skiing in 1994 and broke his right femur, requiring a titanium rod that remains in his leg? That his most impressive wedge shot is not the amazing Backward Shot, but the Hat Shot, in which he flops a ball from close range over the shoulder of a volunteer and into the hat the person's holding. Or that in 2008 he was inducted into the Italian-American Hall of Fame? So there you go.
Photo By: Donald Miralle/Getty Images
Bob CharlesThe first left-hander to win a major championship, the 1963 British Open, as well as a PGA Tour event, the 1963 Houston Open. Short and straight off the tee, the New Zealander goes down as one of the all-time great putters. In the final of the 1969 Piccadilly World Match Play against Gene Littler, Charles at one point holed consecutive putts of 40, 25 and 50 feet, and on the 36th hole made a 30-footer before winning in extra holes. Overall, Charles, who retired from competition last year at age 74, won six times on the PGA Tour and 23 times on the Champions Tour.
Photo By: Sandra Mu/Getty Images
Mike WeirAt age 13 Weir wrote to Jack Nicklaus asking if he should switch to playing right-handed, and still has the return letter that advised him to stick with his natural swing. The Canadian was medalist at the 1998 Q School and rose quickly, winning the 2000 American Express Championship in Spain and the 2001 Tour Championship. He reached No. 3 in the world in 2003, when he won the Masters and two other events. One of the game's best wedge players, Weir has struggled with swing changes in recent years and recently decided to forego a full-time swing coach. After suffering a ligament tear in his right elbow last year, the 40-year-old Weir started 2011 playing on a major medical exemption.
Photo By: Stephen Dunn/Getty Images
Bubba WatsonBecame the fifth left-hander to win multiple times on the PGA Tour with his victory at Torrey Pines. Completely self taught, Watson learned to play as a boy by curving plastic golf balls around his yard in Milton, Florida, and now intentionally curves the ball more than any player in the game. Watson generates tremendous speed with his extremely upright and long swing. In 2005, he led the Nationwide Tour with a driving distance average of 334 yards, and was first in the category in his first three seasons on the PGA Tour before finishing second in 2009 and 2010. Watson's biggest challenge has been the mental game, but he was both calm and tough at Torrey.
Photo By: J.D. Cuban
Steve FleschWith four PGA Tour victories and more than $17 million in earnings, the smooth-swinging Kentuckian, who as a boy began playing the game right-handed before switching over to his natural side, has carved out a quietly impressive career. Now 43, Flesch missed the top 125 for the first time last year, and is playing in 2011 on his Top 50 career money list exemption. Known for being quotable as well as a former policy board member, Flesch once bemoaned the elaborate pre-shot routines of too many of his brethren by saying. "C'mon, it's not a missile launch."
Photo By: Sam Greenwood/Getty Images